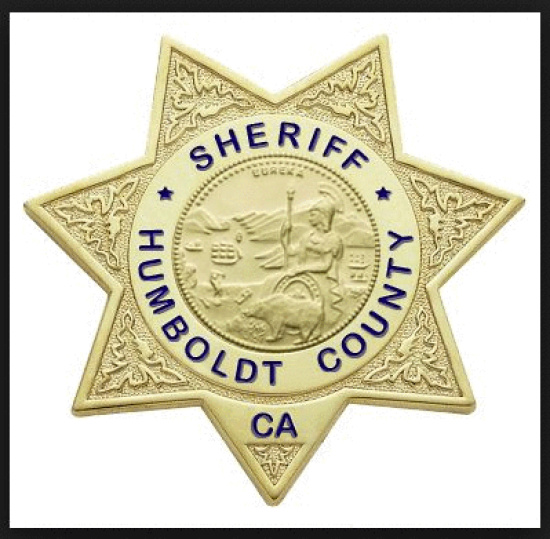 UPDATE 8 pm Sunday: Humboldt County Sheriff's Office Press Release:
On 07/12/2014 at approximately 4:25 PM, the Humboldt County Sheriff's Office was contacted by a citizen who reported that they had discovered human remains in the middle of a waterway. The remains were discovered by two citizens while hiking in an area west of Dinsmore off of HWY 36. Detectives from the Humboldt County Sheriff's Office along with the Humboldt County Coroner's Office are currently on scene and efforts to recover the body are underway. The age, sex, and identity of the body are unknown at this time along with the cause of death.

Anyone with information for the Sheriff's Office regarding this case or related criminal activity is encouraged to call the Sheriff's Office at 707-445-7251 or the Sheriff's Office Crime Tip line at 707-268-2539.
###
Original Post: Scanner traffic on Saturday evening indicated that skeletal remains were found in a waterway near Burr Valley Road. The exact details were difficult to determine and the Lost Coast Outpost has a request into the Humboldt County Sheriff's Office for more information.
However, we can tell from the scanner that the remains, as of yesterday evening, were in the middle of a river or stream and couldn't be easily accessed.
According to the scanner, about 6:56 p.m. what appears to be a Humboldt County deputy described the scene he says is only ten feet away. He stated, "The river is very narrow, shallow. And it's a very steep canyon. It is skeletal remains. It appears the whole body snagged. There possibly could be undergarments on the body still, with some skin off the back and down one leg."
The deputy's first idea was to use a helicopter to recover the body. However, this was unable to happen yesterday. In the end, more deputies were sent out to secure the scene. Presumably the body will be removed sometime today and taken to the coroner's office.