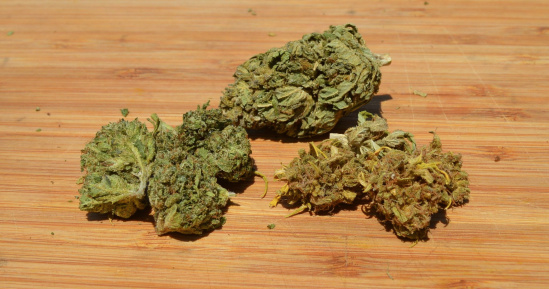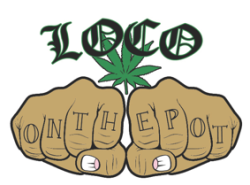 The first time I smoked weed was almost twenty years ago. It was "BC bud," as in British Colombia bud. Literally, I was in Vancouver with a bunch of "eh" sayers. The weed wasn't spectacular. It wasn't shwag either. I don't remember getting high. I think all the Molson beer took precedence.
When I first got started as a smoker, my standards weren't so high. I just didn't know any better, really. Back then, I'd totally smoke shwag weed out of a four-foot tall neon yellow plastic Graffix bong with my neighbor. This guy was a dealer. He did a lot of business selling corners off the brown seedy bricks he kept in stock.
Not long into my smoking career, I went to a party where someone had this weed called "Trainwreck." All of the pot smokers at the party were stoked. I tried it. Wow. The weed was bright and flavorful. What a contrast to my neighbor's shwag. It was my first "name brand" weed experience. This was '95.
Then I met a guy that was growing the chronic indoor, right there in Ventura County. He was the mad scientist/Dr. Greenthumb type, very passionate about his weed. And he sold a lot of it too. Thanks to this intrepid man, I had regular access to Northern Lights, White Widow, Alaskan Thunderfuck. I have yet to see better indoor.
And so, in those formative years, I learned of the difference between chronic, mid-grade bud and shwag.
Flash forward to 2014. Today, I can assure you that I've tried more varieties than I care to remember, via flowers, extracts, ganja food, topicals and tinctures. Now, I've tried a lot of wine, beer and liquor too, from low grade to fancy schmancy. But in the wide world of alcohol, there are clearly defined practical considerations that enable people to distinguish between a superb specimen and merely good one, and a good one versus a mediocre one.
Sure, it's easy to tell the difference between chronic, mid-grade and schwag weed, just like how any bozo knows that a Scrimshaw Pilsner from the North Coast Brewing Company is better than some macrobrew… But when it comes to the category of chronic, high-grade weed, how does one distinguish between superb specimens and merely good ones?
If you have dispensary access, then you can probably get information like the name of the strain, the potency and how the weed was grown. And if you grow your own, then you're captain of the ship. You surely follow best practices, and you have a personal connection with your bud. You grow the bomb. That's what's up.
But if you're buying your weed on the black market, then you might not have the luxury of so much info. Most of the weed I get is just handed to me, person-to-person. It isn't labeled. Sometimes I get a strain name, oftentimes I don't. Fortunately, I'm getting my weed from local growers and not random dealers. This is the luxury that life in Humboldt affords.
Anyway, with wine, there are pretty straightforward, broad categories to start from: red, white and rosé. Wine bottles in the market are labeled with type, alcohol content and producer. There are pretty well defined guidelines for wine and food pairings; most people have a preferred wine type.
With cannabis, we've got the broad categories of indica and sativa. But how does one tell, at a glance, whether a cannabis flower is an indica or sativa? Furthermore, a lot of strains are hybrids of indica and sativa strains. How does one tell whether a strain is indica- or sativa- dominant? To the average person, this isn't as straightforward as telling the difference between a red and a white wine, or an IPA and a pilsner.
There are thousands of varieties of grapes in the world. How many varieties of cannabis are there? A lot. Just look at the ads for seeds in High Times — holy cannoli. New varieties are constantly emerging, too. It's all illegal. How are we supposed to know what's what?
Even though the cannabis scene isn't as venerable as the wine scene, it didn't emerge overnight. There are a lot of resources out there — books, websites, strain guides — about the different varieties on the market. Here's a good primer: Jay Smoker gets into the difference between indica and sativa on The Weed Blog.
Still, the ancient booze industry has much more clearly defined and commonly known parameters for quality, for labeling and for categories and sub-categories. Plus, it boasts countless experts and enthusiasts.
The cannabis industry is totally birthing comparable tiers and parameters right now…
Case in point: Check out this website: The Ganjier. "Ganjier" is a play on "sommelier," which is a wine steward or wine expert. You can find an in-house sommelier at any fine dining establishment.
According to the website, a ganjier is "a ganja professional with a visible passion for cannabis and who is highly knowledgeable about one or more facets of the plant, such as its history, characteristics, flavors and genetics." Emerald Triangle people are behind this website, which features articles written by familiar experts from our region and beyond.
Oh, and what's this?? Why, there's information on The Ganjier about the 1st Annual Golden Tarp Awards, set for Saturday, Sept. 13th, at the Mateel in Redway. This event is a light deprivation weed competition and celebration of the Humboldt cannabis community.
(If you're not up on the light deprivation scene, you'd better read Deps Down! for insight on this growing method from Wonderland Nursery Cultivation Director Kevin Jodrey.)
Here's the deal: Entries for the Golden Tarp Awards are due by August 21st. There are drop off locations in Hopland, G-ville and Arcata. Growers can enter their strains in one of the following four competition categories: floral, fuel, earth and fruity. (Are those technical terms?)
All entries will be tested by the Pure Analytics lab in Santa Rosa. Entries that test positive for pathogens, pesticides, chemical growth regulators and/or fungal growth will be disqualified.
The four strains in each category with the highest total cannabinoids move on to the next round, which means they will be judged at the event by lucky "regular folk" attendees. The judgeships will be granted by a lottery on the day of the event. You gotta have a valid 215 recommendation if you want to get in on that. And if you do score a spot as a judge, be ready to sample all of the top 16 top entries!
The event itself will feature music (Potluck!), classes and speakers. Should be a good time…
Is this event an omen of things to come? Might the Emerald Triangle become a fine weed-tasting region where tourists can come to taste organic outdoor heirloom seed strains and to indulge in cannabis spa treatments and weed farm B'n'B getaways? The Napa of cannabis, complete with ganjier training schools and gold medal varieties…