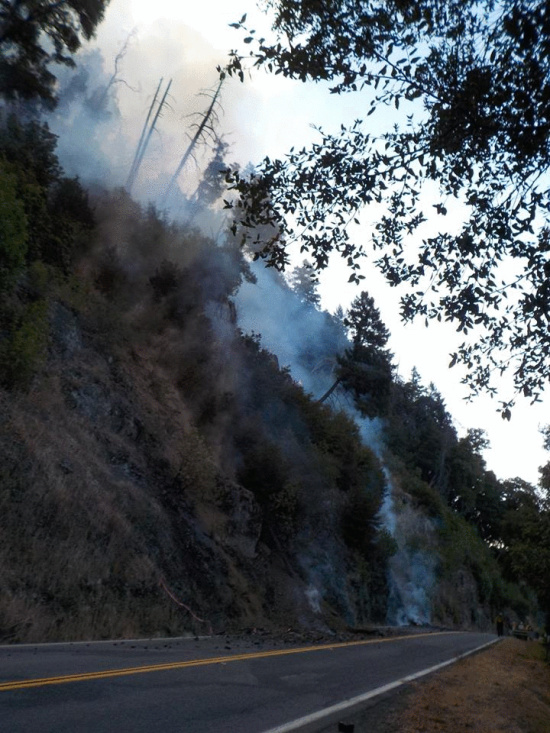 Burning debris and rocks fell unto the Highway 96 today. The road has been closed since this morning. Caltrans anticipates, "[A]fter fires alongside the highway are extinguished, they will be able to remove any damaged trees, clear debris from the roadway, and reopen the highway sometime in the afternoon." [Photo provided by Caltrans.]
UPDATE 11 p.m.: CHP Dispatch is now reporting that Hwy 96 is open to one way controlled traffic.
Six Rivers Forest Service Press Release:
The Sugarbowl Fire on the Lower Trinity Ranger District of the Six Rivers National Forest is at 10 acres as of 1:30 pm this afternoon. Better ground observations reduced the size from what was originally thought earlier today. The fire was reported at 3:50 this morning near mile post 7.47 on Highway 96.

Cal Trans has closed State Route 96 from 6.5 miles east to 7.6 miles east of the junction of State Route 299 in Willow Creek due to rocks and rolling debris from the Fire. The road will remain closed until at least Saturday afternoon. Before re-opening the road, Cal Trans will inspect the road for any road-related hazards and take needed action.

The fire is burning in grass, brush, snags and hardwood. No structures are threatened; the Fire is north of the Sugar Bowl Ranch.

The fire perimeter is somewhat triangular, with the base near Highway 96. According to Forest Service Division Chief Paul Johnson, "the southeast flank has been lined in and the crews are working on the northwest flank. We have it about 75% contained," he said.

Quick Facts:

Engines: 5

Crews: 5

Water Tenders: 3

Helitanker: 1 (1000 gallon capacity)

Air Attack plane: 1 ("eyes in the sky", providing information to ground resources)

According to Johnson, resource plans for Saturday's activities include:

Engines: 5

Crews: 5

Water Tenders: 2

Helitanker: 1 (1000 gallon capacity)

Crews will focus on mop-up and taking care of any "hot spots."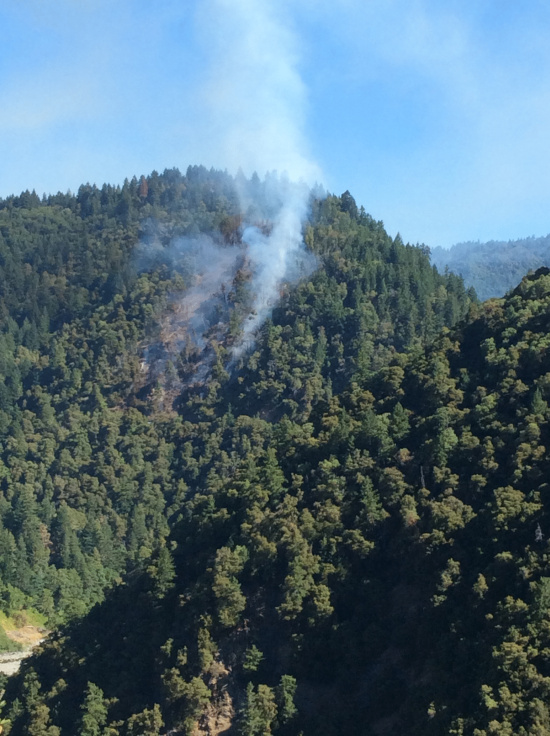 Bottom photo and map provided by the Forest Service.