UPDATE, 3:11 p.m.: Press release from the California Highway Patrol:
On Thursday, July 31st, an elderly woman was sent to the hospital after she drove the wrong way on US-101 Northbound, north of Bayside Cutoff, and collided into a second vehicle.

Just before 12:00 pm, 88 year old Frances Lambert of Eureka was driving her 2008 Nissan Altima southbound, the wrong way, within the northbound traffic lanes of US-101, north of Bayside Cutoff. After several northbound vehicles were able to avoid a collision with the Nissan, the left side of the Nissan collided into the left side of a 2000 Hyundai Santa Fe driven by 60 year old James Porter of Arcata, who was traveling northbound. The Hyundai then spun out of control and collided into the metal guardrail within the center divider of US-101. Ms. Lambert was transported by ground ambulance to Mad River Community Hospital with complaint of pain injuries. Mr. Porter received minor complaint of pain injures and was not transported.

DUI is not a factor and both occupants were wearing their seatbelts at the time of this traffic collision. The California Highway Patrol Humboldt Area office is investigating this traffic collision.

# # #
UPDATE, 12:31 p.m.: Traffic is now able to proceed past the crash site, albeit at a reduced speed.
# # #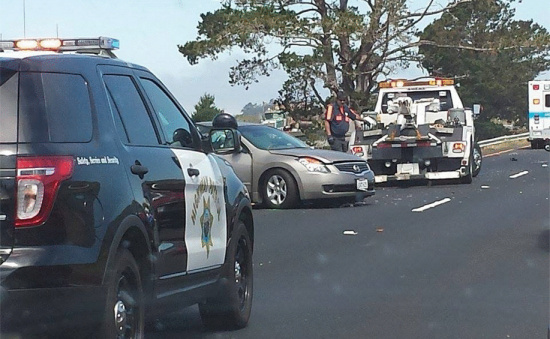 (Photo courtesy LoCO friend Rae Robison.)
Original Post: Be advised, CHP and medical personnel are responding to a reported head on collision just south of Arcata. The Lost Coast Outpost's CHP Watch indicates that the accident involved a Nissan Altima and a Toyota Sequoia. Currently all northbound lanes are blocked.
Stay tuned to the CHP Watch for info as it develops, and maybe consider taking an alternate route between Eureka and Arcata, either through Samoa or Old Arcata Road.