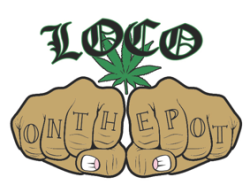 Last Sunday I attended the Church of the Eel River in the hills of Southern Humboldt to hear the good word of water flowing in the hills and to savor the psychedelic offerings of Planet Earth in a beautiful place. (Disclaimer: "LoCO On The Pot" does not condone the use of psychedelics and other mind altering substances.)
At one point, as I sat by the river, processing psilocybin, my perspective started to broaden until I had a bird's eye view of my immediate surroundings. It was an out-of-body experience, if you will, an "astral projection."
I zoomed out until I was able to take in the broader curves of the Eel. I could see the various homesteads, trailers, green houses, houses, and water tanks in the vicinity. I could see many weed farms. It was like I became the eye of Google Earth, and my perspective was basically the Green Rush Google Earth Tour.
It was pretty crazy, zooming in and out, from pot farm to pot farm. I saw humans at work — leafing, staking, transplanting, feeding, watering, planting. I saw trucks coming and going, with soil, with fuel, with supplies. People working, working, working. Made me realize that Humboldt is kinda like the LA of marijuana — it's all go, go, go, grow, grow, grow.
And then I zoomed out even further until I could see the whole floating ball of Planet Earth. At this juncture in my astral journey, I was not surprised to see that the continents were arranged in the form of one giant cannabis leaf — "Cannagaea" or "Marijuanagaea."
Naaaah! Just kidding. The dose wasn't that strong. It was more medicinal, as opposed to intergalactic.
But anyway, the weed thing is wild around here, even from the sober on-the-ground perspective — there's endless marijuana hustle-and-bustle. Everything you need for the weed, you can get it here in Humboldtia: trim machines, clones, seeds, pollinators, extraction tubes, compost teas, automated greenhouse covers… You name it! Weed farming remains on, and hopefully this year's outdoor crops are bomb, world's finest.
Just in the last two months, since LoCO - OTP last graced the interwebs with a very Unhappy 420, tons of cannabis stuff has gone down at the local level. Here's a sampling of the cannabis hustle-and-bustle that's happened 'round here since 420:
SoHum's own community radio station KMUD went buck wild back toward the end of April with its Cannabis-themed pledge drive. They ran hella cannabis programming for two weeks straight, including shows like "Confessions of an Accidental Dope Grower," "From Monocrop to Diversified Farm," the "Medicine Making Roundtable," "Cannabis Healing Qualities and Warning Label," "Impacts of Legalization on Community Infrastructure," and "California Cannabis Politics and Growing Green in 2014." And they totes raised some cash… Cheers!
This was uncool: On May 11, a burglary was reported at Trim Scene Solutions, an incident which called attention to the lack of law enforcement in Humboldt County. (LoCO coverage here.) The dude that broke in triggered the store's alarm system, but oops! no sheriffs deputies were available to respond to the alarm. So the burglar and his burglar homey that eventually joined him just straight hung out in the store for a few hours. They took about $3Gs in merchandise. Bummer. However, one suspect turned himself in just a few days ago when he learned that investigating deputies were hot on his trail. (More LoCO coverage here.)
(Note: Sparse law enforcement coverage remains an issue in rural Humboldt. There is an upcoming town hall meeting about this issue set for June 26 in Redway with Sheriff Mike Downey, Undersheriff Bill Honsal and Supervisor Estelle Fennell. Follow that link for more info…)
On May 12, two decomposing bodies were found at a grow site in Laytonville. (Santa Rosa Press-Democrat coverage.) According to the article, Mendo Sheriff's Capt. Greg Van Patten said the bodies were estimated to have been there for about a week. At the time, homicide was suspected. Definitely the dark side of the dank trade.
This is the party side of the dank trade: Duuude, the Secret Cup came to Mendo's Area 101 on May 29-30. What? Yah. It's like the cool kids club extract competition. Who was there? Wow.
Then on June 3, local Congressional candidate Andy Caffrey held a "Caffrey for Congress Election Day Patriots Smoke-In" at 4:20 p.m. at his campaign headquarters in Garberville. Cool. Caffrey did not make the Congressional cut in this open primary. But nothing can deter Caffrey: he's going to try to nab the 2016 Democratic Presidential nom from Hillary, nab it with a phatty in hand… I foresee many politically stoney events like this in the U.S.A.'s near future.
The NORML Women's Alliance Emerald Triangle NorCal chapter had its second meeting on June 11 in Garberville. (Their first meeting went down in May.) From their Facebook page:
The NORML Women's Alliance is a nonpartisan coalition of socially and geographically diverse women who believe that marijuana prohibition is a self-destructive and hypocritical policy that undermines the American family, sends a mixed and false message to our young people and destroys the cherished principles of personal liberty and local self-government.
Right on. Surely there are Emerald Triangle women that can identify with that statement. I hear these ladies have some more events in store. Connect with that crew through their FaceB.
And all the while, the dear Humboldt County Board of Supervisors has been stuck like a fly in honey oil with pushing through its proposed outdoor medical marijuana ordinance for parcels up to five acres in size. It's like dra-ma with the BOS and the Planning Commission over this.
Here's the latest on the ongoing saga (as of June 19): At this past Thursday's meeting, the Planning Commission voted to recommend that the BOS approve the proposed ordinance with modifications. (Thanks to Will Houston for his Times-Standard coverage.) So the proposed modifications are removal of the ban on outdoor cultivation on parcels less than a half-acre, removal on the number of plants restriction, an increase in the canopy restriction from 50 to 100 square feet and some number crunching to see how much it will cost to beef up enforcement (there is but one county code enforcement officer…). Here's some Burnsy LoCO coverage too.
Still, the growers keep growing. Shoots… Deps anyone? And always, always, busts, more busts, and big ass grow site clean ups.
On the BOS note, the June 17 episode of KMUD News had epic coverage of the hazards-of-hash-making discussion at the latest Mendocino Board of Supervisors meeting. (KMUD News always has epic cannabis coverage.) In the news segment, there is audio of Mendo's hazardous waste specialist talkin' seven explosions and fires in the past seven weeks, all supposedly stemming from people doing the solvent-based hash extraction process. Dude explains how to make BHO (dabs). Then he tells hash lab horror stories — apparently one Mendo hash maker showed up at the hospital post-explosion with dripping skin. Cold water bubble hash was promoted as a safer alternative…
But that cold water hash ship is sailing, sailing away. Dabs may be the best thing that's ever happened to caramel-like but sometimes crumbly or glassy and clear substances, at least I'll bet that's what some dab super-fans might say. Yes, dabs, dabs all day, dab, dab away at the upcoming San Francisco High Times Cannabis Cup. Yup, the HT Cup returns to NorCal this coming weekend, June 28-29. Guess where…? The Sonoma County Fairgrounds in Santa Rosa (not quite SF)! Sounds like 2013 Emerald Cup deja vu. Go Rosa, get your dabbage on.
Oh, so much cannabis…
Here's another biggie: The political action committee (PAC) happenings. The California Cannabis Voice (CCV) PAC is officially active within the Triangle. Money = influence. In that respect, PACs are where it's at. Cannabis peeps totes need some influence right now with the uncertain future of legalization and all that. Luckily, cannabis peeps have tons of money. But maybe not really. Anyway, CCV provides a vehicle for farmer unity in these uncertain times. The CCV crew has already raised some decent bucks for their cause, a cause which Grant Scott-Goforth articulates so well in his June 19 North Coast Journal article: "PAC a Bowl." (I'm more of a joint person, myself.)
A potentially influential PAC with roots in the Emerald Triangle, eh? Intriguing. It will be interesting to see how the CCV influence manifests.
And that's just a sampling of local cannabis news from the last couple months, without even getting into what's going down at the state, national and global levels. Marijuanagaea, yo.
More from the HT Cup next weekend…