If you were in the audience last year for the local screening of Willow Creek, comedian/director Bobcat Goldthwait's locally filmed Bigfoot horror flick, you probably:
had a good time
got a kick out of all the recognizable local sights (Hey, it's The Forks bar! Bigfoot Burger! Steve Streufert! Those Seven-O-Heaven jokers!)
and
figured that was the last you'd see of this low-budget found-footage-style movie until it snuck quietly onto Netflix Instant.
That was our experience, anyway. But then today, while checking for new Taylor Lautner movies, we spotted Willow Creek on the popular movie review site RottenTomatoes.com, where it's rocking an impressive 93 percent positive score.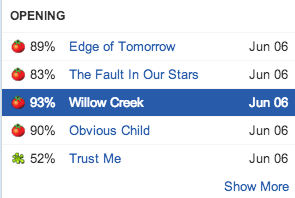 Turns out the movie is getting an official theatrical release (and simultaneous video-on-demand premier) thanks to a distribution deal with MPI Media Group.
If you've not yet seen it, the movie bears more than a passing resemblance to The Blair Witch Project, though Goldthwait's genuine affection for Bigfoot lore shines through, and the film features a charming pair of leads and plenty of beautiful local scenery (and amateur local actors).
Calling it Goldthwait's "warmest, most satisfying work," Village Voice says, "The movie is legitimately creepy, especially in its soon-to-be-celebrated centerpiece, a single shot of its leads cowering in a tent that runs for some 20 minutes."
New York Times critic Jeannette Catsoulis makes note of the film's Humboldt County setting, and while she complains that it drags a bit (we must agree), she also says, "Mr. Goldthwait gives us lovely, buttery daylight scenes, nicely relaxed leads and dialogue that pays attention to fluctuating gender dynamics."
Oh, and there's a pretty cool new poster: