UPDATE 11:02 a.m.: Hank Seemann from the Public Works Department spoke with KHUM and Lost Coast Outpost's Hank Sims to put these recent developments in context..
Seemann admits this is a challenging project, but that "things are shifting in a really construction direction."
"There's a lot of good coordination right now between the City of Eureka, City of Arcata, H.C.O.G., CalTrans, we're working with North Coast Railroad Authority, and there's a lot of good communication and coordination.

Along with our press release yesterday, we released a map showing different pieces of the overall Humboldt Bay Trail from central Arcata down to Hikshari' Trail in southwest Eureka. Each segment is in the works, to varying degree. There's a lot of good work in motion."
Hear Seemann's full interview below (6 minutes):
###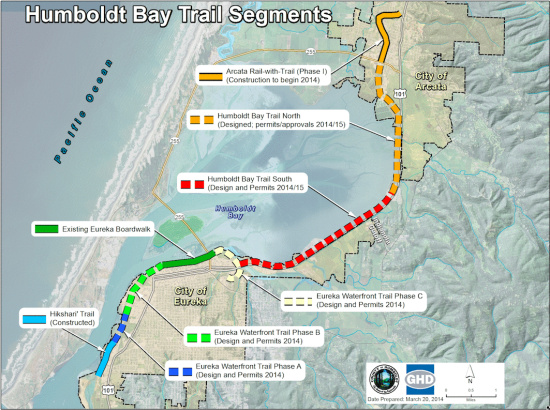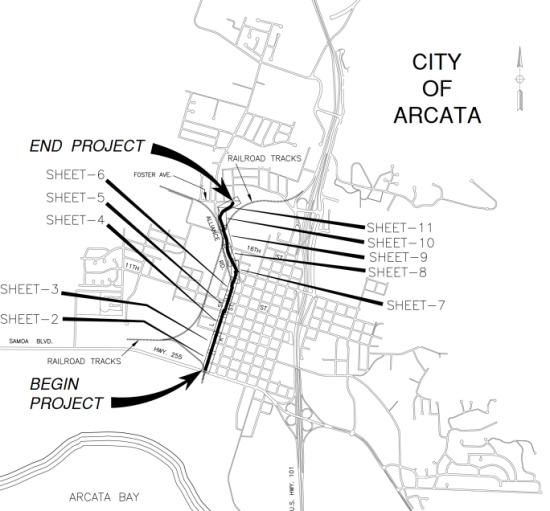 ###
UPDATE Friday 3/21/14 9:23 a.m.:
Add another $842,000 to the trail progress tally.
The same agency that approved funding for the southern portion of the Humboldt Bay Trail has also approved funding for some trailbuilding in southern Arcata.
This portion of the trail extends from Samoa Boulevard to the corner of Foster Avenue and Alliance Road, and is designed for biking, pedestrian, wheelchair, skating, and other non-motorized use.
In a press release, the city states this project "is a key trail segment to reduce single occupant vehicle trips and to provide safe connectivity to major youth and family destination spots throughout the community."
If you really want to nerd out on this trail's elevation maps and intersection interfaces, check out these official-looking diagrams.
###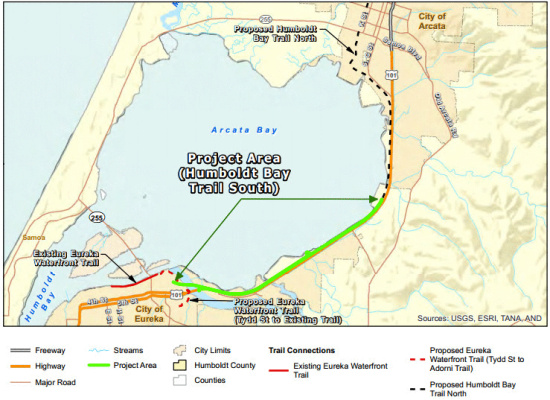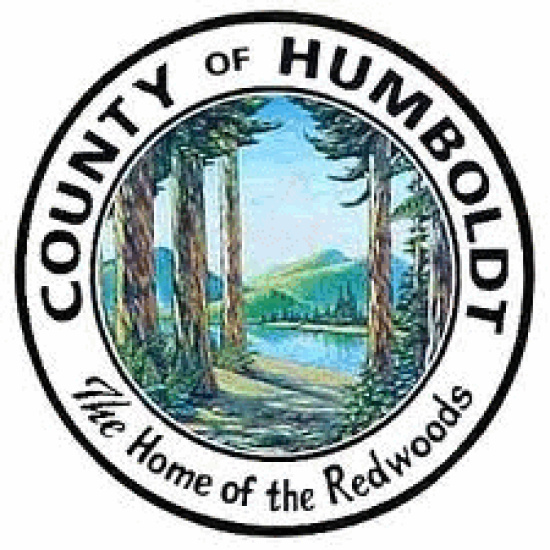 Arcata and Eureka are $2 million closer to having a unifying trail, according to a press release from the Humboldt County Public Works Department.
Engineering and environmental permitting funding is in place for about four miles of the southern chunk of the 101 safety corridor. The stretch in question is between X Street and Bracut.
What's not yet known is how the trail will cross Eureka Slough at the northern end of Eureka.
"We don't have a selected alignment yet," said Hank Seemann of the county's Public Works Department. "We need to cross the slough one way or another: Either over the bridge, on the highway, or a new bridge."
Seemann will speak on KHUM tomorrow morning at 10:15 to fill in details.
Press release from the County of Humboldt:
On March 20, 2014, the California Transportation Commission approved allocation of $2 million to Humboldt County to perform engineering design and environmental permitting for the southern portion of the Humboldt Bay Trail. The Bay Trail South segment extends from X Street in Eureka north to Bracut for a total length of 3.8 miles.

The Humboldt Bay Trail is a proposed Class I bikeway situated within the U.S. Highway 101 and railroad transportation corridors between the cities of Eureka and Arcata, along the east shoreline of Humboldt Bay.

A Class I bikeway is a paved, two-directional trail separated from any street or highway. In addition to bicycle use, the trail would provide transportation, recreation, and coastal access opportunities for pedestrians, joggers, wheelchair users, skaters, and other non-motorized users.

The Humboldt Bay Trail is being developed as a series of linked projects in coordination with the Humboldt County Association of Governments (HCAOG), County of Humboldt, City of Arcata, City of Eureka, California Department of Transportation (Caltrans), and the North Coast Railroad Authority (NCRA).

Also on March 20, the California Transportation Commission awarded funds for construction of Phase 1 of the Arcata Rail-with-Trail Connectivity Project, which extends from Foster Avenue/Alliance Road to Samoa Boulevard. Construction of the Phase 1 segment is scheduled to begin this year. Phase 2 is proposed to extend from Samoa Boulevard south along the NCRA railroad corridor to Bracut for a total length of 3.0 miles. Phase 2 corresponds to the Bay Trail North segment of the Humboldt Bay Trail. Construction funds have not been secured for the Bay Trail North segment.

The City of Eureka has three phases of the Eureka Waterfront Trail currently in development. Phase A will extend from the existing Hikshari' Trail to Del Norte Street, and Phase B will extend from Del Norte Street to C Street. Phase C will connect the existing Adorni Trail at Halvorsen Park to the existing Target Trail, then continue under the Highway 101 bridge at Eureka Slough to Tydd Street near Myrtletown.

Phase C will connect with the Bay Trail South segment near the Target Trail and Eureka Slough.

Projects are being developed based on the findings and direction of the Humboldt Bay Rail Corridor Committee convened by NCRA in 2012, and in conjunction with the Eureka-Arcata Route 101 Corridor Improvement Project being implemented by Caltrans and HCAOG.

Funds for engineering and environmental permitting of the Bay Trail South segment will be available starting in July 2014. The engineering and permitting phase is expected to require at least two years due to the complexity of the project, proximity to sensitive resources, and constrained right-of-way. Funding for construction has not been secured. Potential funding sources for construction include: the state Active Transportation Program; Coastal Conservancy; the federal TIGER program; future State Transportation Improvement Program cycles; and private fundraising.

Additional information on the Bay Trail South segment of the Humboldt Bay Trail is provided in the Project Study Report, available on the Humboldt County Public Works web site under Documents:

http://www.co.humboldt.ca.us/pubworks/docs/humboldtbaytrailsouthpsr_3-18-2014.pdf