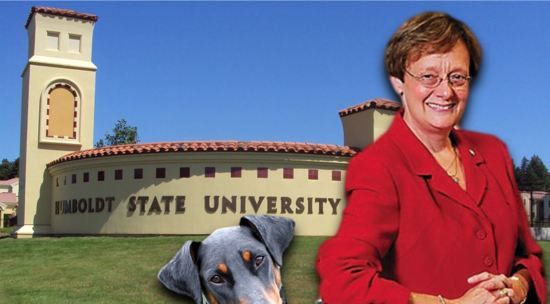 The board of trustees of the California State University system just announced that it has chosen a new Humboldt State president.
She is Lisa Rossbacher, the current president Southern Polytechnic State University in Georgia and a person with her own Wikipedia page. Rossbacher is a geologist by training, and will be Humboldt State's first female president.
Judging by news reports, she seems to be escaping a "hostile takeover" of her university by Kennesaw State.
###
Press release from the California State University Board of Trustees:
CSU Trustees Appoint Lisa A. Rossbacher as President of Humboldt State University

** First Woman to Lead HSU **

(March 26, 2014) - The California State University (CSU) Board of Trustees has named Lisa A. Rossbacher as president of Humboldt State University (HSU). Rossbacher is currently serving as president at Southern Polytechnic State University in Marietta, Ga. and begins her new position in July.

"It is a wonderful and humbling honor to be chosen to serve the students, faculty and staff as well as the North Coast community as the next president of Humboldt State," said Rossbacher. "The university's unique programmatic offerings and beautiful setting draw a diverse group of students who are committed to improving themselves and the community through public service. HSU embraces sustainability and the environment like few other universities, and I look forward to engaging all groups to achieve the university mission."

Rossbacher succeeds Rollin C. Richmond who is retiring at the end of the academic year after 12 years as president of HSU. Rossbacher will be the university's seventh - and first woman – president in its 100-year history.

"Throughout her career, Dr. Rossbacher has demonstrated a focus on student success and she leads through consensus building and shared governance. She is a noted scholar and teacher, and as a current university president she brings a wealth of innovative administrative experience necessary to lead at the highest level," said CSU Trustee Larry Norton, chair of the presidential search committee. "Lisa's broad experience as an educator, scholar and academic leader and her passion for education are qualities that will serve her and HSU well."

HSU marks a return to the CSU for Rossbacher, who previously served as a professor of geological sciences (1984-1993), as well as the associate vice president of Academic Affairs, at California State Polytechnic University, Pomona (1987-1993).

Prior to her service at Southern Polytechnic, Rossbacher served as dean of the college at Dickinson College (1995-98) and vice president for Academic Affairs and dean of the faculty at Whittier College (1993-95).

Rossbacher earned a Ph.D. in geological sciences from Princeton University, master's degrees in geological sciences from Princeton University and the State University of New York at Binghamton, and a bachelor's in geology from Dickinson College.

Rossbacher's husband, Dallas D. Rhodes, is also a geologist and has been a professor for more than three decades. Among other areas of interest, he conducts research on the San Andreas Fault. The two have a Doberman named Tango.