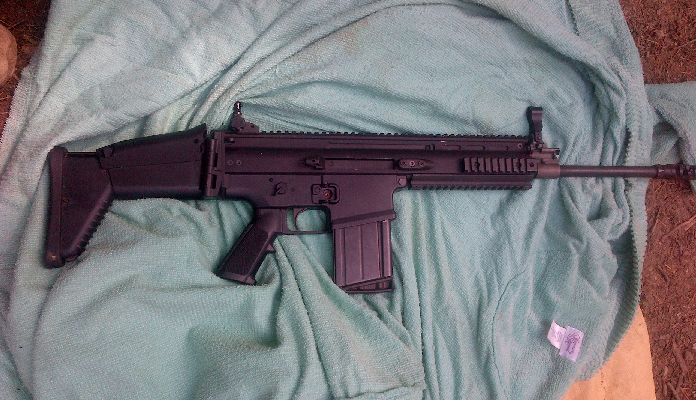 Humboldt County Sheriff's Office press release:
On 05-01-2014, at approximately 7:00 a.m., a Parole Search and Humboldt County Superior Court Search Warrant were served at the 2500 block of Garland Street, Eureka. United States Marshals, United States Drug Enforcement Agents, California Highway Patrol (C.H.P.) Officers, Eureka Police Department, Humboldt County Sheriff's Office and California State Parole conducted the search. Officers in Trinity County served a Trinity County Search Warrant at the same time at a parcel at Ruth Lake. Both warrants were to search for wanted attempted murder suspect Silverio Sanchez.

Officers located four adults and four children in the residence on Garland Street. The officers had the eight occupants exit the residence. The officers interviewed the occupants and learned Silverio Sanchez was hiding inside the residence in the attic. The officers attempted to call Silverio Sanchez out of the attic, but he refused their commands. The officers deployed a United States Drug Enforcement apprehension canine into the attic. The canine was able to locate and apprehend Silverio Sanchez , who received minor bites to his feet. Officers were then able to take him into custody without further incident.

While searching the residence officers located a handgun, rifle and handgun ammunition, high capacity magazines and approximately three pounds of processed marijuana.

Ronald Sanchez Jr., 26 years old who is Silverio Sanchez's brother is on active parole, and was arrested for a violation of parole and is being held without bail. Additional charges for being a felon in possession of a firearm, a felon being in possession of ammunition and harboring a fugitive are being sought against Ronald Sanchez Jr.

Officers from Trinity County Sheriff, U.S.M.S., California Fish and Wildlife, United States Forest Service, and a CHP Helicopter served the search warrant at the Ruth Lake parcel. Located on the parcel were several travel trailers and storage containers. The warrant also authorized a search for Silverio Sanchez , weapons and stolen property. During the service of the search warrant officers located two of Silverio Sanchez's relatives on the property, along with an assault rifle and ammunition.

One of the Trinity County Deputies was assaulted by Damen Carlson, 19 years old who was present at the property. Carlson was arrested by Trinity County Sheriff's Office for assaulting a police officer.

"Today's capture of Silverio Sanchez is a testament to the dedication and hardwork of all involved and the cooperation of several agencies," said Don O'Keefe United States Marshal for the Northern District of California.