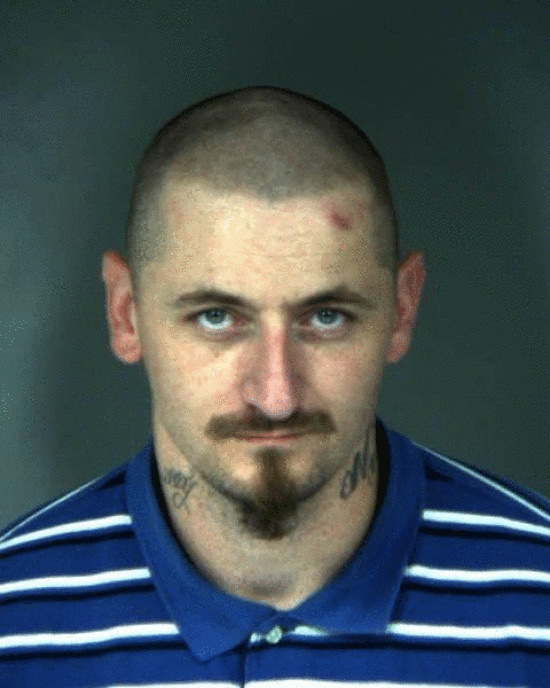 In a series of emails ending with a phone call to the Lost Coast Outpost, a Humboldt County homicide suspect on the run from law enforcement has detailed, from his perspective, the events that led to the slaying of Zachery Chapman in the Garberville area last month.
During the course of these conversations, Benjamin Carter, a 33-year-old Southern Humboldt resident and the Sheriff's Office's main suspect in last month's homicide, told the Outpost that he had in fact, shot and killed Chapman in a trailer on April 16, but insisted that he had been acting in self-defense.
Carter also insisted that his wife, Melinda Carter—who was arrested on multiple charges including accessory to homicide two days after Chapman's killing—is innocent.
Law enforcement arrested Carter's wife in Redway at the Brass Rail Inn where the couple had been renting a room. The next day arson investigators began looking at a burned trailer located west of Garberville. While they were on the scene, Chapman's body was discovered close to the annual Community Easter Egg Hunt, not far from the trailer. The Humboldt County Sheriff's Office sent out a press release describing Carter as armed and dangerous. Since then law enforcement agencies across the county have been searching for him.
Carter emails the Outpost
On Friday, the Lost Coast Outpost received an email purporting to be from Ben Carter which described Melinda Carter as being "inocent of any wrong doing or participation." His wife, he said, was not guilty of the charges for which she is currently being held in jail.
Instead, Carter said that another woman present burned Chapman's clothing, set the trailer on fire and helped load Chapman's body into a vehicle so it could be dumped in the Eel River. "[This woman] is responcible for doing the clean up of the chapman homiside," he claimed. He also believes that the woman (whom he names but the Lost Coast Outpost declines to name) informed law enforcement that Melinda Carter was the one who had cleaned up the homicide scene.
After receiving our first email from Carter, we contacted the Humboldt County Sheriff's Office to see if the information contained in it was consistent with the facts of the case. Were we really corresponding with the suspect, we wondered?
Investigator Cheryl Franco, who is in charge of the Chapman homicide investigation, said she did not believe it likely that Carter was writing us, but she provided information that she felt would not compromise her case or reveal too much.
"We don't want to try the case in the media," she explained. "We want to try the case in the courtroom."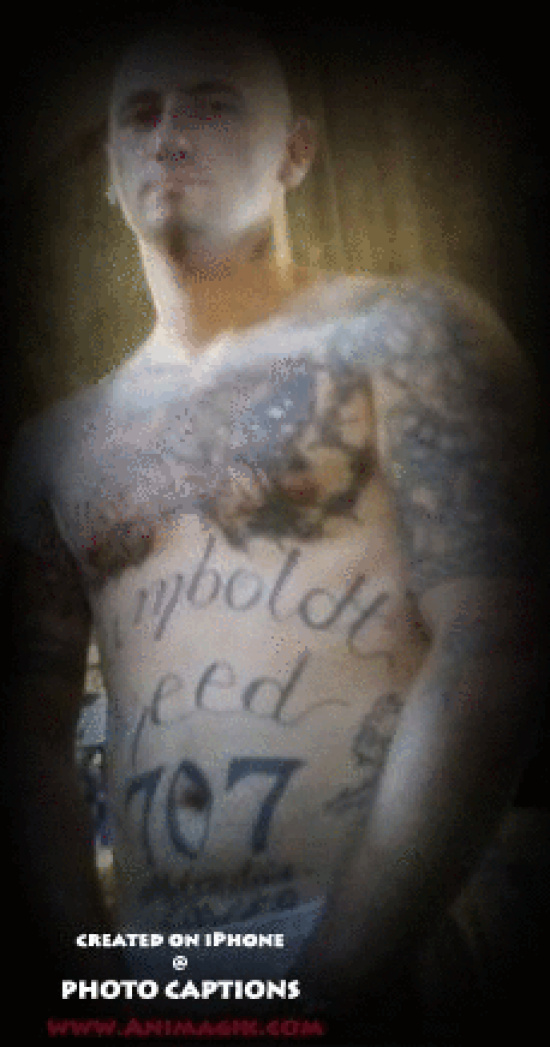 Due to information the Lost Coast Outpost received after we contacted the Sheriff's Office, we came to believe we were, in fact, in touch with Benjamin Carter. After our call requesting information from law enforcement, we asked our email correspondent to provide us with proof of his identity. Carter sent us a photo of his distinctive stomach tattoos [See photo right for the image that Carter had on his Facebook page before Chapman's death. See photo left for the image sent Friday.]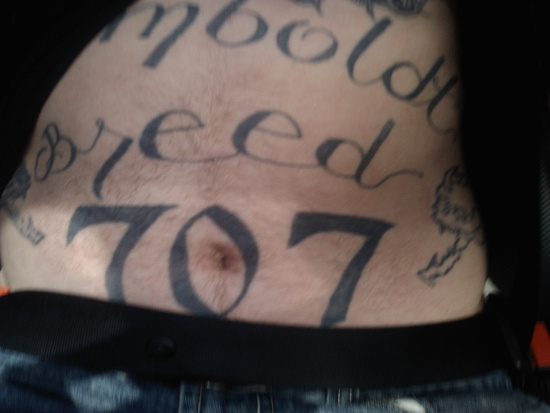 From the photo's metadata — information implanted within the photograph itself — Hank Sims, our editor and computer expert, was able to identify that the photo had been taken only a few minutes prior to the email arriving at our desk. The photo did not contain information about the location it was taken.
In subsequent emails, Carter said that he will surrender to law enforcement eventually. "I plan to turn my self in but the way it was blown up in the media makes it hard to beleave in a fair trial," he wrote. "But in the mean time I want some strait facts put out not the concoted story that was given when warrnts were issued."
Carter explained that he has spoken to a lawyer and has "him on hold for when the time comes" to turn himself over to law enforcement.
The night of the killing
Carter told the Outpost that four people were in a trailer in the Connick Creek area west of Garberville eating dinner at around 9:45 p.m. on Wednesday, April 16, the night the killing occurred — him, his wife, the owner of the trailer and the trailer owner's girlfriend.
Carter was standing outside the trailer when Chapman walked up. In his emails to the Outpost, Carter wrote that "…zack came there obveously high. He seemed angry and agressive, yet not there… [he] walked right by me out side like he didn't even see me."
As Chapman reached the door, Carter wrote, he yelled, "ben I want my shot gun." He apparently thought Carter was in the trailer. Carter said he picked up the gun Chapman had given him earlier in the day and followed Chapman into the trailer. Carter said that when he entered the place, Chapman had a pistol pointed at the two women. Carter wrote that, as he entered, Chapman pointed the gun at him and said, "u get some of this too."
"I'm not pulling down on somebody unless I'm intending on using it," Carter explained. When Chapman swung the gun at him, Carter said he believed that Chapman "was going to kill me."
"Out of fear and reaction I brought his shot gun up and discharged the single round it had in it in his abdomen," Carter claimed. "I'm thinking he had intentions of doing something I just don't know what… . He was slamming dope and doing heroin and shit."
According to Carter, Chapman fell to the ground without saying another word. But, Carter says, he has a hard time remembering the details of that night. "Its kinda fuzzy like I shut down and went on auto piolet," he explained.
"It just kind of fucked me up," he said. "I considered him family."
He said he continued acting without thinking things through. At the time, he thought that calling the police and claiming self-defense would not work. He wrote, "I'm a convicted felon that was in possetion of a fire arm that just discharged parole and paniced out of fear of losing my freedom and the distress of taking the life of a friend even though I was threatened."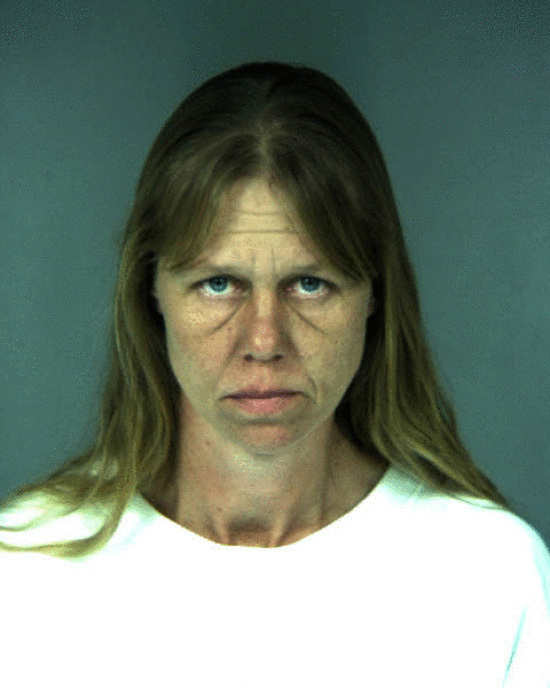 Carter writes that after Chapman fell to the floor, he pulled Chapman outside. He said that Chapman's "puffy jacket and shirt and one of his shoes" came off in the process. The others, he said, began trying to get rid of the evidence except, he said, his wife. "melinda stood off shocked," he said. "While melinda may have been present at the scene," he claims, "she is inocent of any wrong doing or participation. She was the most inocent person there yet she's in jail."
Instead of Melinda (see photo right) cleaning up, he said, the other woman did much of the work. This woman, he claimed, attempted to destroy evidence of the shooting including the clothing that that had come off Chapman in a burn pit outside. Carter claims that bullets began exploding in the fire — apparently from extra clips that Chapman was carrying with him.
At some point, Carter said he and the other woman loaded Chapman's body into Carter's truck. Then he drove Chapman's black Camaro away from the trailer and parked it not far from the gravel pit.
In the confusion, Carter apparently left Chapman's car running. According to Franco, a citizen saw the vehicle some time after it was left there and called in concerned there had been an accident.
Scanner traffic shows that the call came in shortly before 1 a.m. Dispatch described the situation as "Black Camaro off roadway with its lights on. Up Sprowl Creek Road, past the gravel pit." A Garberville Fire Department crew responded, looked around, and, after determining there was no accident, the CHP dispatch relayed to them that they should leave. A CHP later checked on the vehicle, turning off the key and the lights.
After parking the Camaro, Carter said he ran back to the trailer where he used his truck to take Chapman's remains to the river. "I drove his car down the road and ran back to drive his body to the river worried about finger prints," he explained.
At this point, Carter said that the other woman decided that there was no cleaning up the evidence in the trailer. According to Carter, the owner said, "Just fuckin' burn it then."
Carter said he "made" Melinda sit in his GMC truck with Chapman's body in the truck bed. He says the trailer was not yet burning when he left. He drove to the nearby Eel River. There Carter says he pulled Zack down from the truck himself and "kicked him in the river cause I was worried about finger prints on the body."
According to Investigator Cheryl Franco, Zachery Chapman's body was found "roughly where it had been dumped" — off of Kimtu Road, upstream from Tooby Park. An earlier press release from the Sheriff's Office said that it was found in the water but near to the riverbank.
Carter said after that he and Melinda headed towards Garberville but, seeing what he said he took to be an accident, but was actually Chapman's running Camaro being investigated by the CHP, he took Old Briceland Road towards Redway where he booked a room with his wife at the Brass Rail Inn.
Eventually, they met up with the other couple. They stayed through Thursday. On Friday, according to Carter, the other couple told him that they were going to go get some pot. When they didn't come back, Carter or his wife called them. The other couple made excuses but said they were coming back. Carter said this happened several times. When checkout time came on Friday, he said that he and Melinda planned to leave and relayed this information to the other couple. Carter said that when the other couple heard this, they offered to pay if the two got the room for another night.
While waiting, Carter decided to go to Garberville, leaving his wife in the room. When he came back, he saw law enforcement "all over."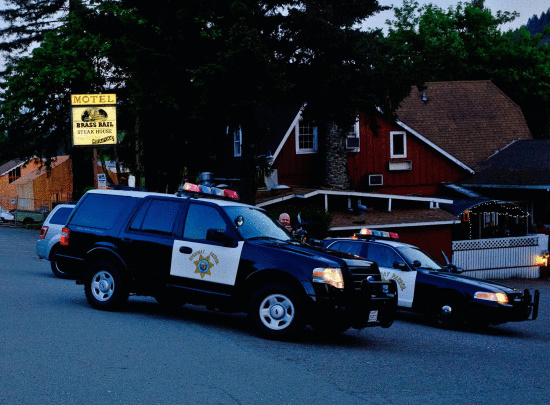 The CHP were at the Brass Rail Inn on Friday, April 18th searching for suspects in the death of Zachery Chapman. [Photo provided by Satchmo Louie.]
A press release by the Humboldt County Sheriff's Office on April 19 said, "On 04/18/2014 the Humboldt County Sheriff's Office received information regarding a possible homicide involving a firearm that occurred in the Southern Humboldt area." Carter believes that the trailer owner and his girlfriend contacted law enforcement about Chapman's death.
An earlier press release from the same agency on the same day said that Carter was in possession of an AR-15 style rifle and a sawed-off shotgun. Carter complained that law enforcement was already in possession of the AR-15 style rifle, which was in the other woman's truck. (Though she declined to say where, Franco told the Outpost: "We did find an AR-15 We did locate and seize it as evidence."
Carter did say that though he did not have that rifle, at some point, he put Chapman's shotgun and pistol in a safe place. "This is my only evidence that I have of what happened," Carter explained.
He claimed that he was currently unarmed.
Chapman's vehicle was eventually located at the Lone Pine Motel in Garberville. Franco believes someone moved it after it was seen idling alongside Sprowl Creek Road. Carter said that he didn't move it. He said he thinks it was someone looking for Chapman.
'He should surrender'
Carter says he doesn't know why Chapman was angry at him or the two women. Chapman died, Carter explained, before he told the two couples why he so upset.
"It hurt," Carter wrote, "cause he was like a brother and don't know what came over him other than mabe to many drugs."
Carter insists that he plans on turning himself in someday when the time is right. "I know I got to go face up and give my side." But, he said, "As long as law enforcement has my wife I'm not coming in… . We really can't afford for both of us to be locked up at the same time because we will lose everything… . I'm pretty much just staying away until my wife gets done with her stuff."
"What will life on the run be like?" Carter repeated the question and then said quietly, "I don't know. I don't know."
When asked whether there was truth in Carter's assertions that his wife, Melinda Carter, had no active role in the death of Zachery Chapman or in the cleanup of the homicide scene, Franco stated firmly, "I did arrest Melinda as an accessory to murder after the fact and I would not have done that if I did not believe the evidence supported that."
Franco says she believes Carter is still in Humboldt County. "We've had some sightings," she said. "I'm getting the feeling that he is skipping around to different people he knows. Based on tips from the public, we think he is couch-surfing."
She added, "He is a wanted felon and harboring a wanted felon can be a crime." Then she pointed out as if warning those helping him, "He obviously has potential to be dangerous."
That Carter's story might differ from that seen in media doesn't surprise Lt. Steve Knight of the Humboldt County Sheriff's Office. "There are two sides to every story and for Mr. Carter to have his side of the story, he should seek an attorney and surrender to the Sheriff's Office," Knight said. "Murder warrants do not go away."
Then he added, "Now that we have located [Silverio] Sanchez, efforts are going to go towards finding Carter. He should surrender so he has his day in court."
PREVIOUSLY: