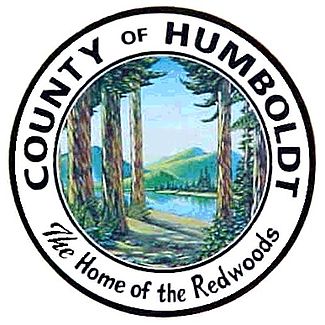 In a rare Friday morning meeting, the Humboldt County Board of Supervisors tackled some potentially thorny recent developments, including last week's voter approval of a GMO cultivation ban (Measure P), Wednesday's announced resignation of Coroner Dave Parris and the Election Day passage of Measure Z, a 0.5 percent sales tax that requires a citizens' oversight committee.
With Measure P, the GMO ban, supervisors wanted to know if it would be difficult and expensive to enforce. Jeff Dolf, the county's agricultural commissioner (and, incidentally, its "Sealer of Weights and Measures"), said that there will be costs, though it's premature to say how much.
Mendocino County and Trinity County have passed similar bans and haven't been too put out with enforcement demands. (Trinity has seen zero allegations of violations; Mendo had one that proved to be unfounded.) As with those counties, Humboldt's enforcement system will be complaint driven. But Dolf pointed out that those other counties don't grow genetically modified silage corn; we do. And if there are complaints?
"Testing can be expensive," Dolf said.
Perhaps the most interesting bit of information provided by Dolf pertained to that curveball that was thrown into the debate shortly before the election — the heads-up from proponents of the ban about Assembly Bill 2470, the language of which suggested that the state might take away the ability of local governments to pass GMO bans (or any regulations on seeds and plants, for that matter).
Not so, Dolf said. He asked state officials for an official verdict and was told that the legislative intent of AB 2470 would not include GMOs. Which is kind of a moot point now that Measure P passed. It will go into effect before AB 2470 does.
Measure P will also not preclude people from getting their pets vaccinated, according to Dolf, since state law trumps local ordinances when it comes to, say, bovine vaccinations, though he did say he'll consult with county counsel to make sure dogs and cats aren't affected.
Next the supes discussed the pending resignation of Humboldt County Coroner Dave Parris, who was on hand to suggest that his elected office be eliminated and coroner duties absorbed by the Humboldt County Sheriff's Department. Sheriff Mike Downy sat at his elbow and echoed the sentiments. Both men argued that the move is wise given the Sheriff's Office's greater ability to pursue grant funding.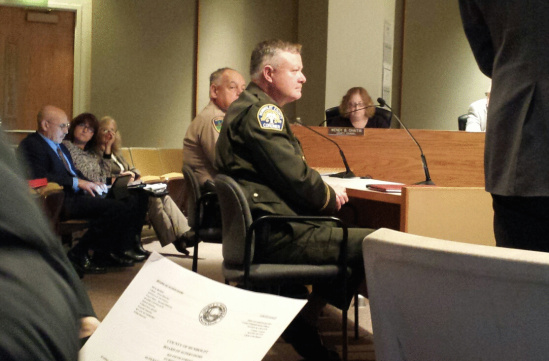 Parris and Downey address the board.
"Since we're a standalone [department] we can't secure grants through Office of Criminal Justice and [the state] Planning [Agency] because we're not designated a first responder," Parris explained.
Forty-eight of the state's 58 counties already have the coroner and staff operating out of the sheriff's department, according to Humboldt County Chief Administrative Office Phillip Smith-Hanes.
Some of the supervisors — particularly Third District Supervisor Mark Lovelace — expressed concerns about the possible merger, noting that a separately elected, independent coroner adds validity to investigations into, say, deputy misconduct.
But all five supervisors ultimately agreed with Parris and Downey that combining the offices was a financial necessity.
Lastly (before disappearing into closed session), the board tried to figure out how best to assemble a citizens' advisory committee for Measure Z. This body will be charged with advising the board on how to spend the money that will eventually (not until June) roll in via the tax hike.
There was plenty of back-and-forth among the supervisors and county staff about who should be included on this committee. Should professional firefighters be excluded? Absolutely not, argued First District Supervisor Rex Bohn. The committee needs that institutional knowledge.
How many committee members should there be? How many at-large members? Should there, perhaps, be some ex-officio members — say, from the Sheriff's Office or from Humboldt Bay Fire?
Ken Woods, president of Humboldt County Fire Chief's Association, made an impassioned argument for including a fire professional on the committee. "We believe that putting a citizen in there without expertise would not be a smart move," he said. "We want a seat at the table."
Fifth District Supervisor Ryan Sundberg said that since the measure was sold to voters as a funding mechanism for essential public safety, including sheriff's patrols, fire and ambulance services, the committee should reflect such first responders.
Ultimately, the board voted unanimously to have staff draw up some options, with a few elements firmly established. Namely, the committee will consist of at least seven, probably more like nine members, five of whom will be selected by individual supervisors from their own districts, two of whom will represent public safety agencies and another two (or perhaps more, perhaps some non-voting ex-officio members) based on criteria to be determined later.
Even though the money for Measure Z won't start rolling in until June, Smith-Hanes stressed the need to get started now since setting up such a committee can prove complicated — and today's meeting proved him correct.