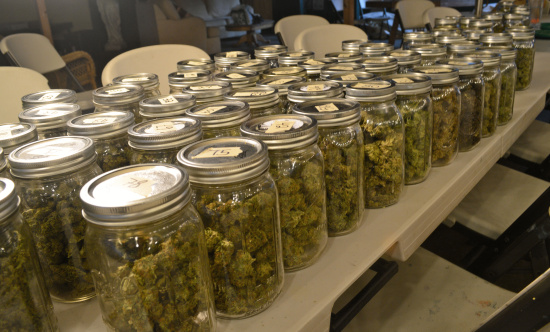 The other day, my friend Jonah Raskin told me that his friend told him: "2014 is the year of marijuana." I believe it. Raskin got invited to the High Times 40th birthday party in NYC back in October, so he knows people who would know.
Yes, it's 2014 and multitudes of people are trying to establish viable careers/businesses/personages in the burgeoning weed industry. And in this year of the weed, a direct path to establishing oneself as a top California outdoor grower is to win the 2014 Emerald Cup organic cannabis competition. The deadline to enter is December 1st!
The Emerald Cup is not just an Emerald Triangle thing. Entries are accepted from all over the state — drop-off locations include dispensaries in Studio City, Arcata and South Lake Tahoe. The main event takes place at the Sonoma County Fairgrounds in Santa Rosa on Dec. 13-14. The cup winner will be announced that Sunday.
Actually, the EC is comprised of four different competitions — flowers, "solvent-less" concentrates, edibles and topicals. The EC team has been accumulating entries for its various contests throughout November. Last weekend I attended a flowers judges' meeting at Area 101 north of Laytonville. At that point (Nov. 23), the flowers judges already had almost 150 entries to evaluate.
In 2013, the EC received 260 total entries for its flowers contest. A grower from Monterey took 1st place; Sonoma County Collective took 2nd place; and a crew from Mendo took 3rd. In a Nov. 25th press release, EC organizers say they expect even more entries this year — like 300+.
Munchies for thought: It takes three ounces of weed to enter the Emerald Cup flowers contest. If the Emerald Cup receives 300 entries at three ounces apiece… That's over 55 mixed pounds, a significant amount of weed.
Anyway, the vibe at the Nov. 23 flowers judges' meeting was intense, electric … this in spite of the extreme stoniness of all in attendance. Samples of the 148 already received entries were set out in quart-size mason jars solely labeled with entry numbers. Flowers are judged on looks, smell, taste and effects, and the judges were gathered 'round, eyeing, sniffing and squeezing the herbs. They dry hit joints (What are the flavors?), then lit 'em up and smoked 'em down (How's the high?).
Each joint had an entry number written at its base, and numbers were voiced as the joints made their rounds: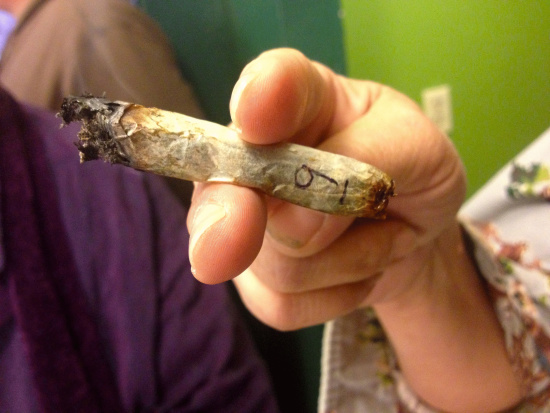 "I have number 77. Anyone want to try 77…?"
No takers for the joint rolled with entry number 77. Ouch.
"You gotta try this one, number 26…"
Could this be the big winner?
"Number 9. Number 9…"
Dude, stop trying to pass me joint number 9!
"Where's 46? I can't find number 46. Do you see 46?"
So many jars of weed…
Judges furiously scribbled notes. Bowls of vegetarian curry infiltrated the group. Cannabis leaf-adorned prayer flags circled the perimeter. Ganga smoke dominated the Area 101 atmosphere. Talk ranged from trim machines and trichomes to judges' qualifications (egos much?) to main event strategic planning. It was big personalities doing big things.
The flowers judges took samples home with them to evaluate. They will meet again shortly after the Dec. 1 deadline to evaluate and get samples of the latest entries; then again in the days before the main event to establish the top 20.
###
Here's something new and exciting about the 2014 EC: The entries in the various Emerald Cup contests are catalogued at this CannCast website. Each entry is listed along with information including strain name, genetics, region and the name/alias of the competitor. And there is (will be?) a photo accompanying each entry. (Whoever is loading content is not caught up on adding photos, yet.)
The site enables people to scope out the competition and to vote for faves. So you can join in on judging the entries, at least in a virtual way. Right now, I see there are 219 entries in the flowers competition including "Oscar Grant Kush," "Queen Jesus," "Fire for Ferguson," "Salmon Creek Big Bud," "Ojai Thai" and "Face Plant." And I see that cultivators/crews in the contest include "Fired Up Ranch/Bells Springs Coalition," "DMT Caregivers," "Mean Gene/Freeborn Selections" and "Happy Day Farms." (Presumably, the official judges are not looking at this site.)
According to its "About" page, CannCast is "an online marketplace for dispensary buyers and cannabis providers." The word is, CannCast is setting up to middle man for Emerald Cup entrants. From the Nov. 25th EC press release:
"As an added bonus, all the providers who enter the 2014 Emerald Cup will be given a free CannCast profile. Dispensaries will be able to connect with ultra-high grade flowers, concentrates, edibles and topicals. All of the best providers in the State will be available in one easy to access place."
###
The Emerald Cup main event is on Dec. 13-14 in Santa Rosa. Tickets for a single day are $45; weekend passes are $80. There will be a mother lode of vendors. Scheduled performers include Slightly Stoopid, Nahko and Medicine for the People, Ozomatli, Tribal Seeds and John Trudell and Medz Hawk.
Seminar and panel topics include Advanced Organic Farming Methodology and Cutting Edge Practices, Families and Cannabis, The Future of Targeted Cannabinoid Therapy and Cannabis Legalization. Confirmed speakers and panelists include Jorge Cervantes, Doug Fine, Ed Rosenthal and Jennie Stormes.
Can't make it? KMUD Radio will be live streaming audio from the event. Look to LoCO for Emerald Cup coverage too.
Feeling nostalgic? Revisit LoCO - OTP's coverage of the 2013 Emerald Cup: