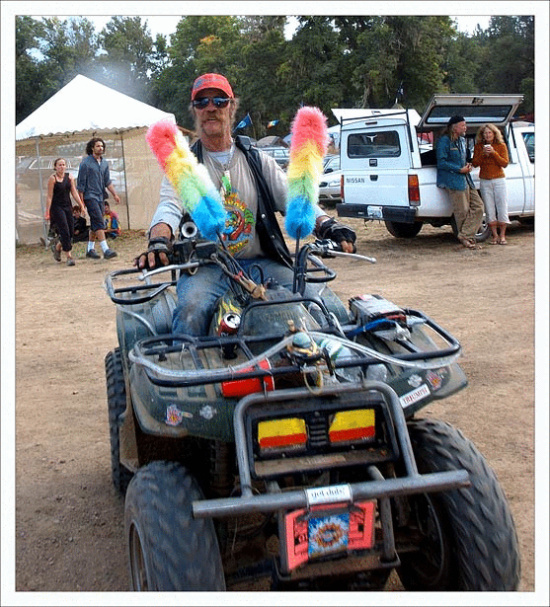 Rainbow Mountain Walker, volunteering and loving life. 1949-2014 [Photo provided by Kim Sallaway.]
A popular Southern Humboldt man, Rainbow Mountain Walker, born Marion Lee Williams, was discovered dead yesterday not far from his rural home. Friends became worried something was wrong when Walker, a well-known community volunteer and former Vice President of a local chapter of Kiwanis, failed to turn up for a planned motorcycle ride Saturday. On Sunday, a friend stopped by Walker's home and discovered Walker's vehicle was still there as was his cell phone. The home was in disarray but Walker was gone. A search party was organized for early this morning. According to his daughter, Walker's remains were discovered where they had been dragged from his home by a large animal possibly a bear. The cause of death is being investigated by the Humboldt County Coroner's Office.
Walker is survived by his son, Justice, a student at UC Davis, and his daughter, Liberty, who lives in Eureka.
"Never a Shirker:" Walker volunteered regularly for many organizations. He worked with Tan Oak Park, a Leggett based non-profit dedicated to supporting people with AIDS. He was a member of Kiwanis for the last nine years where he served as a board member and vice president among other jobs.
He was a familiar face at Reggae, the Redwood Run and Mateel events where he was a regular volunteer. He was known for spending long hours helping raise money for local organizations. Friend and local photographer, Kim Sallaway, described Walker as "never a shirker" that was "first in, and last out" whenever there was a job to be done.
"Open-hearted:" Walker was known for his warm smile and willingness to reach a hand out to those in need. One of his earliest and most enduring passions was advocating for the homeless. For over twenty years, Walker served Christmas and Thanksgiving dinner to veterans rarely missing an event. His daughter Liberty described him as "an open-hearted, caring person who wanted to help everyone out… . He wanted to see his community do better."
Adventurous: An avid motorcycle rider, Walker belonged to the Eureka Chapter of Old Coots on Scoots.
Memorial: Friend and fellow Kiwanis member Danielle Young explained that a memorial is in the works. The plan, she said, is to hold it at the Mateel, "tell good stories about Rainbow and wear funny hats just like he told [his daughter] he wanted."
Fundraiser: An account today was set up to help defray funeral expenses, bills, etc. Donations can be made at the Community Credit Union of Southern Humboldt, Account number 17455.