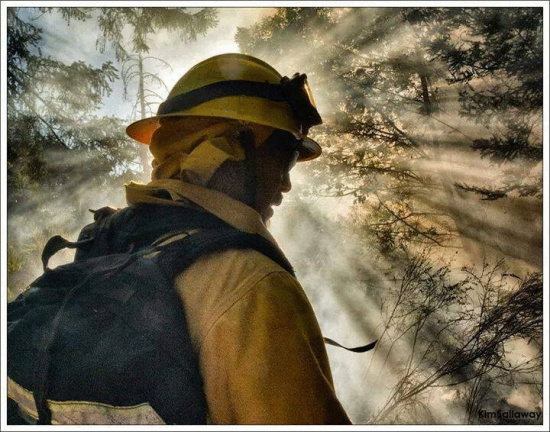 Firefighter's are often seen as heroes. But some marijuana growers perceive them as a threat. [Photo provided by Kim Sallaway. Like his Facebook page to see more of his photography.]
"Thank you, firefighters," proclaimed signs that sprouted up in northern Mendocino County near the Lodge Lightning Complex soon after several blazes started in late July. Residents near wildland burns are often extremely grateful for lives and homes being saved, often at great risk by fire crews.
However, there are some individuals who perceive firefighters as a possible threat. Marijuana growers fear they'll lose their crop or even be jailed when fire personnel encounter their rural gardens.
And, at the same time, firefighters fear that growers will get violent or that possibly booby traps set (very rarely) to protect a grow might injure crew members who encounter them. Out-of-the-area personnel on a blaze off of Hwy 36 on August 1st briefly panicked when they encountered wires at a marijuana grow near the incident. The firefighters feared that these were traps set by growers to injure people who might try to access the garden. The Humboldt County Sheriff's Marijuana Eradication Team was called. It turned out that the wires were there for benign purposes but the incident serves to illustrate both the firefighters' concerns and the reasons that some growers don't want firefighters near their gardens
At the Lodge Lightning Complex, some growers, presumably fearful of being turned in to law enforcement, refused Cal Fire crews access to their properties.
Matthew Henderson, son of a firefighter and a popular wildfire photographer (see his work here,) related one incident he experienced at the Lodge Lightning Complex. He described an encounter with a man that he believes must have been a grower.
Henderson said that he and a Cal Fire crew were headed in a marked Cal Fire vehicle out a dirt road made by bulldozers near the front lines of the raging wildfire. Henderson describes being warned by Cal Fire personnel about marijuana growers. He said personnel told him that there were a number of pot farms near the perimeter of the fire where they were headed. He said he was told that "the pot farmers aren't wanting to evacuate."
Henderson and the crew did see a lot of marijuana grows. Henderson said, "It seemed like every house that we passed had at least a greenhouse. For the most part [the plants] were right out in the open." He described seeing several homes with 20 to 30 foot greenhouses.
Henderson, like many of the Cal Fire crews, comes from an area outside the Emerald Triangle and was astounded by what he saw. "You could look right into the greenhouse and see the plants," Henderson explained. "I didn't even know [marijuana plants] got that big. I had thought they were the size of ferns."
He added, "I kinda thought [marijuana] was more hidden than that. Some of the operations were pretty large. Like half of a football field. It seemed like an awful lot to be growing right out there."
Henderson described the situation as a little unsettling for someone not used to the culture. He described seeing the grows as "interesting and a little scary at times."
On the day of his excursion into the back country, after traveling awhile, he believes the Cal Fire driver must have made a wrong turn. A large pickup pulled abruptly across the road in front of them. Henderson said, "[The driver] was stopping us. He was parked in the middle of the road. He wasn't going to let us past."
The driver looked at them very intently and said, according to Henderson, "You must be lost. The road is in the other direction."
This, Henderson said, was "a little odd." The driver, he said, "was very serious. He wasn't playing around…he wasn't going to let us past."
Eventually, he and the Cal Fire crew turned around and left after deciding that they weren't in the right area. None of the marijuana grows or growers observed during the drive were disturbed or even reported by Cal Fire as far as Henderson knew.
However, marijuana growers do have a basis for their concerns. Firefighters at the Lodge Lightning Complex in northern Mendocino, were given special instructions on how to spot a "Cultivation Threat" and what to do if they spotted it. (See insert below.)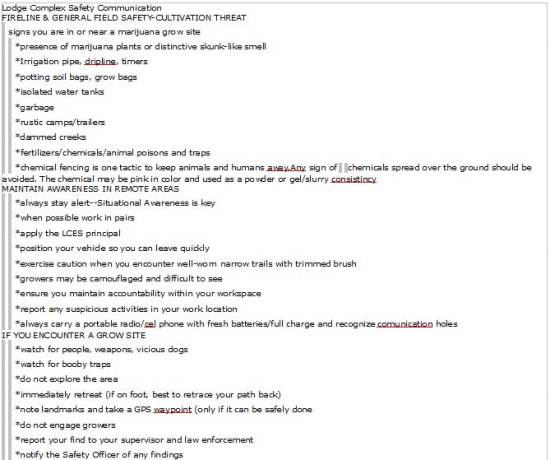 Excerpt from special instructions regarding marijuana grows given to firefighters at the Lodge Fire in northern Mendocino.
Under a section entitled "If You Encounter a Grow Site," fire personnel are told to "report your find to your supervisor and law enforcement." But, in practice, most firefighters locally are more concerned with building trust with the communities they serve, explained Diana Totten, a reserve captain for Briceland Fire Department who worked fighting fires for over 20 years all over the state. Firefighters, She said, try to reassure growers that "we're here to fight the fire, not get your pot."
"We were on a fire up in Orleans 8-10 years ago," Totten said. The wildfire headed into an area thick with marijuana grows as well homes, she said. The fire was moving in towards a residential area. There were orchards, vegetable and marijuana gardens. "We did everything we could to protect those gardens. We saved almost all of them." This strategy came from the supervisors on the fire. Cal Fire and US Forest Service from other areas, she explained, were surprised. In fact, she said, "A lot of the homeowners were also surprised… For the next few days as we mopped up…, there was a little less tension as the residents realized that our job was to work on the fire not to be law enforcement."
However, a commenter on a recent article in the Outpost succinctly explained the reasoning behind such a policy. The commenter said, "The last thing we want is for people hesitating to call the Fire Dept because they're worried about getting busted."
Totten agreed, "It is a known fact that people have been severely injured and hesitated to call 911 because they were in the proximity of a marijuana garden. On behalf of firefighters, we want people to know their lives are our first priorities…Don't hesitate to call… . First, we protect [people's] lives and, then, we protect their property—whether it is an orchard, a vineyard or a pot garden—we protect them. That's what firefighters do."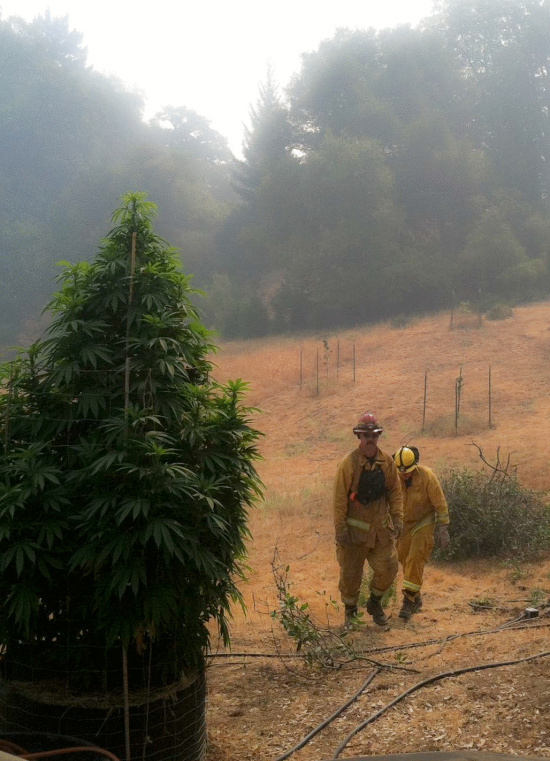 A Cal Fire captain and crew member standing near one of the many marijuana plants found near firelines on the Lodge Lightning Complex. According to a grower near the front lines, no growers were arrested or plants removed during or after the blaze.
A landowner near the front lines of the Lodge Lightning Complex fire who wishes to remain anonymous explained that, in her experience, the firefighters were courteous and a bit curious. "Our ranch had mandatory evacuations," she said. As the source of contact for the neighborhood, Cal Fire came up to her house multiple times. "They parked in front of my garden," she explained. It had about 25 marijuana plants growing in it.
At one point, she said, there was a group of probably 20 guys standing above her garden. "One of them said do you sell this?" she noted. The landowner explained to the firefighters that she only grew plants high in CBD, a compound that reputedly has high medicinal value but does not produce the same "stoned" effect as plants high in THC. Her cannabis is used for its medicinal value, she said.
According to the landowner, "They responded very well to this."
And, according to her, other bigger and more likely to be illicit grows were not just left alone but actively protected from the coming fire. For instance, she said, another neighbor much closer to the Lodge Lightning Complex front lines had a "large grow operation." When bulldozing in the fire breaks, she said, the CDF "tried to save what [gardens] they could save. Because of the terrain and the contours of the terrain, there was one that had to be excluded [outside of the fire lines.]" But mostly, the fire breaks were cut in by the dozers in such a way as to provide protection for the gardens, she said.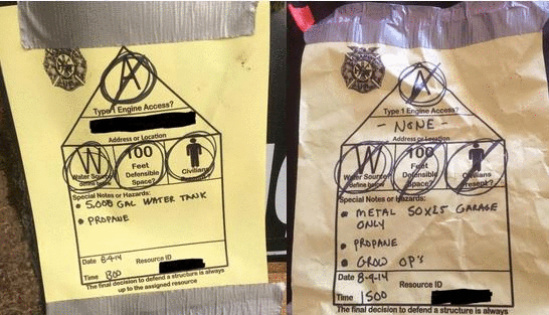 Cal Fire personnel tagged properties that might be overrun by the Lodge Lightning Complex Fire. The tags contained information for fire crews so they could make quick decisions about how and whether to defend the property. Among other details, the tags included information on water sources, the presence of civilians and on whether "Grow op's" were in the area.
The landowner said that Cal Fire personnel made it clear to her that their "number one priority was to protect human life, protect the homes and protect the pets, then to protect valuables." In retrospect, she said, "they realized that what was valuable to us was our work. They saw that it was our livelihood."
Totten, the reserve captain with Briceland Fire, agreed. She pointed out that firefighters aren't the only non-growers encountering cannabis as they do their jobs. "The UPS driver, the propane delivery guy, the phone company, direct tv—they go to houses with marijuana in the area. They do their job without having any issues. Firefighters and emergency service people do the same thing. We deal with the emergency and marijuana isn't the emergency."
There's a practical reason for this, she explained. "Almost every fire we go to in Southern Humboldt, there is a marijuana grow nearby." If firefighters were to bring in law enforcement to deal with the situation, they would lose the trust of their communities and overwhelm law enforcment. "Its our job to just deal with the fire and move on," she said.