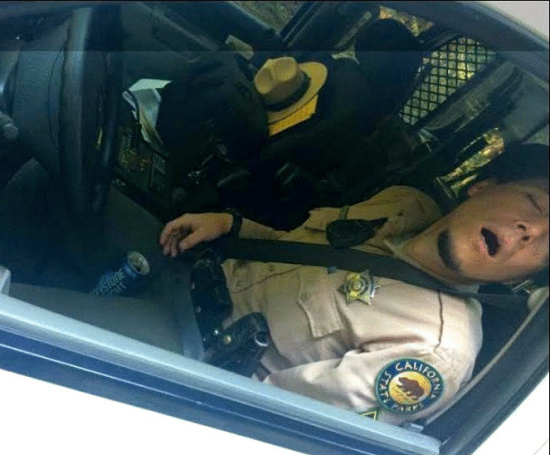 On August 15, this photo of State Parks Ranger Tyson Young with an open Keystone Light beer between his legs was snapped by a Humboldt County resident. In what appears to be an unusual procedure, Young was cited that day but not booked for more than two months. [Photo taken by Jack Hurst]
On August 15, local business owner Jack Hurst allegedly discovered a State Parks Ranger apparently under the influence of alcohol beside the Avenue of the Giants with his truck still running and his head lolling against the doorjamb. Though the ranger, Tyson Young, was arrested soon afterwards, he was not booked or arraigned until this last Wednesday — several months later. Usually those arrested (for driving under the influence or for any other offense) are booked and appear in the public record the next business day. Instead, Young was released to a State Parks supervisor and given a notice to appear in court. His name did not appear in the booking logs for August 15. In fact, it didn't pop up until Oct. 30: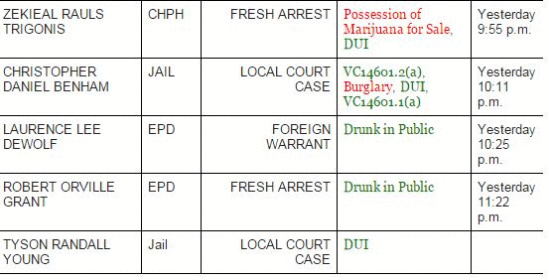 The record of Tyson Young being booked into the Humboldt County Jail was released on Thursday, October 30th. Here is a screenshot of the information. Note: the other individuals booked are shown as having been arrested the day before, Wednesday, October 29. Young's time is left blank.
The Lost Coast Outpost's Ryan Burns broke the story almost two weeks after the incident, on August 28. However, we'd been following the incident since soon after the officer was discovered by Hurst when this reporter received a report of "cops arresting cops" in Myers Flat. By the time we were able to get to the area, only a State Parks vehicle remained.
According to Hurst, the incident began close to Miranda on the Avenue of the Giants. Hurst said he was driving southbound when he noticed a State Parks pickup stopped on the opposite side of the road facing northbound. Seeing the ranger's head at an odd angle and realizing the truck was running, Hurst thought the man might be ill. Hurst turned around and pulled in behind the vehicle just north of Miranda. He said he tried to wake Young.
"Sir," Hurst said he called while standing away from the State vehicle. Then he said he got closer. "I yelled, 'sir.' I shook the tailgate," he explained. Then he "slapped" the driver's side fender. Eventually, he approached the open window and "grabbed his shoulder and shook it." Hurst said he got "no response."
Then, he said, "I looked inside and saw beer." Young had a Keystone Light been between his legs and, Hurst said, an empty vodka bottle on the passenger-side floorboards. "It was a plain clear bottle of vodka," Hurst explained.
Hurst was afraid Young would wake up and drive off in what he believed would be an unsafe state. "I wanted to take his keys and turn off the truck," Hurst said. "[But] I was intimidated by the fact he was law enforcement."
Hurst called 911 and reported the incident. Then, he said, he snapped the above photo because he was afraid that no one would believe him. He was afraid that Young, being a peace officer, might not be treated the same as anyone else if there wasn't proof. After waiting awhile, Hurst dialed 911 again.
"As I was talking to someone [at dispatch], he woke up and drove off," Hurst said. Young headed quickly northbound on the Avenue. Hurst said that he followed but soon lost sight of him. Just before Myers Flat, Hurst said he gave up trying to find the ranger and exited the Avenue, taking an onramp to Highway 101.
Meanwhile, Young was spotted and detained at the north end of Myers Flat by the California Highway Patrol (CHP). As reported in our earlier story, CHP Officer Patrick Bourassa said, "Young displayed objective symptoms of intoxication and was detained for a DUI investigation."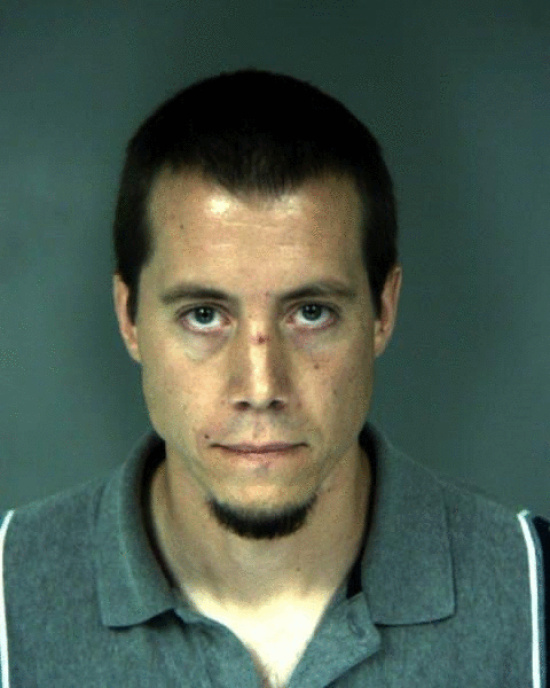 Tyson Young's mugshot. He was initially charged with resisting arrest as well as having a blood alcohol level three times the legal limit.
About 5 p.m. on that same day, Jack Hurst said he was contacted by the CHP, whose officers took his statement and copies of the photos he had taken.
Over the next week or so, Hurst said Young's boss at the California State Parks contacted him several times wanting the photos and asking Hurst to remove them from his phone. "He wasn't threatening," Hurst said. "He didn't want the bad publicity for the State Parks. He was trying to protect his employee, the State Parks, him and the agency."
Initially, Hurst said that he would remove them. However, he became concerned as Young did not appear in the Booking Logs. He began to believe that Young would not be charged. Originally, he had refused to release the image to the media, citing concern for Young's family. By late August, however, he feared that the incident was being "swept under the rug."
On August 28, almost two weeks after the initial incident, Hurst agreed to let the Lost Coast Outpost publish the photo he had taken of Young. He said he hoped that the attention would ensure that Young could not continue to endanger the safety of others.
Ryan Burns, who wrote the Outpost's original story, determined that Young had been "stripped of his peace officer status and placed on administrative leave" soon after the incident. But Young was not publicly booked until this Wednesday when records show the initial charges of resisting arrest were dropped.

Tyson Young's Humboldt County Jail Report from October 29.
Dan Noyes with ABC Channel 7 News revealed in a broadcast last night that, when detained, Young had a blood alcohol limit of 0.24 — three times the legal limit. Noyes said that this year the Garberville CHP arrested 234 individuals for DUI, only five of whom were cited and released instead of booked through the Humboldt County Jail. (See the broadcast with more information here.)
"I honestly feel like they were trying to sweep [Young's behavior] under the rug," Hurst said. "It is ridiculous taking two months."
###