OK, sure. We'll bite.
LoCO and our affiliated radio stations have received several emails and calls from people reporting a light in the sky this morning around 6 a.m. Here was how one emailer described it.
Anyone else catch the apparent and very visible missile launch around 6 a.m. this morning? I'll make a guess that it was a Vandenburg launch. Very bright burn in front of a large exhaust/"smoke" cloud. Appeared headed in our direction but probably not. Dashed outside for better view but it must have done a stage separation and a much less visible object headed "west."
A KWPT The Point caller from Orleans said she thought she'd seen a "comet" in the southwest sky around the same time this morning.
Comet? Missile? puff n tuff returning to the home planet? Feel free to speculate in the comments below. But before you jump on the "just Humboldt folk wakin' and bakin'" wavelength, you should probably know that multiple news outlets in the Bay Area are also being deluged with UFO reports. Here's a post from KTVU 2 News out of San Francisco (2 makes it true?) complete with photos from viewers showing an airborne object sporting a slightly curved tail. KTVU went so far as to contact Vandenberg Air Force base and the FAA who both shrugged at the phenomena.
#NEW pics of mysterious object seen flying across East Bay sky this morning. Did you see it? Tweet us & let us know! pic.twitter.com/VgJddPfkCi

— KTVU (@KTVU) September 12, 2014
One other possibly related tidbit floating around: KRCR in Redding notes that thousands of people in Glenn County lost power this morning when a semi-truck took out a power pole at pretty much the same time people across northern California were seeing lights in the sky. Were his eyes cast skyward? Did he cause an intergalactic explosion? Is it the weekend yet?
The truth is out there.
# # #
UPDATE, 4:08 p.m.: LoCO superfriend and webcam savant Hans Koster sends in the following images. The first comes from the Kneeland airport: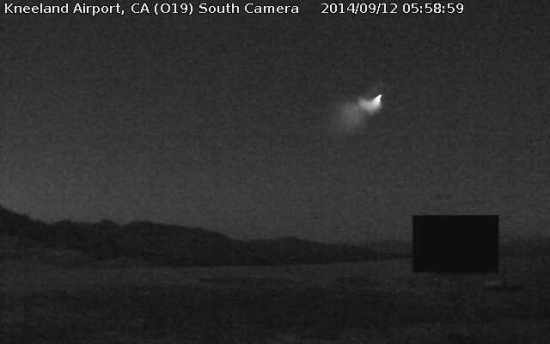 And then a shot from the same cam a minute later: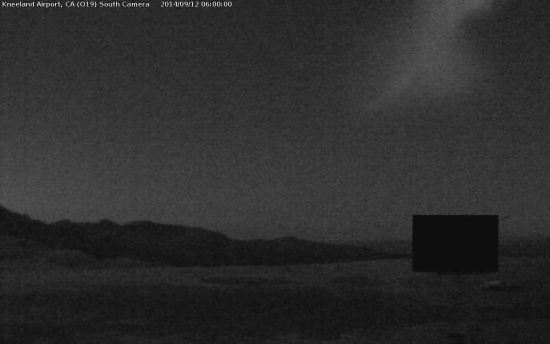 A less obvious image from the Garberville Airport: