[For LoCO's chronological list of fire updates, go here. For direct updates from fire management teams as they are released, watch the Outpost's "Elsewhere" section.]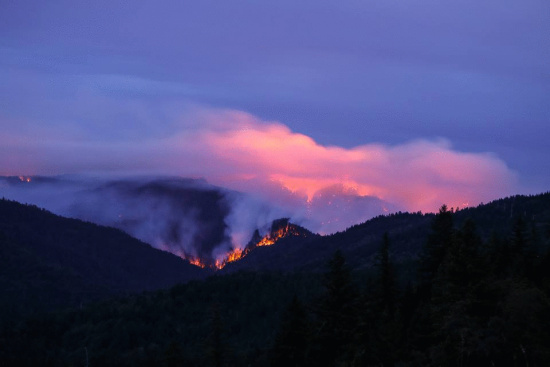 The National Weather Service has issued a Red Flag Warning/Fire Weather Watch for all around the North Coast today — not the greatest news to send firefighters working all over the North Coast interior, who have so far been unable to get any of their areas even half-contained since the lightning strike fires broke out at the end of last month. The weather service says they can expect high winds and dry air today, especially in the charred Shasta-Trinity National Forest.
Today's update from the North Coast Regional Air Quality Management District says that hazardous smoke conditions exist in Denny, Blocksburg and Hayfork. See here for more information. "Unsafe" smoke conditions — not quite as bad as hazardous ones, but very far from pure, clean air — exist Dinsmore, Bridgeville, Blocksburg, Gasquet, Weaverville, Junction City, Hayfork, Burnt Ranch, Big Bar, Junction City, Mad River and Ruth. See here for the full smoke advisory affecting those communities.
Alderpoint, Blocksburg
4,696 acres
55 percent contained
Ruth, Mad River
19,963 Acres
38 percent contained
The Lassic Fire, part of the Mad River Complex, shot out in an unexpected fashion yesterday, shooting up a slope near Bear Creek. Overall, according to the Six Rivers National Forest, "gusty afternoon winds" made fire containment unpredictable.
New mandatory evacuation orders are in effect for the Forest Glen area, in Trinity County. See here for details. The Humboldt County Sheriff's Office sent out a note reminding everyone that 10 homes in the Lassic Wilderness's Swayback Ridge area are under a "precautionary advisory evacuation" — a warning, essentially. There are no mandatory evacuation orders in Humboldt County at the moment.
They're still shooting for full containment at the end of the month.
Follow the Mad River Complex on InciWeb.
Denny, Trinity Center
21,072 Acres
12 percent contained
"Suppression forces remain to provide structure defense of Denny, Dailey, Hoboken, Trinity Village and Bell Flat," notes a fire manager from the River Complex in a thorough InciWeb today. Mandatory evacuations are still in effect for those communities (apart from Trinity Village).
These fires are burning in the Six Rivers and Shasta-Trinity national forests, and so much of the forests are closed. More information here. Denny Road is still hard-closed.
There will be a community meeting on the River Complex fires tomorrow evening in Willow Creek. See here for details.
Fire managers aren't expecting to have this complex fully contained before Oct. 1.
Follow the River Complex on InciWeb.
Burnt Ranch to north of Hyampom
14,711 Acres
13 percent contained
This morning's update from incident command:
The fire showed less activity last night than it has in the last several nights. Lines around the Kerlin Creek area and on the St Johns Road looked good overnight, and staff stayed in place overnight to monitor fire activity. As of 6 A.M. this morning, command of the Johnson Fire (which now includes the Pelletreau and Kerlin Fires) has been fully transferred to the Route Complex, which is managed by SoCal Team 1. Fire crews are being supported out of the Hyampom Airport Incident Command Post to aid with fire access, and information officers with the Route Complex are in Hyampom and available to give information to residents about the Johnson Fire.

Firefighters worked overnight to clean up and reinforce lines around the southern and western edges of the Castle Fire, and were present in and around the Skunk Ranch area to protect structures. The fire was active around Springer and crews slowly brought the fires down to containment lines to lessen the impact of fire around the structures. Firing operations continued along Forest Road 5N60 north of Hyampom as firefighters continue to strengthen and hold lines at the road. Falling and weakened trees continue to affect firefighter access on the road.

The York Fire was also less active last night, but is still very visible to residents at Burnt Ranch. Crews were successful last night in firing in front of the fire to weaken the active fire front, and will be working all day in the area. Cool temperatures and breezy conditions are expected to persist for the next few days as a weak system moves through the area.
Hayfork
24,514 acres
22 percent contained
Ruthie Rosemary, hero cat of the Fork Complex, was featured in the Los Angeles Times yesterday.
West of Hyampom
25,332 acres
17 percent contained
Gasquet
2,288 acres
20 percent contained
###
Here is your audiovisual Fire Situation Report from CalFire TV.