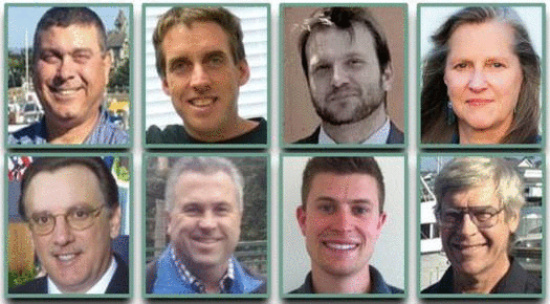 The Humboldt Bay Harbor, Recreation and Conservation District (which we'll just call the Harbor District to conserve pixels), is a unique government agency. Like the Board of Supervisors it represents the entire county, divided along the same district boundary lines, and it's managed by a board of five commissioners, elected in staggered four-year terms. This year, three of the five seats (divisions 1, 2 and 5) are up for grabs.
But unlike the Supes, the Harbor District's jurisdiction is limited to coastal territory in Shelter Cove and Humboldt Bay, including its tidelands, estuaries, oyster farms, submerged channels and, since early 2013, a 72-acre site on the Samoa Peninsula, along with the former pulp mill buildings located there. The Harbor District acquired the industrial site for one solitary dollar, though it soon went into incurred some debt to pay for a portion of the clean-up and exportation of toxic pulping chemicals found onsite.
Those chemicals, including tens of thousands of gallons of caustic black liquors and sulfuric acid, had been stored in large tanks that had begun to leak, threatening the health and safety of Humboldt Bay. The cleanup operation, which is being overseen by the Environmental Protection Agency, has a price tag of roughly $8.5 million, though the Harbor District only had to chip in $400,000.
"If we hadn't stepped up the plate, nobody would have," Harbor District CEO Jack Crider recently told the Outpost. "Those chemicals would still be there."
Last year the District took a $1.25 million loan from Coast Seafoods, Humboldt Bay's largest oyster farmer and one of several businesses that have signed leases to set up inside the mostly empty former pulp mill. The Harbor District wants to convert the facility into a "national marine research and innovation park." Crider said the District hopes to repay that loan with proceeds from the sale of the mill's generator, control system and other components.
This off-year election season, eight people, including two incumbents, are pursuing three of the Harbor Commission's five seats. While the positions are technically nonpartisan there are divides — some of them ideological — about how best to manage the District. The most obvious and perhaps influential of these divides concerns the railroad, or lack thereof.
On one side you have the rail boosters, those who believe our region needs to reestablish a train route connecting Humboldt Bay with the national rail system in order to make it a thriving shipping hub. Their proposal is to build a new line running east-west over the South Fork Mountain region.
The other faction holds that while a new rail connection may be an attractive idea, it's economically infeasible. This is the position held by the Harbor District's current Board of Commissioners. A 2013 feasibility study commissioned by the Harbor District found that it would cost more than $1 billion to construct an east-west rail line, with upkeep requiring another $18 million to $20 million annually. In order to make the project economically feasible, the report found, Humboldt Bay would need to export between 11.5 million and 18.5 million metric tons of cargo per year — a higher volume than the ports of Stockton, Long Beach or Los Angeles.
Rail advocates question that report's conclusions and say a more thorough feasibility study is in order. Frustrated by the Harbor Commission's unwillingness to climb aboard, train boosters have formed their own organizations, including the Land Bridge Alliance and the Upstate RailConnect Committee, the latter of which is led by former Harbor District CEO David Hull and former Eureka City Manager David Tyson. Through these groups, rail boosters have sought to gather enough political steam to manifest their vision, collecting letters of support from local governments and applying (unsuccessfully thus far) for public grants to finance a new study.
One of the east-west dream's most ardent advocates, if not its primary driving force, has been Eureka real estate magnate Rob Arkley, who owns property along the bay and has worked personally to search for investors. In 2012 Arkley announced his vision to host Brian Papstein on KINS Radio's "Talk Shop," boldly predicting that the first tracks would be laid in a matter of "months, not years."
More than three years later that vision has yet to materialize. Last December, Arkley again appeared on Papstein's program to voice his frustration with the Harbor District's Board of Commissioners, who Arkley seems to blame for standing in the way.
"Boy, is that an incompetent board," he griped. A political power player on the local, state and national stages, Arkley vowed to take on the board at the next opportunity.
"They love to use the Harbor District's credit to go into competition with private businesses, and you're right, everyone, that's me," he said. "I object to it; I resent it; and I think it's wrong. But that's where they are, and elections have consequences. And that's going to probably be my focus this year, 2015."
Enter the challengers.
Arkley hasn't yet endorsed any candidates, though three challengers — one in each division — seem to represent a slate more amenable to Arkley's train vision than the current board. Those three candidates are real estate agent Larry O. Doss, who's running in the 1st Division, business consultant Nick Angeloff in the 2nd and business-/commercial fishing vessel-owner Susan Rotwein in the 5th. All three launched their campaigns with press releases from Peter Hannaford, a former advisor to President Ronald Reagan and the erstwhile editorial page editor at Arkley's defunct newspaper, the Eureka Reporter. Hannaford says he's not managing their campaigns, "just doing some writing for them."
The other challengers are custom cabinetmaker/fisherman James L. Roberts and cannabis political activist Hezekiah Allen, both running against Doss in the 1st District, and small business owner Kyle Visser, running in the 5th.
The incumbents are oyster farmer Greg Dale in the 2nd Division and fisheries biologist Patrick Higgins in the 5th. First Division incumbent Aaron Newman opted not to seek reelection, telling the Outpost last week that he wants to focus on his fishing business. "I think we're on the right track," he said of the board, "and I thought maybe it was time for someone else to have a shot."
(Newman, it should be noted, pleaded guilty last year to misdemeanor charges of perjury and poaching. He was sentenced to three years' probation.)
With a board majority up for grabs, this election has the potential to shift the ideological balance of power on the board. The political import could be magnified with 3rd Division Commissioner Mike Wilson's recent announcement that he's running for Humboldt County Supervisor. Wilson's term on the Harbor Commission is scheduled to last through 2017. If he's elected supervisor next year the new Harbor District board would likely appoint his replacement.
Today we'll take a closer look at the candidates in the 1st Division. In the coming days we'll look at the races in the 2nd and 5th divisions.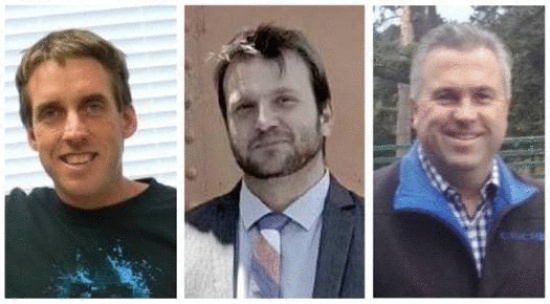 1st Division
Eureka realtor and rancher Larry Doss said the current board is not living up to its responsibilities, particularly on the economic front. "I've been noticing that the Harbor District is kind of the control over a lot of different activities that people in the community would like to see happen," Doss said. "And they're not making it happen."
Doss doesn't approve of the District's acquisition of the former pulp mill site and the debt it has incurred. While it's certainly good to have the toxic chemicals gone, he argued that it was the county government's place to assume that responsibility.
"Now [the Harbor District] is stuck with the property for seven to 10 years, and they don't have any action or plan for making it work," Doss said.
He also called for more regular dredging of the bay's shipping channels. Last year, the District acquired a $2 million dredge from PG&E for exactly that purpose. In exchange the District took over responsibility for dredging the Fisherman's Channel in King Salmon. Crider said the District is in the process of getting permitting squared away, after which it will be able to dredge 30,000 yards every year instead of 150,000 yards every five years, with the dredged materials slated for beneficial reuse.
Doss said ensuring regular dredging would be a priority for him. He also argued that the current board is not friendly to work with, particularly for those in agriculture. "We could be moving [Central Valley] produce," he said. "More shipping can go through this bay; it's just been constricted."
Regarding the east-west train, Doss said he's open to considering it and thinks "it's an issue that needs to be studied." Asked if he's read the Harbor District's study he said he'd read "bits and pieces" and concluded, "They didn't study it completely."
We asked Doss about a post to his Facebook page claiming that "scientific facts" refute claims of global warming. "I'm not a big believer of that," he said regarding human-influenced climate change. "I believe the Earth has its own natural cycles."
Regardless, he said the Harbor District is right to be planning for sea-level rise, if only because the Humboldt Bay region is subsiding due to geologic movement. Asked if the Harbor District is right to explore such things as carbon sequestration and offshore green energy initiatives Doss said, "I'm not against it. I just don't think you can put all your cards into that pile."
Lastly we asked Doss about a post and accompanying comment he made to Facebook back in May, comparing "Obama and the liberals" to Hitler and the Nazis: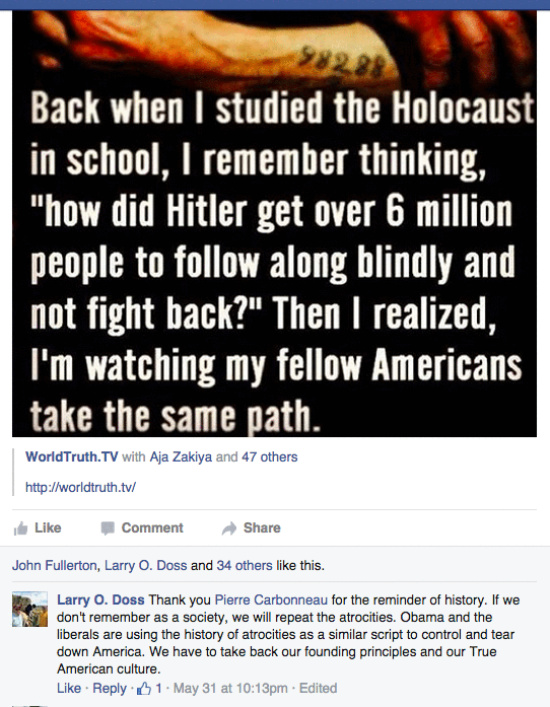 Doss said his point was that those who don't learn from history are doomed to repeat it. As for the analogy he acknowledged, "It's an extreme."
Asked for any final thoughts Doss returned to his central message — that the harbor is not being utilized to its full potential. "This whole county could very, very rich, both in terms of natural assets, conservation and also business, just by utilizing the port more smartly."
If Doss' Facebook post represents an extreme, it's hard to know what to call the stuff you'll find on Jim Roberts' page. A small sampling: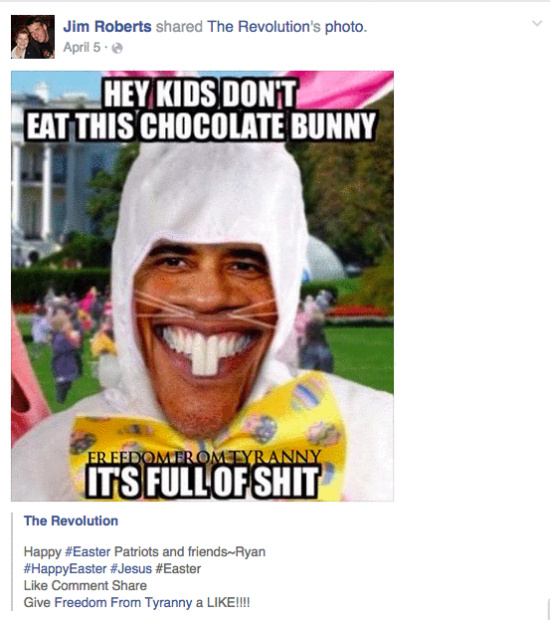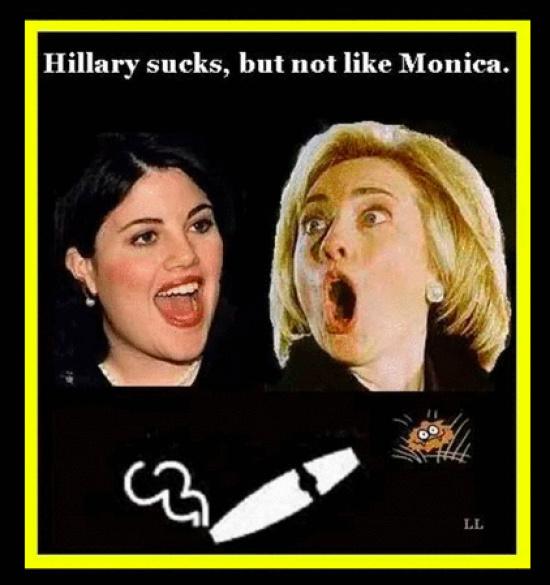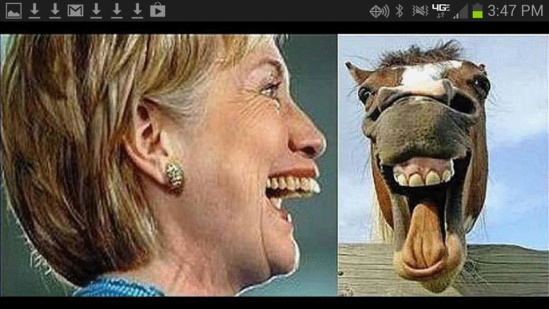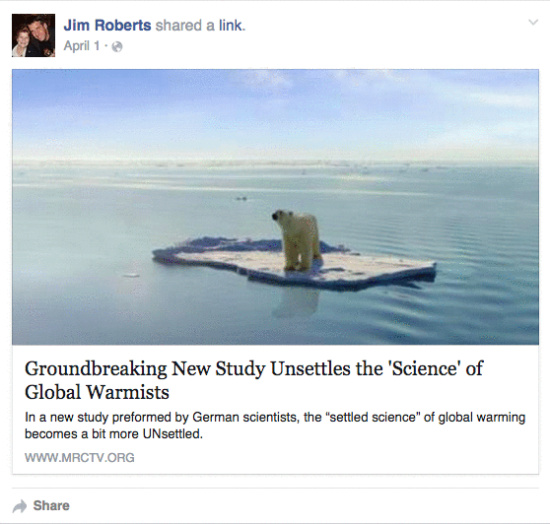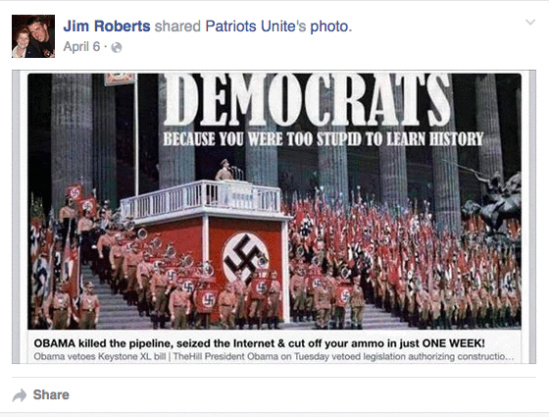 Also, his likes (which were removed from public view after we asked about them) have some recurring themes: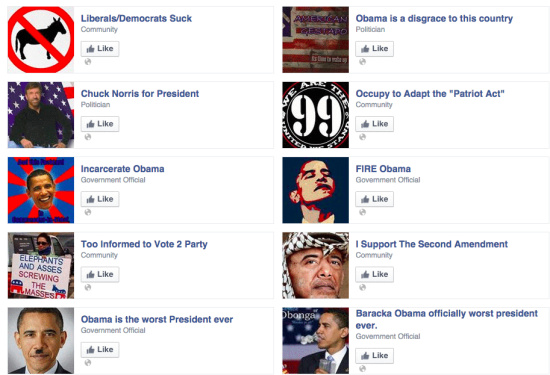 If there's a unifying theme it's anger, and Roberts confirmed that frustration is what drove him to run for the Harbor Commission. In addition to building custom cabinets, Roberts owns two commercial fishing boats. 'I was docking one at Woodley Island," he said. "In the last couple years they've raised their rates so frickin' high, it's really upsetting. It's gone up astronomically."
Rates have gone up by about a dollar per foot at Woodley Island, according to District CEO Crider, who earns more than $100,000 per year — another source of outrage for Roberts. (Crider's 2013 salary was $110,000, according to Transparent California.) On top of that, Roberts is angry about the lack of regular dredging in the main channel by King Salmon, and all the other channels, for that matter. "I got so irritated with them I just wanted to scream," Roberts said. "That's the reason I'm running."
Roberts is also angry about the hoists at Woodley Island Marina. He alleged that Pacific Choice Seafood and the Harbor District collude to lock out competition, leaving only one hoist for private buyers. "That's totally screwed up," he said. Roberts was under the impression that the Harbor District had acquired its $1.25 million loan from Pacific Choice, rather than Coast Seafood, and that the District was granting the company exclusive access to a hoist as a form of repayment.
That's not accurate, according to Crider, who said the hoists are now available to anybody on a fee-for-use basis.
Regarding climate change and sea level rise, Roberts said, "I just don't see it as a valid argument. I don't think there's very good science behind it. The climate's been changing for millions of years — cooling off periods, warming up periods. Obama says it's worst thing facing us right now [based] on the last hundred years of record. But the Earth's been here billions of years. It's cooled off completely. It changes. I don't know how all of a sudden we're causing all of this."
(Here's how, in case you're curious.)
As for his Facebook posts, Roberts said it's all in good fun. "I've posted a lot of stuff on Facebook. I do it more because it's funny. I have liberal friends I like to poke and prod. I do have friends who are liberals, believe it or not."
The third challenger in this, the only Harbor Commission race without an incumbent, is Hezekiah Allen, former executive director of the Mattole Restoration Council and now Chair/Executive Director of the Emerald Growers Association, a cannabis industry group. Allen launched a campaign for State Assembly last year but bowed out well before Election Day.
Of late, Allen has been active in Sacramento lobbying, giving cable news interviews and laying down mad lyrical flow over sick beats, yo.
Allen's Facebook persona mirrors his politics, with "likes" for lots of marijuana-activism groups and liberal politicians and causes. A select few:



Asked what prompted him to jump in to the race at the last minute, Allen said it was the news that Aaron Newman wouldn't seek reelection.
"I had a lot of respect for Commissioner Newman," he said. "When he chose not to run it got me thinking, you know, Humboldt County is home." Allen said that as a young person growing up here he found it hard to find good employment, and he believes that making better use of the harbor could change that.
"I did some soul searching," Allen said of his decision. "I was in Sacramento, and I decided this was a good opportunity to give back to this community."
Allen is fully behind the effort to renovate the old pulp mill, saying getting the site cleaned up and back into productive use "is one of the most important things we can do in Humboldt County."
And he's open to the possibility of rebuilding the railroad, though he thinks the issue deserves careful analysis. "It's really critical that our community take a really critical look at all of the options and that we move forward with the most feasible, practical and ultimately most productive option," he said. "The most important thing is that we all work together to carefully and critically consider the possibilities."
Election Day is Nov. 3. Check back soon for our overview of the races in Division 2 and Division 5.
UPDATE: See our 2nd Division preview here and our 5th Division preview right here.