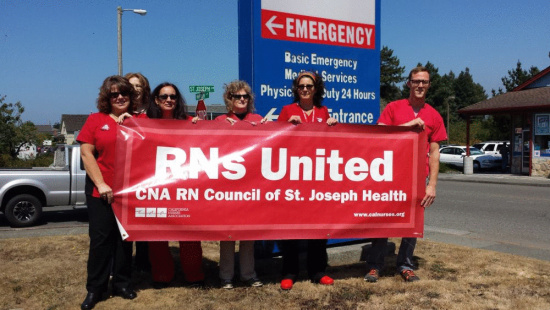 A group of registered nurses gathered in front of St. Joseph Hospital this afternoon to call attention to what they see as failings of the facility's parent organization, Irvine-based St. Joseph Health. The nurses, represented by the California Nurses Association and National Nurses United, accuse the nonprofit Catholic organization of chronic understaffing, skimping on charity care and violating patients' rights.
These and other grievances are outlined in a new report titled "Fall From Grace: St. Joseph Health RN's Raise Ethical and Patient Care Concerns."
The report, which is based on a survey of registered nurses conducted earlier this year, alleges that St. Joseph Health, which operates both St. Joseph Hospital in Eureka and Redwood Memorial Hospital in Fortuna, is guilty of providing unsafe staffing levels and insufficient supplies, putting patients at greater risk of infection, serious injury and death.
From 2007 through 2014, the California Department of Public Health (CDPH) has levied 20 administrative penalties against hospitals in the St. Joseph Health system, charging them up to $100,000 for each incident that, according to the CDPH, could cause "immediate jeopardy" to the patient's health and safety. Included on that list are two surgical mistakes at our local hospitals — leaving a piece of equipment inside the body of a St. Joe's patient during surgery in 2010 and leaving a catheter guide wire inside a patient at Redwood Memorial in 2008.
Outside St. Joe's today, Registered Nurse Susan Johnson, who has worked at the hospital for 30 years, said that St. Joseph Health has spent less on charity care than any other major Catholic hospital system in the state. And she called out upper management for their fiscal stewardship.
"Even though they are a nonprofit, they're a very profitable organization," Johnson said. "They have been putting money in hedge funds; they have been putting money in accounts in the Cayman Islands; they pay their chief executive officers over a million dollars a year. And what we would like to see is some of that money brought back into the facilities and back into the aspects of what they're doing here, which is providing patients care."
Johnson went on to say the hospital doesn't have enough nurses or ancillary staff, a message she's been relaying for months now.
The nurses' report chronicles a selective history of St. Joseph Health, from its founding in 1920 by an order of Catholic nuns to the sisters' solidarity with César Chávez in the 1970s. The narrative then goes on to indict the current management of the religious nonprofit, claiming that the "values that meant something to the [St. Joseph Health] founding Sisters have given way to the priorities of present-day corporate management."
The sisters themselves have retreated to a new role as a "sponsorship board," sharing management responsibilities with lay businesspeople. The result, according to the unions, has been "a moral compass that seems more driven by business and financial goals than by patient care and community service."
St. Joseph Health announced last month that it's pursuing a merger with Seattle-based Providence Health and Services, another Catholic nonprofit. In a separate press release handed out today the nurses' unions call on California Attorney General Kamala Harris and the Federal Trade Commission to review that proposed merger in order "to assure patient protections and nurses' rights are not infringed."
Providence operates 34 hospitals and 500 clinics, spread geographically from Alaska to Mexico, including sites in California, Oregon and Montana. St. Joseph Health runs 16 hospitals in California, New Mexico and Texas. "Together, the new system would have an especially large footprint in California, and a near monopoly in some regions," the nurses unions say in their release.
Asked for a response to these claims, St. Joseph Hospital management issued the following statement from Dr. David O'Brien, President of St. Joseph Health, Humboldt County:
St. Joseph Health began in Humboldt County more than 100 years ago with a commitment to serve the needs of our community. While it's true that healthcare is changing dramatically, our commitment to our community and our employees absolutely has not changed. We deeply value the work our nurses and our entire staff do every day to care for our community. But we are saddened by the report issued by the California Nurses Association and do not agree with the union's opinions or assertions.

Especially disappointing is that the CNA has significantly understated our charity care and community benefit, and misrepresented our stellar record of patient safety and care. At a time when hospitals are getting paid less to do more, St. Joseph Eureka actually spends tens of millions of dollars on charity care and community benefit each year, and we contribute 10 percent of our net income each year programs that support the poor and vulnerable in our Humboldt Community. That money goes to a broad range of services and initiatives ranging from charity care, food insecurity grants, community resource centers and care for the homeless. We always strive to meet all state and local mandated requirements for nurse-to-patient ratios, and we're immensely proud of our record of patient safety.
DOCUMENT: "Falling From Grace: St. Joseph Health RNs Raise Ethical and Patient Concerns"
PREVIOUSLY: