UPDATE, TUESDAY 4 p.m.: The EPD confirms that dozens of guns were stolen from the Pacific Outfitters in Eureka sometime between late Friday night and Early Saturday morning.
Store owner Aaron Ostrom said the bureau of Alcohol, Tobacco, Firearms and Explosives is also investigating the crime.
"They're getting new leads everyday," Ostrom said. "Some evidence was left behind."
The sporting goods store submitted the number of missing firearms to ATF as well as the U.S. Department of Justice and EPD.
However, EPD has chosen not to release the official gun count as it could compromise the investigation.
The broken skylight used to gain access to the store was repaired the next day. The store's security system also received a thorough upgrade this afternoon, including window bars for all the skylights.
Ostrom said insurance will cover most of the losses and damage repairs.
###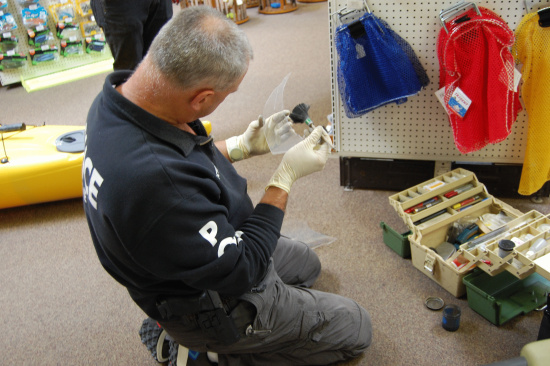 A detective with the Eureka Police Department dusts a shard of broken glass for prints. Photos by John Ross Ferrara.
A stockpile of guns was stolen from the Pacific Outfitters in Eureka last night during a burglary that had the makings of a Hollywood diamond heist.
Store owner Aaron Ostrom said detectives believe the burglars scaled the building using a storm drain, before cutting the building's power, smashing a skylight and dropping in through the roof.
Ostrom won't know many guns were taken until he completes an inventory check, but said it was definitely more than 10.
"They took enough to probably fill up a couple of backpacks," he said. "They seemed to focus on the handguns more than the shotguns or AR-15s, probably because they're smaller and they could take more of them."
The business owner noticed something was amiss when he arrived at the sporting goods store around 8:30 a.m., and discovered a side door had been forced open. Ostrom readied his firearm and searched the store, but the thieves were no longer on scene.
"It was crazy! I didn't know if I was walking into a gunfight," he said.
Ostrom said burglars have attempted to break into his store before, but this was the first successful heist.
"This whole building is a vault at night," he said. "All the windows are barred. I guess we'll be barring every skylight too."
The store is fitted with multiple security cameras and an alarm system, but they were all disarmed when the power was cut.
Two detectives from the Eureka Police Department were on scene this afternoon, brushing for prints and collecting evidence.
No ammunition or other items are believed to have been taken at this time.
The side entrance possibly used as an escape.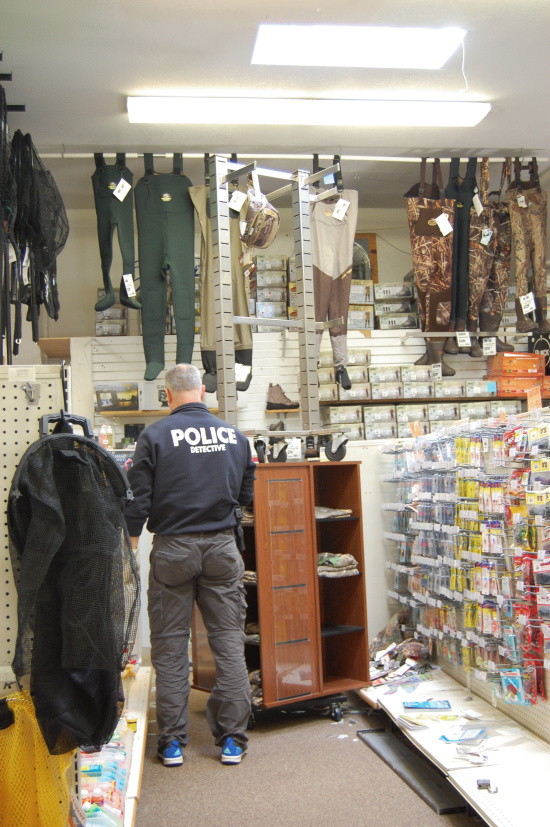 A makeshift ladder used by the burglars.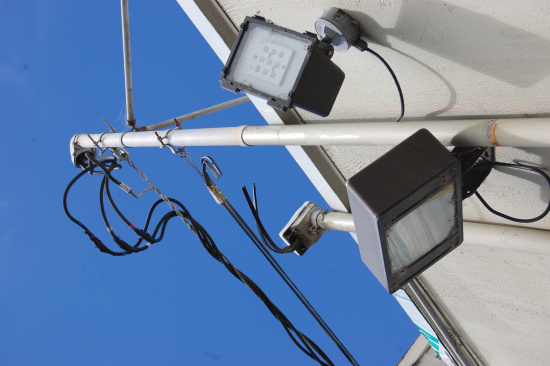 Cut power lines.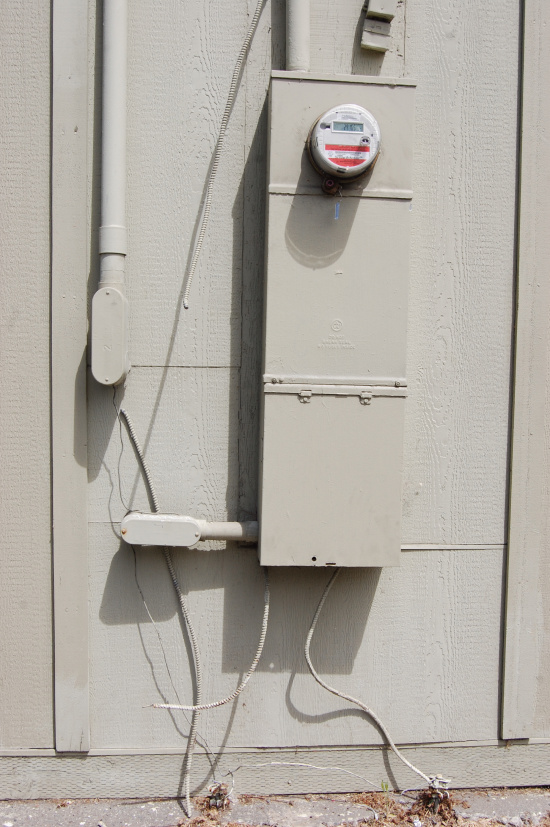 A police report was filed yesterday for another set of power lines to the building that were cut the night before.