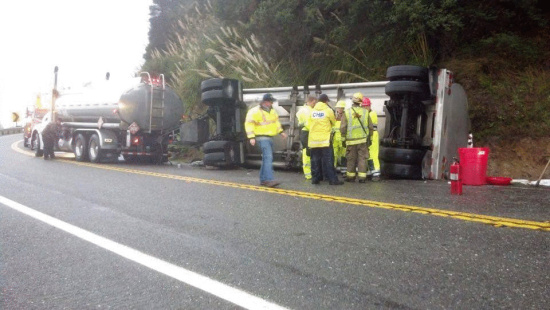 Provided by Calfire.
UPDATE, 9:45 a.m.:
CalFire Battalion Chief Laura Coleman told the Outpost that fire crews cleaned up 800 gallons of spilled fuel last night. The spill was fully contained by 8 p.m.
"It's still unknown if product made it to the lagoon," Coleman said. "They don't think it did, however. The nearby creek has no fuel in it so it's probably spread out across the surface but did not make it to the actual watershed."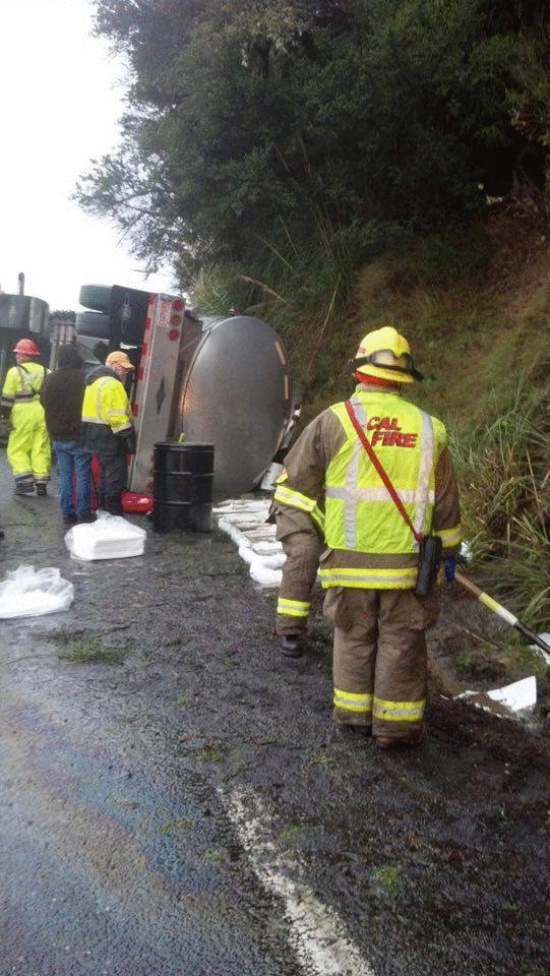 # # #
Original post: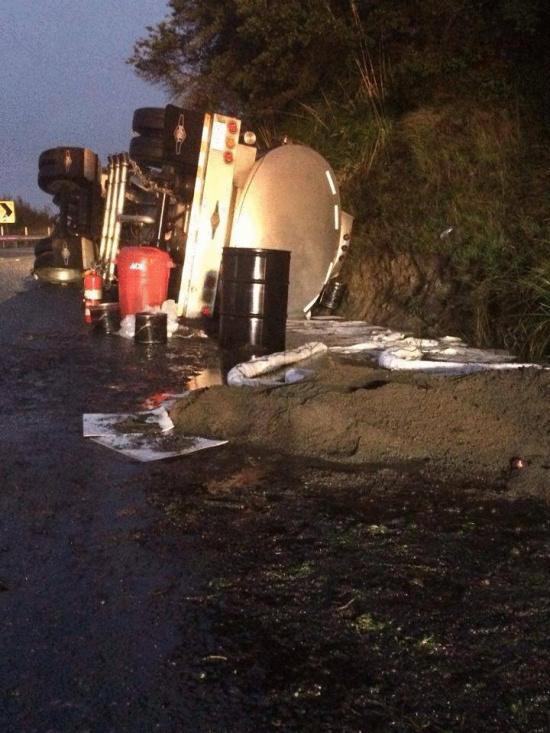 A big-rig truck carrying roughly 4,000 gallons of diesel fuel overturned on the northbound lane of Highway 101 near Big Lagoon around 2:15 this afternoon.
LoCO friend/KHUM DJ Bayley Brown is on scene and reports that traffic is down to one lane. CHP is escorting traffic one direction at a time.
CalFire Apparatus Engineer Jason Davi told the Outpost that first responders were able to contain the spill to about 200 gallons.
"We've been monitoring that closely. So far we have not seen any sign of it leaking into the lagoon," Davi said. "We've got the spill fairly well contained to the immediate area."
Dirt and rolls of absorbent pads were used to dam and soak up the excess fuel. CHP, Caltrans, CalFire, Arcata Fire and The Environmental Protection Agency are on scene and working to develop the most environmentally friendly solution to upright the tanker.
CalFire Battalion Chief Laura Coleman told the Outpost that it is still unknown if any fuel leaked into nearby storm drains.
The rollover was a single-vehicle accident and there were no reported injures. There is no estimate of when the highway will be fully reopened. However, Davi said CalFire is working with CHP to open up this roadway as soon as possible.