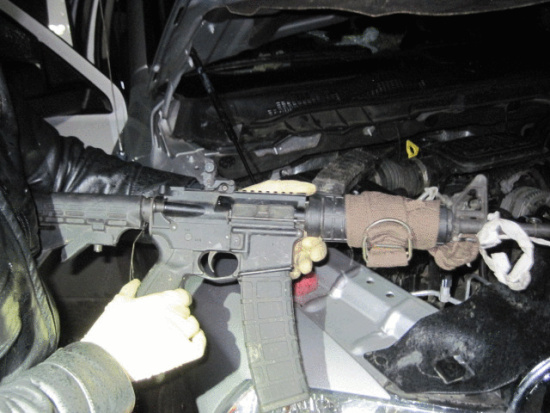 UPDATE: EPD public information officer Brittany Powell tells us that officers also found fake police badges in the following bust.
###
From the Eureka Police Department:
On 12/16/15 at about 11:15 p.m., an Officer with the Eureka Police Department made contact with a parked Dodge pickup and its two occupants in the overflow parking lot north of the Bayshore Mall. During the contact, Maggie the drug detection K9, alerted to the odor of controlled substances.

Officers detained the two male occupants and conducted a lawful search of the vehicle. Under the hood, Officers located a loaded AR-15 rifle, loaded high capacity magazines, and additional ammunition. A small amount of marijuana was found inside the vehicle.

The two male occupants were arrested and transported to the Humboldt County Correctional Facility. Larry Boone (42) and Jordan Kowitz-Bennet (22) both of the Sacramento area, were booked for possession of a loaded firearm in a public place, possession of an assault weapon, and transport of an assault weapon. Boone had an additional charge of being a felon in possession of a firearm.