UPDATE, 3:56 p.m.:
The City of Eureka Arcata does not want that billboard put back up. In fact, city staff "red-tagged" the fallen structure at 11:15 this morning, posting a "no-work" notice, according to Arcata Public Works Director Doby Class.
He added that if anyone sees someone attempting to put the sign back up, they should contact law enforcement.
"For anything to be done out there, it's permit-required work," Class said. Before anyone re-erects the sign they'd need to clear it not only with the city but also Caltrans, the U.S. Department of Fish and Wildlife, which owns the land, and likely the North Coast Railroad Authority, which has an easement on the property. All of those agencies have said they want this specific sign, among other, removed.
# # #
UPDATE, 10:40 a.m.:
Now that this billboard has been so expertly toppled, the sign owners might not be allowed to re-erect the thing. The Outpost spoke this morning with Caltrans Public Information Officer Eli Rohl, who tells us that, according to Caltrans' own surveys, the sign sits (now lays) on land belonging to the U.S. Fish and Wildlife Service, which has asked for the signs to be removed.
Third District County Supervisor Mark Lovelace noted as much in a Facebook post this morning:
Caltrans has notified sign owner Outfront Media that it doesn't have permission for this and other signs on the safety corridor and thus needs to remove them, but Outfront, a company that's notorious for its legal tenacity, has appealed the notice. Rohl says the ultimate decision lies with Caltrans' Office of Outdoor Advertising in Sacramento.
A call to that office was not immediately returned. It seems unlikely that the state agency would allow Outfront to rebuild the sign while its permission to be there is so contested, but a lack of permission hasn't prevented sign companies from putting this very sign back up in the past.
—Ryan Burns
# # #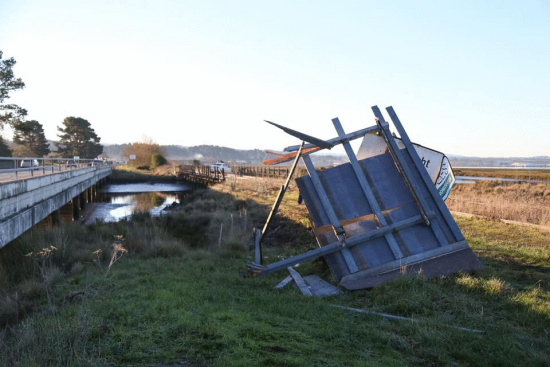 ###
PREVIOUSLY