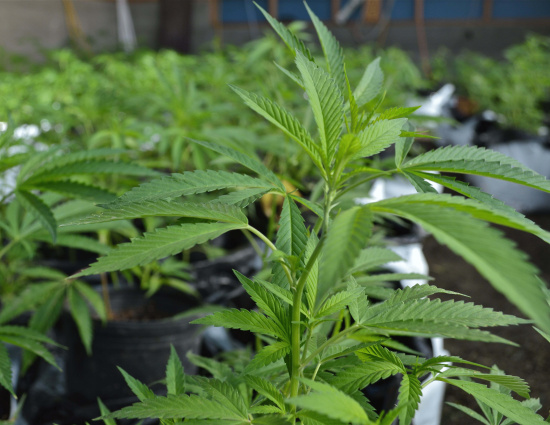 Kansas-based tribal economic development firm Foxbarry Companies and Colorado-based "Cannabinoid Technology" corporation United Cannabis are officially starting an industrial cannabis cultivation operation at the Pinoleville Pomo Nation's reservation north of Ukiah, in Mendocino County. Construction will start sometime this month.
LoCO captain Hank Sims covered the beginnings of this novel development back on Jan. 7. The key factor leading to this partnership was an Obama Administration memo made public in early December. The memo laid out a permissive policy for marijuana cultivation on tribal lands. Grows can go down on tribal lands provided "robust and effective regulatory systems" are in place. Ryan Burns covered the contents of the memo and got a reaction from the Yurok Tribe in this Dec. 11 LoCO post.
At the time of Sims' Jan. 7th coverage, the Pinoleville Pomo Nation reservation wasn't confirmed as a grow site: "… Barry Brautman, founder and president of Foxbarry Companies, told the Outpost today that United Cannabis' naming of Pinoleville as the tribal partner was premature." I spoke with United Cannabis' CEO former CEO Paul Enright on Jan. 28. He would not confirm a location for the grow site, even though Indian Country Today Media Network ran an article announcing that the Pinoleville Pomo tribe will be the first to grow the cannabis:.
Whatevs… It's happening. I tried to get Brautman from Foxbarry on the phone too, but he can't talk till next week because he's so swamped with press requests from every one and their mom. However, I was able to connect with Brautman's PR guy, Victor Cruz from the Massachusetts-based firm MediaPR.net. Cruz forwarded me the following statement from Brautman, prefacing the statement with, "This is just the start of a budding enterprise…":
We are scheduled to meet with the local authorities including the Sheriff's and DA's office from the Ukiah community, as well as a group of local growers. In addition, we have meetings scheduled with the Pinoleville Pomo Nation's EPA office. We are fully committed to being in full compliance with local ordinances. The Project is still in its early stages, so it's hard to say exactly when it will be operational, although we are right on schedule. However, we will keep you posted. We expect our partnership with United Cannabis and Pinoleville Pomo Nation to employ from 50-100 people in our 110,000 sq. foot grow, processing and operations facility. UCann will be responsible for training personnel, making certain that products meet company specifications and distribution to local CA dispensaries, co-ops and collectives. There are no plans currently for a retail dispensary on the Tribe's land. We will also accept cannabis plant matter from registered independent growers to meet market demand.
When I spoke with Cruz on the phone, he provided me with some additional details. He says the facility is being constructed on a two-and-a-half acre plot and that 20,000 sq. feet of the facility will be devoted to processing and office functions. The rest is greenhouse. Foxbarry is putting up $30 million.
Cruz was unable to give an estimate of the facility's expected output, but since the demand for medical marijuana is high (endless weed puns…), as Brautman says in the above quote, they'll be looking for product grown outside the reservation's operation in order to meet demand. Cruz said Brautman plans to meet with the Emerald Growers Association sometime soon.
According to Cruz, coming up with clones or seeds to start the grow will be the responsibility of United Cannabis, and whatever products that emerge will be distributed under the United Cannabis Prana brand. Will it be an organic operation? Cruz was not sure. Will the public ever be able to check the facility out? He said that's up to the tribal council. That may never happen.
Enright was at least able to tell me that "dozens" of strains will be cultivated, particularly strains with high CBD content. CBD or Cannabidiol is all the rage in the medical cannabis scene. Cannabis plants contain a number of cannabinoids — according to this Pure Analytics blog post there are over 80 cannabiniods in the cannabis plant. CBD and THC are the most famous. THC is famous because it's psychoactive — it gets you high. CBD is famous because, well, just check out this quote from the Project CBD website:
"Cannabidiol — CBD - is a cannabis compound that has significant medical benefits, but does not make people feel 'stoned' and can actually counteract the psychoactivity of THC. The fact that CBD-rich cannabis doesn't get one high makes it an appealing treatment option for patients seeking anti-inflammatory, anti-pain, anti-anxiety, anti-psychotic, and/or anti-spasm effects without troubling lethargy or dysphoria."
So those are the two best-known cannabinoids, but there are many. My understanding is that cannabinoids are most effective in concert, therefore medicating with proper cannabinoid ratios is desirable.
United Cannabis made news in the Denver Business Journal last October when it applied for patents on cannabinoids. That's patents on cannabinoids, not strains. However, the phrase "proprietary strain" is used in the article I just linked to. Sims uses the phrase in his Jan. 7th coverage of the UCann-Foxbarry deal too, saying that United Cannabis is "a publicly traded Colorado marijuana firm that grows proprietary strains."
"Proprietary strain" is a misnomer, it seems. Check out following quote from an Oct. 28 United Cannabis press release through the PR firm SmallCapVoice.com, Inc.: "[United Cannabis] has filed for provisional patents related to unique combinations of pharmaceutically active cannabinoids used to treat disorders of the nervous system, immune system and cancer, with the U.S. Patent and Trademark Office."
Enright told me that United Cannabis filed for 14 patents on certain CBD profiles (not strains of weed) and there are probably thousands of strains that can yield those particular CBD profiles. And at this point, United Cannabis will rely on strains that are grown in California to produce their proprietary compounds, as opposed to bringing in strains from out of state.
United Cannabis, Foxbarry and the Pinoleville Pomo Nation are going forward with this big marijuana cultivation project, and it appears that they will have to rely on local marijuana resources to make it a reality. Well, we certainly have plenty of weed resources in these parts, like Garberville medical marijuana dispensary Wonderland Nursery for clones and the Southern Humboldt Seed Collective for CBD-rich strains… Who will they tap?
###
Ed. note: The story originally identified Barry Enright as the CEO of United Cannabis. In fact, he left that position in June 2014. The Outpost regrets the error.