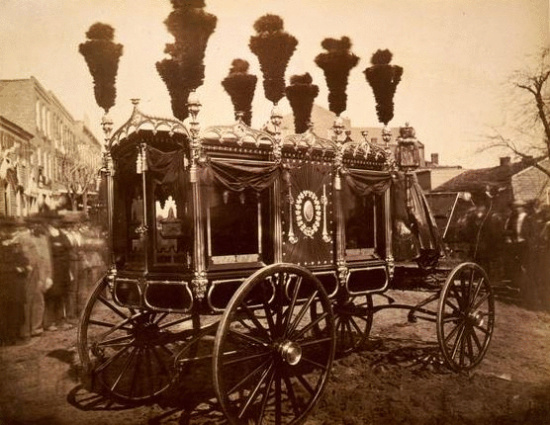 The only know photograph of President Lincoln's hearse from his Springfield, Illinois funeral procession. Blue Ox Millworks is displaying a replica of the hearse today.[Photo from the Library of Congress.]
Today, Humboldt residents have a unique chance to see not only a piece of history but observe what our extremely skilled local craftspeople have been doing. Working from the only known photograph in existence, craftspeople at the Blue Ox Millworks in Eureka have recreated the hearse that carried President Lincoln's body through Springfield, Illinois for his final funeral procession.
Quite literally, with its large gold leafed pillars and silver details, the hearse is a glittering treasure and our local craftspeople have been instrumental in building this—often with rare antique tools. A treadle scroll saw, for instance, was used to create some of the fancy work on the hearse. (The saw is available for viewing at the Milllworks, too.)
This May, hundreds of thousands of people are expected to throng the streets of Springfield to see a historically accurate funeral train carrying a replica of Lincoln's coffin being carried in this hearse during a commemoration of the 150th anniversary of Lincoln's death. (See here for details on how to view the hearse today only.)
The hearse will be headed to Arizona on Tuesday for more work including painting so today may be your only chance to see it.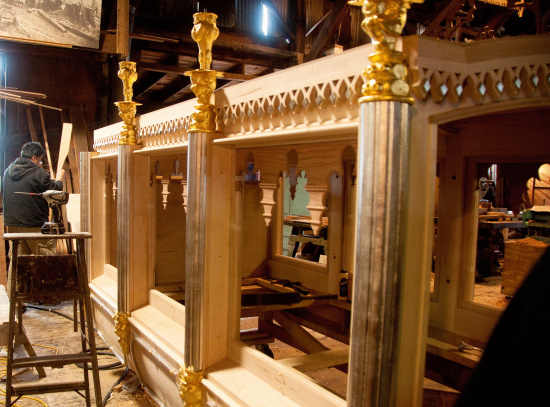 Workers put the final details on the hearse last week before it is shipped to Arizona for painting. [Unless otherwise noted, all photos in this article are by Kym Kemp.]
But even if you can't make today, the Millworks, along with two other Eureka sites, provides an overview of Humboldt history. The first stop, if you are interested in chronological order, is the Clarke Museum on the corner of 3rd and E Street. The excellent basket collection and other Native American artifacts now on exhibit provide a glimpse of lthe earliest inhabitants of this area. The displays in this room are particularly well done with a hands on basketry exhibit that allows kids and adults a chance to play with design. There are also artifacts from European settlers and some natural history items.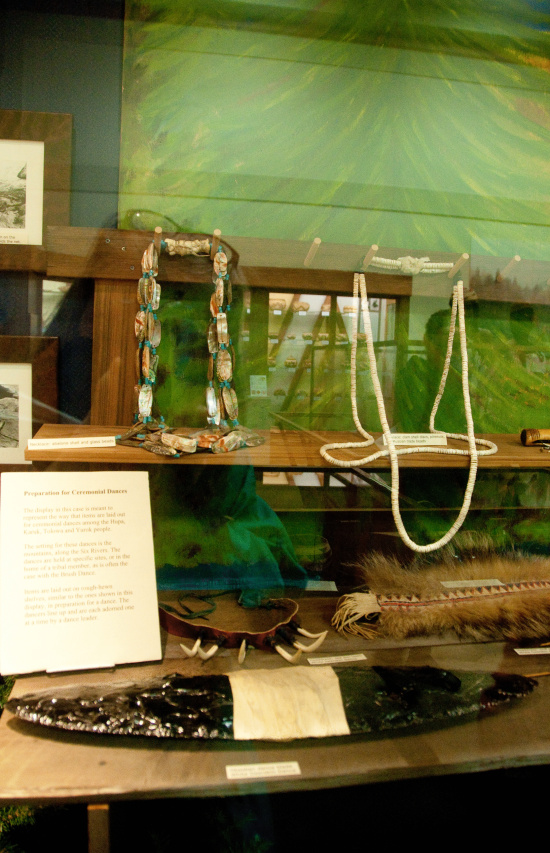 Native American jewelry and ceremonial objects on display at the museum.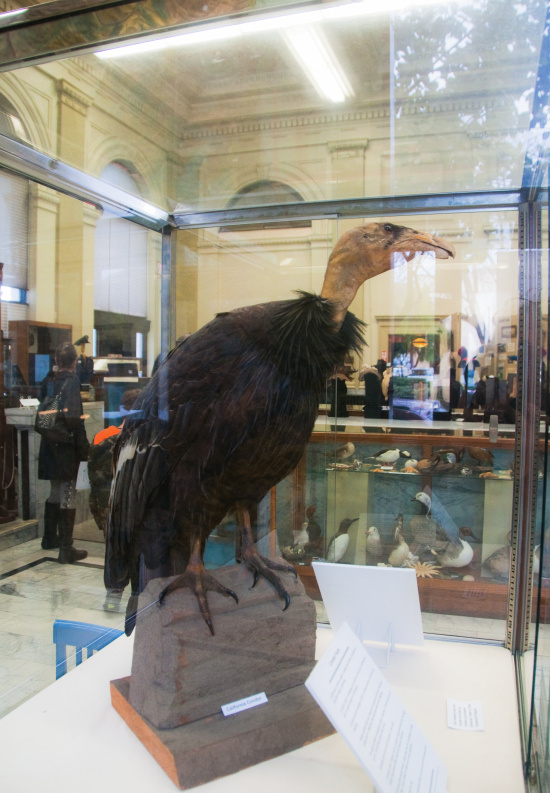 Stuffed condor perches in a glass case at the Clarke Museum.
The second stop is Fort Humboldt. Built on the hill that now overlooks Bucksport and the Bayshore Mall, the Fort was only in operation from 1853 to 1870 but contains a wealth of information not only about that era but about logging and train operations.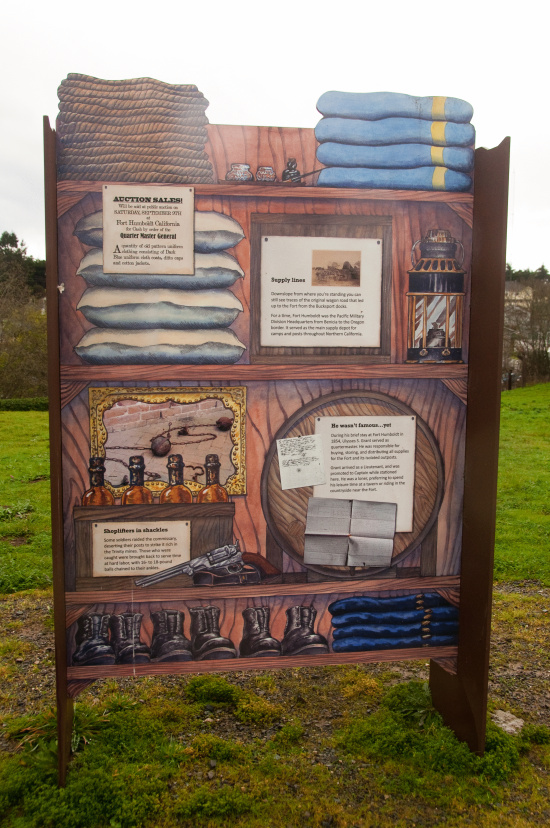 A sign showing items that might have been in the Fort's commissary.
A walk around the Fort has colorful and informative signs that give the reader a Cliff's Notes version of the dense and tragic history of the area. Of particular note is The Corral—an 80 foot diameter open structure built to hold hundreds of Native American refugees and prisoners. Though it was torn down long ago, the State Parks have posted signs explaining what happened. Below is a quote displayed on one of the signs:
The limited number of troops…renders it impossible to detail a sufficient guard…to safely keep the large body of indians now here and constantly accumulating. This fact, together with the frequent complaints from indians [about beatings and rapes]…, rendered it in my judgment necessary to take measures to suppress this evil, and at the same time secure the safe custody of the indian prisoners. Accordingly I ordered the construction of a circular corral, now completed, eighty feet in diameter and ten feet high, to be built of two-inch plank twelve feet in length, standing upright, and two feet in the ground." — Lt. Col. James M. Olney, California Volunteers, June 8, 1862
Two to three hundred people died in the holding area before it was torn down. Native Americans consider this a site of terrible genocide.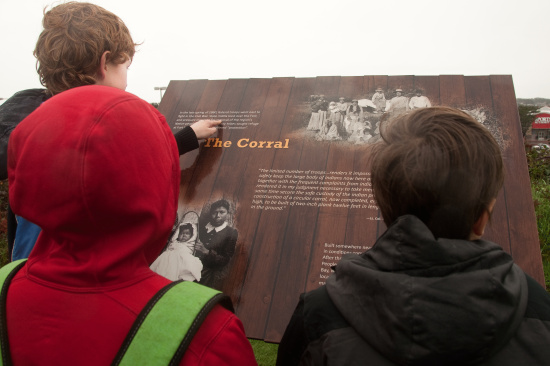 Students read about the tragic history of Native Americans at the Fort.
Then the final stop on this whirlwind tour of Humboldt History would take you to the Blue Ox Millworks. There you can tour working craftshops where blacksmiths, carpenters, spinners and others still hand craft items much like they used to in the 1800's. Many historical tools are on site and some are demonstrated to those who take the tour.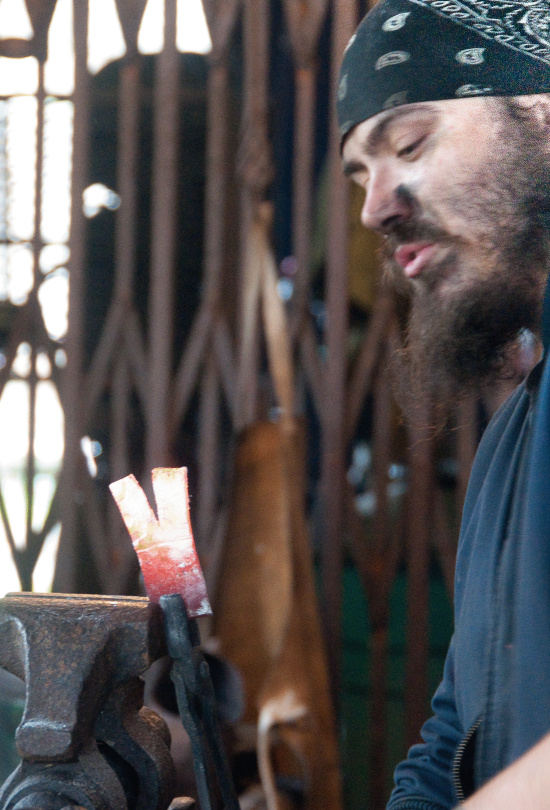 A blacksmith works with heated iron at the Millworks.
In addition, there is an aviary, cats, a humongous dog, and several horses eager for pats and hopeful of carrots.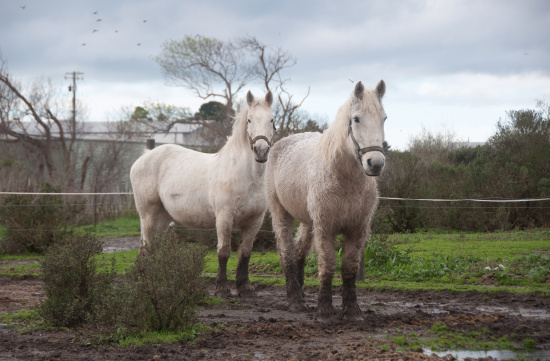 Seeking carrots and pats.
Looking for a way to enjoy today? Then quickly set off to the Millworks to view the hearse and take in the other sites if you have time. But, even if you're busy today, take a day sometime soon to learn about the place you live in. You'll come away with a greater love and appreciation for the place and its people.