According to Fortuna Police spokesperson, Sgt. Jason Kadle, an individual was arrested around 2 p.m. today at the Fortuna Safeway. Bystanders, Brandon Patterson and Kari Edwards, took video and photographs. The video (shown above) begins after the suspect has been handcuffed.
According to Patterson, before the video began, the K9 had bitten the suspect. Patterson said that he believes the suspect tossed a powdery substance that can be seen on the ground in the photo below. An officer appears to be collecting a sample. Patterson explained, "[T]he cops yelled out for people to stay away from the "powder." [It] looks like the substance was smashed against the ground and the wind took most of it away. That's all we saw while the K9 was eating [the] dude's leg."
In the video the handcuffed suspect can be heard complaining that he has been bitten.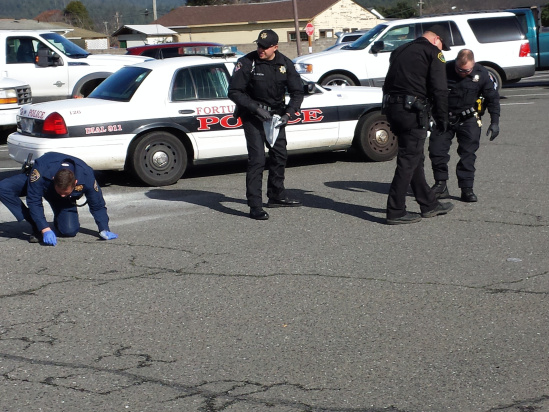 A K9 was deployed, Kadle said, because the suspect "was not listening to the officer's directions." The suspect, Kadle said, was arrested for driving with a suspended license, resisting arrest, and possession of methamphetamine.
Kadle did not yet have access to the report of the incident but has promised that an officer will contact us with more information tomorrow.