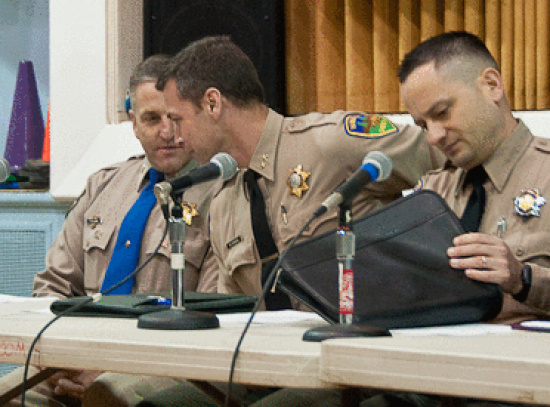 UPDATE 3:21 p..m.: KMUD News has full audio of the meeting. (Click on this link to go to the post.)
###
Original post: Residents of Southern Humboldt, like those across the county are worried about crime. At a town meeting in Redway on Thursday evening, new District Attorney Maggie Fleming and Supervisor Estelle Fennell as well as representatives from the Humboldt County Sheriff's Office and the California Highway Patrol were on hand to hear their concerns and present new ideas on how to address the issue.
Fleming said that while her office currently has about 10 attorneys she is trying "to get back to 15 attorneys." She decried the minimal court service in the Southern Humboldt area and said she would like to see community court happen more frequently.
Undersheriff William Honsal of the Humboldt County Sheriff's Office reported that his office is working towards 24 hour coverage in Southern Humboldt. Recently, he said, "There has been two deputies on the weekends." With money from the recently passed Measure Z, he explained, the Sheriff's Office hopes to add "up to 12 new deputies to our force." These deputies will work all over the county. Some of those will be working in Southern Humboldt, Hansal said. "The goal is, if we can get enough revenue, to get the [Garberville Sheriff's] substation back running," he explained.
However, Honsal pointed out that the money from Measure Z won't be seen right away. "We don't see the first check until June. It takes a year to train a deputy. So we're looking at a year to a year and a half to see changes."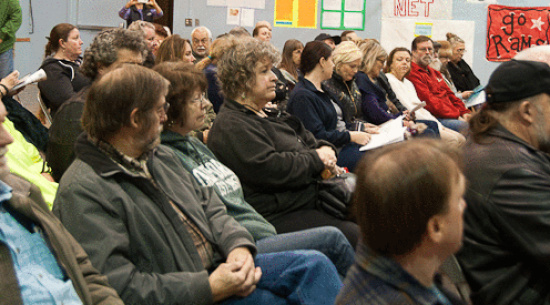 Many of the residents at the meeting were worried about what is happening now.
"Lately, the crime rate is unbelievable here," said Amber Wallan, a community member. Wallan said locals were often uncomfortable approaching law enforcement. "We call 911 in life threatening situations and get told they'll come down tomorrow. What is so important in Eureka that is taking precedence over our lives and our children?" she asked.
Many people described waiting hours for law enforcement to arrive. John Jennings who works for a local non-profit, the Mateel Community Center, described catching an individual who had stolen $3000 worth of merchandise from a vendor at an event. The thief was stopped by Jennings and others in the street nearby. He said that he "had to hold them for an hour and half" while waiting for law enforcement to respond. "We don't know what to do. We can't handcuff them. We can't ziptie them… . People are frustrated…People are pissed off," he stated. Jennings, like others, said he is worried that members of the community are ready to turn to vigilantism.
Jennings, again like many others, blamed hard drugs for an increase in crime. "We have a serious methamphetamine/heroin problem," he said. "The methamphetamine problem is off the hook."
Eric Lively, a Shelter Cove resident, described distrust between residents and law enforcement. "I'm not afraid of the junkie or a tweeker. I'm afraid of you," he said looking at the officers from the Humboldt County Sheriff's Office.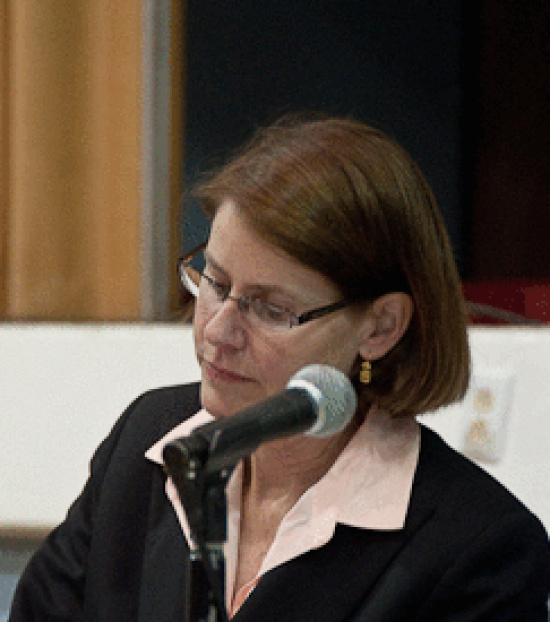 The new District Attorney and law enforcement officers addressed the trust issue. Maggie Fleming, the recently elected DA said, "I would ask people from this community to trust to us." Fleming said that people should not be afraid to come to talk to her office about a crime just because they were involved with marijuana. "There are people who are victims of horrible sex crimes that are afraid to report because it is associated with a marijuana grow….That is not what this is about," she said. "Our concern is with public safety. Please do know that when you have a crime report that is what we are going to address."
Honsal said that he recognized that it was "going to take a bit of time to establish trust." But he asked that the community "trust the direction that we're going." He reminded the community that the Sheriff's Office was making changes. "We hope that one day when you call with a burglary at 1 a.m. that we can respond right then." However, he acknowledged that 24/7 coverage in the Southern Humboldt area was still a goal that his office was working towards.
However, Sgt. Jesse Taylor also of the Humboldt County Sheriff's Office, who begins his new assignment in Southern Humboldt on the 18th, explained that local residents should be seeing more law enforcement. He will be encouraging his deputies to walk through town more often. "I think for a long time Southern Humboldt has lacked foot patrols—a visible presence," he said. "Among certain groups, certain…for lack of a better term…criminals there is no sense of repercussions… . I think you will see a significant change soon but certainly over time."
Meanwhile, residents asked what they could do to protect themselves now. Honsal suggested getting "surveillance systems, gates and dogs," he said. He also suggested that people "be careful who you invite to your home. Lock your homes. Make sure areas around your home are well lit."
The Chamber of Commerce had suggestions, too. Cinnamon Paula, its executive director, suggested, "If you are wanting to be part of change, there are lot of community organizations that are already doing things. Join up with one of those groups whether it is cleaning up or planting flowers or… ." She also pointed out that the Sheriff's Office has a site for online reporting of crimes (click here to go to it) that would create a paper trail and allow community members to quickly report non threatening situations without waiting for a deputy to respond.
One small business owner suggested that the community "take back the town" from the criminal element by being more present publicly. "We gave those people our town by us not being out there." She asked community members to not only participate in community events but walk through town frequently.
Supervisor Fennell suggested that people snap shots of situations that need to be addressed and send the photos to her office. Fennell says the images help her convince others of the problematic situation. "Those pictures work miracles. It really really helps," she said.
Saying that " the houseless are also part of our community," local resident Felix Omai blamed the county's problems on "a national addiction problem and a national poverty problem." She pointed out that "the houseless are also part of our community" and she urged getting mental health care, public toilets, and providing a place "for the trimmigrants to hang out" where they could get hired.
Omai said that this and similar infrastructure was needed. "We could get rid of all the undesirables and next year it would look the same because we don't have the infrastructure," she said.