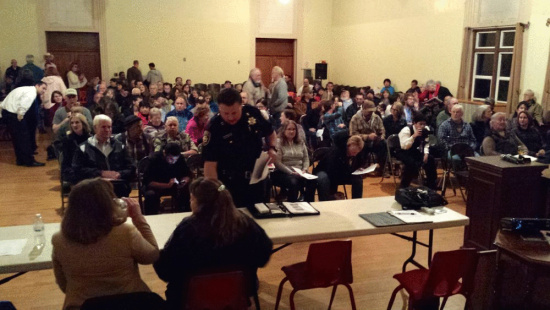 It was standing-room only tonight as close to 200 people filed into the Eureka Veterans' Hall at dinner hour looking for proactive solutions to the city's problem of rising crime. The meeting, organized by a community group called Operate Safe Streets Eureka, attracted recently elected officials such as District Attorney Maggie Fleming and Eureka City Councilmembers Natalie Arroyo and Kim Bergel along with 4th District Humboldt County Supervisor Virginia Bass and dozens of residents.
Host Gene Bass, owner of Pacific Coast Security, launched the meeting with some whimsical opening remarks.
"I remember when I was a kid I was comfortable in this town – the kids owned this town," he said. "Now I'm not so sure." Bass said he won't let his own sons go too far from home, and that while the police are doing all they can, the community needs to step up. "The time is now for us to do something," he said, "because in a few years it's gonna be too late."
The meeting featured a panel of law enforcement experts including Eureka Police Chief Andy Mills, local attorney Elan Firpo and Eureka City Attorney Cyndy Day-Wilson. Each panelist outlined steps people can take to thwart crime.
"The main thing we want to do is make it uncomfortable for the criminal element," said panelist Joe Figas, who has helped to organize a neighborhood group called Eureka Main Street Watch. He encouraged people to gather together with neighbors and walk the streets, engaging people they meet and taking pictures of suspicious characters.
"We as citizens really must get off our keisters," Figas said.
Chief Mills was impressed with the turnout.
"This is something else – to have this many people concerned about public safety and willing to give their time speaks volumes about Eureka," he said. "But now it's time to execute. I think timing's right; the momentum's right; the programs are right. Let's get going."
Mills explained that part of his optimism comes from his communications with Fleming, the new DA, as well as the Eureka City Council – plus his department's newly acquired records management system, which will facilitate smarter execution of police efforts.
Mills also encouraged the idea of neighborhood watch groups. "If you form neighborhood patrol, or a neighborhood watch, we will do everything in our power to walk with you, to help you organize, train you, whatever you need," he said. "We'll commit our organization to making that happen, because this is the power of community."
The Eureka Police Department is pretty well staffed currently, he said, and the plan is to expand the Problem Oriented Policing (POP) program in the near future. He also mentioned the recently passed shopping cart ordinance in the city as well as a somewhat controversial bicycle ordinance due to be considered by the City Council in the coming weeks. It's aimed at "what people in Henderson Center call G-MOBs, or "grown men on bikes," Mills said — "the guys smoking cigarettes and riding the wrong way on streets, cutting people off." Later in the meeting he said that's one of the first things rookie officers learn: Look for a guy on a bike smoking a cigarette and you're likely to find a burglar.
The bicycle ordinance would allow officers to give a warning to cyclists who break traffic laws once and take their bike away for a second infraction.
Mills ended on an upbeat note: "We can make this the best place to live in Northern California," he said.
Firpo, who recently went into private practice after leaving the District Attorney's office, agreed. "I think we can prevail," she said. "There are more of us, and we have a history of making better life decisions."
Firpo talked about what residents can and cannot legally do to defend themselves and their property. While state penal code gives people the right to use force while defending house and home, the best move if you come across an intruder - at least locally — is to leave your house and call law enforcement. "We're still at a point here [in Eureka] where the average person is not a victim of violent crime," she said. (Mills later seconded that.)
"Criminals, Firpo added, "are inherently lazy and risk averse." So do things to increase the difficulty level for criminals: Etch your name into your property. Install video surveillance. "Don't be the easiest target."
Pamlyn Millsap, who works with the Eureka Police Department as a homeless liaison, addressed the growing homelessness problem, though Bass chimed in that the homeless shouldn't be scapegoated for crime. "I can assure you, homeless people not stealing your stuff," he said.
Day-Wilson, Eureka's city attorney, reminded people that she's also the city prosecutor. "Since April 2012 we've prosecuted approximately 900 misdemeanors," she said. After dissecting the data city employees found that 54 individuals were behind 40 precent of those prosecutions.
Another resource for people, she said, is to file a nuisance lawsuit. If there's a house on your street where people deal drugs, she said, get together with some neighbors, document what you see, make police reports and then file a suit. "It is [just] a monetary lawsuit, not criminal," Day-Wilson said, "but it's a pretty big hammer when you ask for $10,000" — the maximum amount allowed in small claims court.
During the question-and-answer period that followed the panel talks, Chief Mills addressed the perception that other communities ship their undesirables to Eureka.
"About 85 percent of the homeless here grew up [here] or have lived here for more than five years," he said. Many of the rest are the so-called "triimmigrants," he added. But as for people being imported? Mills said that his department, in collaboration with the Humboldt County Department of Health and Human Services as well as Betty Chinn's organization, have "sent about 2,200 people packing. So actually the reverse is true."
As the clock moved past 7:30, more and more people began filing out of the Veterans' Hall, but many more stayed behind, eager for ideas to improve their city.