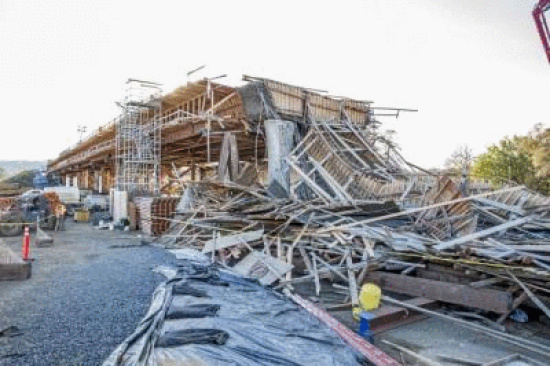 Falsework collapsed on the Willits Bypass this Thursday afternoon. [Photo courtesy of The Willits News.]
A section of the Willits Bypass viaduct crumpled underneath workers on Thursday afternoon as concrete was being poured by the contractor, Flatiron. Several workers were caught in the collapse. One had to be extricated from the ruins. Three of the contractor's employees were hurt and taken to the hospital—at least one with major injuries. Caltrans spokesperson Eli Rohl said this evening, "Everyone's injuries appeared to be non-life-threatening as they left the scene. We don't know anything beyond that…Flatiron West will have the latest on the workers' conditions."
Flatiron, the contractor, was not reachable for comment at the time of the writing of this article. It received a safety award in December.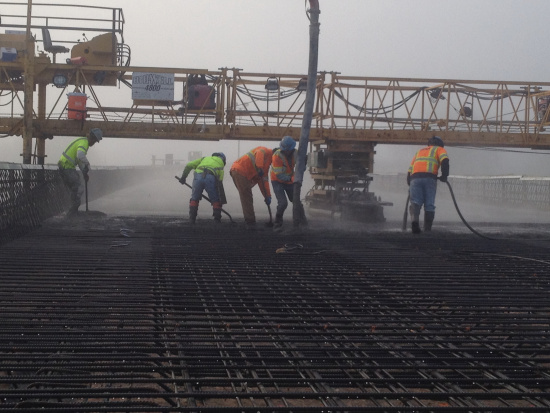 Caltrans photo of Flatiron West employees pouring concrete on the viaduct earlier this month. [Photo from the Willits Bypass Project News.]
According to the Willits News (see their extensive coverage and photos here,) concrete from the pour flowed into Haehl Creek. The Willits News learned from a Mendocino County department responsible for cleanup of hazardous materials
…that wet concrete is extremely alkaline, with a pH of up to 13 or 14. Electric meters, which are in the creek at all times measured pH in the creek water near the debris at 11. A pH that high will quickly kill fish and other aquatic animals.
Cal/OSHA (California Department of Occupational Safety and Health) will be investigating the incident. Caltrans spokesperson Eli Rohl said, "Bridge experts from Sacramento are …en route to Willits."
Caltrans released this statement on its District 1 Facebook page:
This afternoon, falsework collapsed while contractor Flat Iron was pouring concrete along a section of the viaduct at the Willits Bypass Project. Three Flat Iron employees were injured in this collapse and have been transported to the hospital with moderate to major injuries. CALOSHA will be conducting a full investigation into this incident. We will be reviewing all appropriate safety protocols, and cooperating with state occupational safety regulators. Our hearts go out to all who have been affected today and our priority right now is to provide assistance to our contractor and make sure everyone is safe.