[For LoCO's chronological list of fire updates, go here.]
UPDATE, 12:05 p.m.: Calfire has updated the number of separate lightning-caused fires in the area to 53.
Another 16 fires found in the #HumboldtLightning complex, for 53 total. Some with potential of several hundred acres.

— CAL FIRE HUU (@CALFIRE_HUU) July 31, 2015
# # #
Original Post: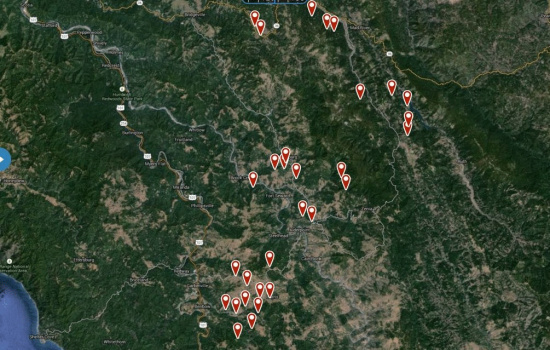 Thunderstorms blew across much of southern Humboldt yesterday afternoon and evening, hurling thunderbolts down onto dry tinder and setting dozens of mini-blazes. This morning, Calfire's Humboldt office tweets that it was located and controlled 37 such fires, and suspects that there are at least seven more out there yet to pin down.
These fires are — so far — small. The Calfire incident page says that the "Humboldt Lightning Fires" range in size from one to six acres.
More appears to be coming. The National Weather Service has a "Hazardous Weather Outlook" up for the North Coast interior that predicts thunderstorms through tomorrow afternoon, and warns that they could possibly continue through well into next week.
From the National Weather Service:
Isolated thunderstorms are expected today and tonight across the NW California interior. Trinity county and Mendocino National Forest will be the focus for activity today, but chances will spread west into far eastern Del Norte and Humboldt counties as well. Additional thunderstorms are expected on Saturday. Dry conditions and any amount of lightning can easily cause wildfires. When dark clouds approach, seek shelter immediately inside or building or a vehicle. Remember, lightning can strike without any warning. When thunder roars, go indoors!