Over the weekend, we told you about how someone smashed the windows at Zamora's Furniture in Arcata. But the fact that we highlighted that story doesn't mean that it was the only window-smashing that has gone on in Humboldt County in recent days. Far from it.
Winship Middle School, in the Cutten area, is probably the most beautiful school campus serving any educational level anywhere in Humboldt County. But does the sheer gorgeousness of the school make glass-smashing punks think twice before desecrating it? It does not.
Winship's Facebook page reports that vandals have broken over 40 of the school's windows over the last few days, and the school is starting to get desperate about it. They're calling out for the public's help, and are offering a possible reward for information leading to the arrest and conviction of the nihilists responsible. They're asking anyone with information to report it at www.wetip.com or 1-800-782-7463.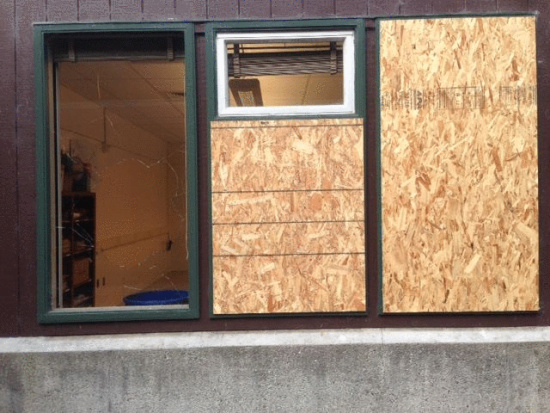 Up in Arcata, meanwhile, Danielle McIntosh of McIntosh Country Farms, arrived at work this morning to discover their front doors smashed in and several valuable pairs of used jeans missing from their racks.
McIntosh said that she buys used designer jeans on eBay and sells them at the store for around $100 each, as a sort of sideline to McIntosh's main business. This is the third time, she said, that thieves have broken in to steal the jeans. Nothing else was touched this morning, but the entire rack of jeans — somewhere over 10 of them — were gone this morning.
"It's like a hobby," McIntosh said of her used jeans business. "But not any more, probably."