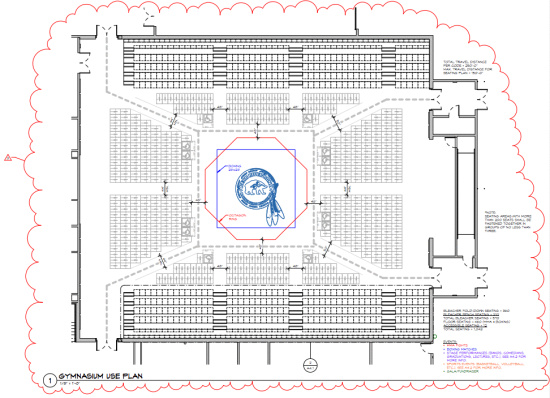 The Bear River Band of Rohnerville Rancheria is set to break ground on a 23,000-square foot recreation center designed to serve as a multi-sport activity palace by day and premier entertainment venue by night. With a construction site that shares a bluff with the Bear River Casino and Hotel, the facility will offer free access to tribal members and be available to the general public for daily or monthly fees.
In a phone conversation earlier today, Bear River's executive director of tribal government operations, Matthew Mattson, said the structure will host a gym and recreation center that includes a full-size, hardwood basketball court, a teen center and a workout facility with room for classes in Zumba, CrossFit and the like.
At night the place is designed to seat up to a thousand people for concerts and sporting events such as boxing matches and mixed martial arts (MMA) fights. Construction is projected to take about a year, with the facility opening next summer.
If you'd like a closer look, check out this pdf of the design concepts featuring various seating configurations. Zoom in and you'll see a two-floor setup that includes a racquetball court, a group fitness area, a cardio/weight room, kitchens, locker rooms, bathrooms and the basketball court, which can be transformed to accommodate bleacher seating and either a boxing ring or an MMA octagon. There's a swimming pool in the illustrations, too, but Mattson said that won't be constructed until a later phase of the project.
Here's a press release from the tribe with more details:
The Bear River Band of Rohnerville Rancheria is pleased to announce the Groundbreaking of the Bear River Recreation Center on the Bear River Rancheria on July 14, 2015. The multi-use Bear River Recreation Center will be a venue for entertainment and concerts while serving as a gym and athletic facility on a day to day basis. The facility will be available and open to Bear River Tribal Members at no cost and available to the public on a daily fee basis and monthly fee basis. The facility will also offer youth and adult recreation basketball and other sports leagues. Programming will be developed and finalized before the facility opens.

"The facility will provide access to health and wellness and Recreation opportunities for Tribal Members as well as options and flexibility for Tribal services and programs," said Matthew Mattson, Executive Director of Tribal Operations. "We are also excited to be able to offer this facility to the public," he added

John McGinnis, Bear River Casino Hotel General Manager, said "The Bear River Recreation Center will become the premier concert and event center in Humboldt County and will allow us to bring bigger and better entertainment to our valued customers on a more frequent basis."

Construction is estimated to take one year with opening in the Summer of 2016. The Tribe selected a local design team and a local construction firm to assist the Tribe in making this project happen. Adams Commercial General Contracting, Inc of Eureka, CA was selected to build the facility after a competitive bid process. The facility was designed by DJ Cleek of CleekCo., also located in Eureka, CA.

"I am honored to have been selected and entrusted as the designer of the Bear River Recreation Center," said DJ Cleek of CleekCo.

"We truly value the commitment that Bear River has made to using local businesses and are really pleased to be a part of this great project. We cannot wait to begin construction on this beautiful facility," said Will Adams of Adams Commercial General Contracting, Inc.

The Bear River Band of the Rohnerville Rancheria is comprised of approximately five-hundred and eighty (580) members. The Tribe owns and operates the Bear River Casino Hotel, one of the largest employers in Humboldt County, employing over four hundred (400) people.