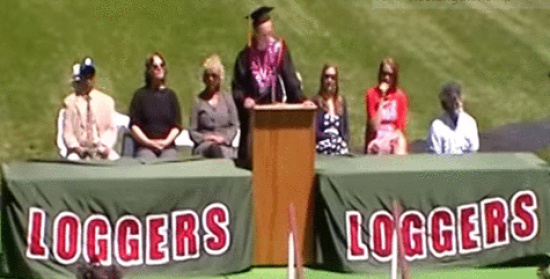 Like so many high school graduates, Jordan Thayer is eager to get the hell out of the town he grew up in. In his zesty Salutatorian speech, he likens the high school experience to a drive along Eureka's 101 corridor. And while the picture he paints is not pretty, he packs a lot of laugh lines into his speech.
5. "It is truly an honor for you to be here today, to watch me graduate."

4. "I was told this speech should be about three minutes long, but if Eureka High taught me anything, it's to always exceed everyone's expectations."

3. "Humboldt's original In'n'Out - no, not the burger shop, the county jail."

2. "Like the pajama-bottom shoppers at Wal-Mart, we have stopped caring what others think."

1. "That concludes the first tenth of my speech. We will begin again after a quick intermission, when I'll read excerpts from "50 Shades Of Grey."
In an effort to remain positive, we've decided to not include Jordan's Arcata diss in this list … but listen for it at the end of his speech, all the same! Go grads!