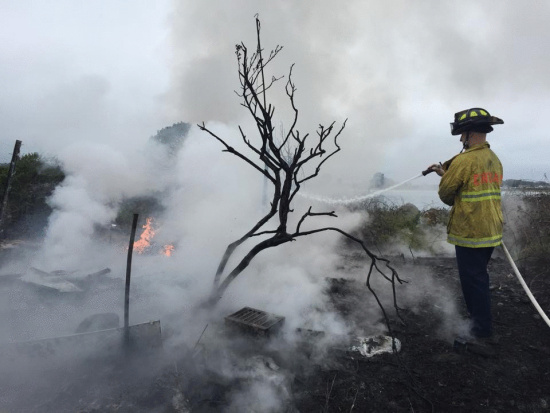 UPDATE, 1:10 p.m.: The Outpost's Andrew Goff, at the scene, reports that Humboldt Bay Fire personnel spoke to an occupant of a camp at the site of the fire. The occupant said that there had been small, green Coleman gas tanks at the site. The fire has now been extinguished.
###
UPDATE, 12:55 p.m.: Moments ago, safety personnel on scene reported that the "shots" heard were, in fact, propane tanks exploding.
###
The Eureka Police Department and Humboldt Bay Fire are currently responding to a vegetation blaze behind the Bayshore Mall.
The call, which came in at around 12:36 p.m., mention that there were "shots heard" in the vicinity of the fire — however, someone informing dispatchers of the situation believes that people were simply throwing live shotgun shells onto the fire to watch them explode.
The Outpost is en route, and will update shortly. Audio follows: