UPDATE, 4:45 p.m.: Eureka Police Provide Further Details on This Morning's Homeless Encampment Raid and Removal
# # #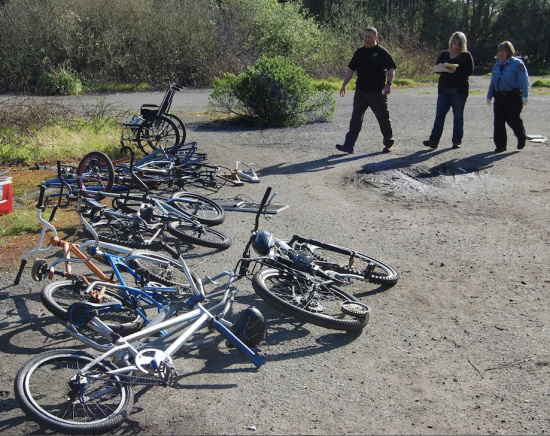 The Eureka Police Department is back at the Devil's Playground homeless camp this morning, there to serve a gun possession warrant and generally clean up the largest such camp in city limits.
This time, the EPD has taken into possession numerous weapons in the greenbelt, which stretches along the bayfront from the foot of Washington Street to behind the Bayshore Mall. One person has been arrested. Above and beyond that, though, the police seem to have uncovered a certain amount of infrastructure in the marsh.
The Outpost's Andrew Goff, who is on the scene, reports that police are in the process of dismantling a ramshackle bicycle shop, which police believe to be stocked with a workbench and stolen bikes and bike parts. Also, there is — or was — a chicken coop on site. The chickens it once housed are resisting arrest by hiding in the bushes.
Once again there is a front-loader and several dumpsters on-scene, and workers are busy filling them up.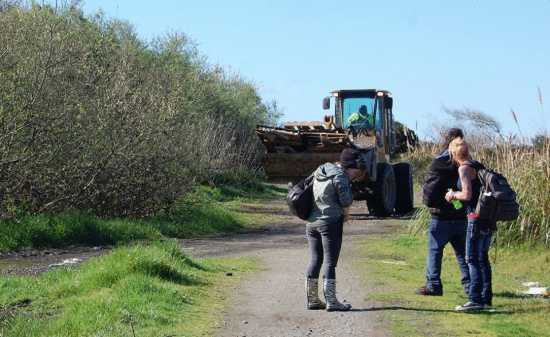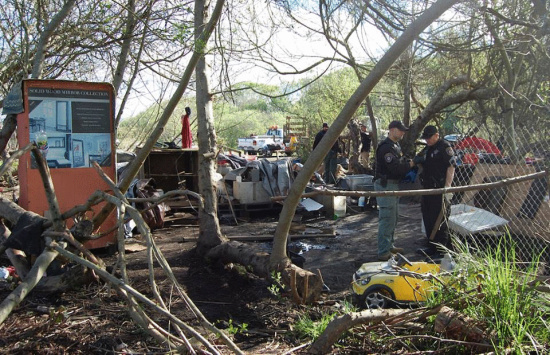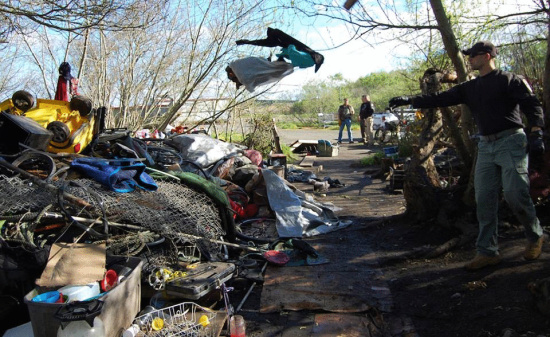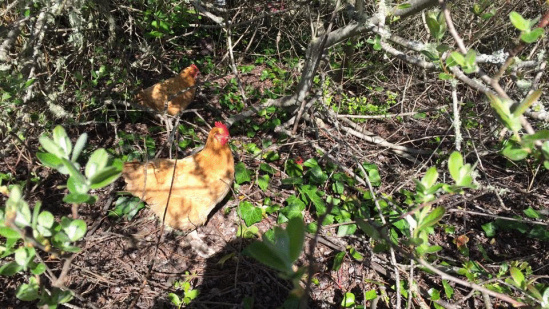 The EPD tweets started rolling in early this morning:
EPD search warrant operation at large illegal campsite near the Devil's Playground in progress this am. Guns, meth seized. One arrest so far

— Eureka Police (@Eureka_Police) March 17, 2015
EPD search warrant operation at large illegal campsite near the Devil's Playground in progress this am. Guns, meth seized. One arrest so far

— Eureka Police (@Eureka_Police) March 17, 2015
Another homeless camp raided in #eureka based on complaints.. #Eurekapolice @GoodNewsCops pic.twitter.com/lgPIseWXhb

— Andrew Mills (@ChiefAndyMills) March 17, 2015
PREVIOUSLY