UPDATE, 12:12 p.m.: The Times-Standard spoke with Fortuna Police Chief William Dobberstein this morning and got an update on the woman who was shot four times yesterday morning. She is listed as being in "critical but stable condition" and is scheduled to undergo surgery at UC Davis Medical Center to remove a bullet lodged in her spine. More at the T-S website.
# # #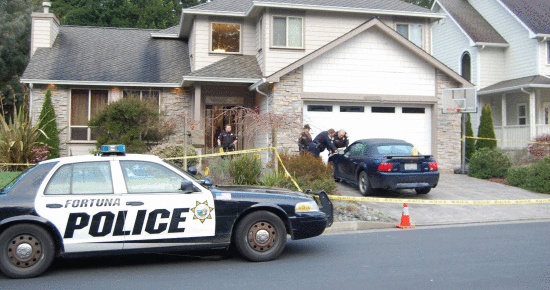 Original Post: Humboldt County Coroner's Office press release:
On March 18, 2015 at about 6:00 AM Fortuna Police Officers responded to the 4500 block of Forrest Hills Drive, Fortuna, regarding reports of gun shots being fired.

Upon arrival, Fortuna Police Officers located one male subject and one female subject that had been shot. The male subject was later declared deceased at Redwood Memorial Hospital. The female subject was treated and flown out of the area for treatment of her injuries.

The deceased male has been identified as Russell Allan Kellim, age 47, out of Eureka. The Fortuna Police Department is the lead agency in this investigation. All further information will be released through their agency.
PREVIOUSLY: Two People Shot in Fortuna Suburb This Morning