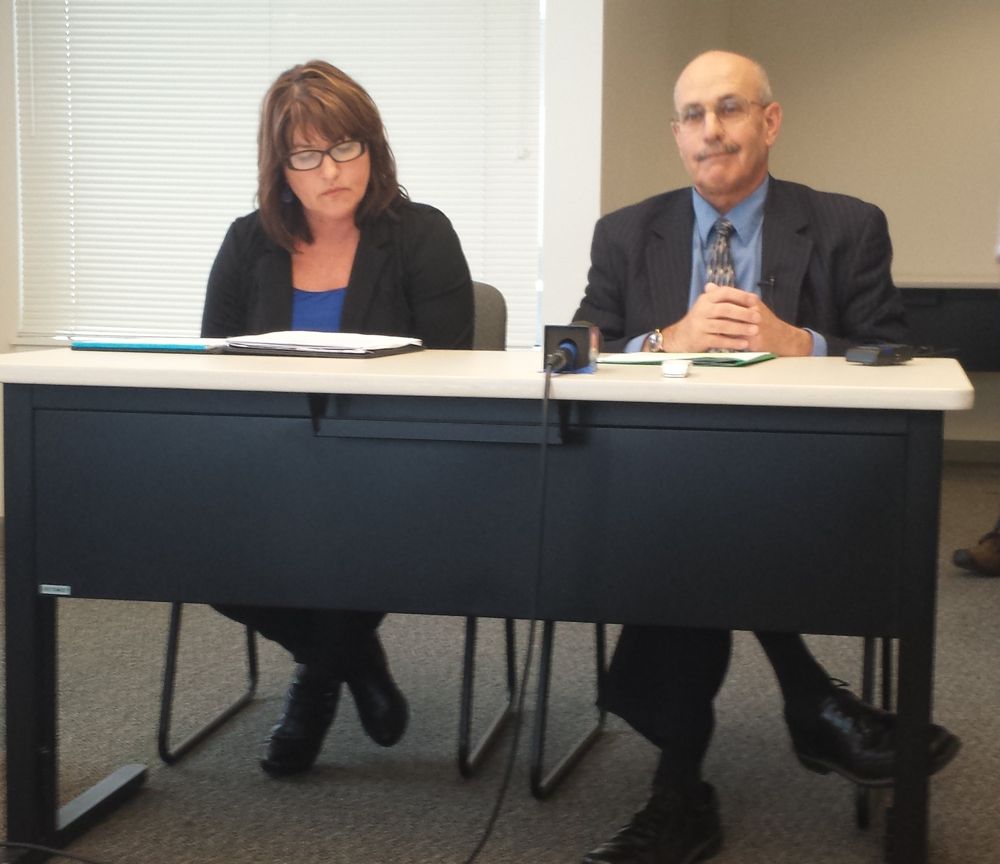 DHHS Director Phillip R. Crandall, right, and DHHS Assistant Director of Administration Connie Beck.
Administrators at Humboldt County's Department of Health and Human Services (DHHS) are in final negotiations with a medical staffing firm to help fill the gaping holes left in the Mental Health Branch after a series of resignations from doctors and nurse practitioners.
At a small press conference today in Eureka's Professional Building, DHHS Director Phillip Crandall, fighting flu symptoms, said he couldn't announce the name of the staffing firm until negotiations are complete, hopefully by the end of the week, with the contract going to the Board of Supervisors for approval next week. But he said the firm will help the county fill 6.8 full-time psychiatrist positions.
Crandall said this effort is just one element of a three-pronged strategy to address the staffing shortage and related issues raised by current and departed staff members. Some of those issues were spelled out in a Feb. 6 letter to the Board of Supervisors by two staff psychiatrists, who said the Mental Health Branch is suffering from gross mismanagement, chronic understaffing, low morale and unsafe conditions for staff and patients.
All but one psychiatrist on staff at the Mental Health Branch have submitted their resignations. Services during this staffing shortage are being provided largely by locum tenens firms — aka "rent-a-docs" — as well as telemedicine, or videoconferencing with doctors from outside the area.
In addition to hiring this staffing firm, Crandall said, DHHS administrators are working with Human Resources to improve recruitment and retention of existing staff, including not only doctors but also psychiatric nurses, nurse practitioners, physicians' assistants, social workers and therapists. Administrators intend "to really take a good look at what types of incentives or pay differentials can we offer to those staff who work in intensive settings" such as Sempervirens, the county's mental health hospital.
The third facet of the problem-solving effort involves expanded use of telemedicine. "It's an expanding option for rural counties like ourselves," Crandall said — "not to replace all onsite staff but to bring expertise into the community." The services of these remote physicians will be augmented by onsite nurses or a nurse practitioners working directly with patients and families, Crandall added.
The department is also seeking outside support, both inside and outside of Humboldt County. DHHS administrators have been working with CEOs of local hospitals and clinics that are also dealing with a shortage of specialty care providers, Crandall said. Together they hope to establish a work group to look at the challenges of recruitment and retention in this remote corner of the state. "We all need that in our community, and we're committed to working together," Crandall said.
Crandall said DHHS administrators are also working with other directors in Northern California "to expand our attractiveness to specialty care providers," perhaps by sharing resources across counties.
Crandall also said the county shouldn't shoulder all of the blame for the exodus of doctors and other specialty medical staff. The federal and state governments have ramped up recruitment of psychiatric professionals to serve in the U.S. Department of Veterans Affairs and the prison system, he explained.
Full staffing levels should address many of the concerns recently raised by doctors, including the lack of night and weekend coverage at Sempervirens and the Crisis Stabilization Unit, the stress of being overworked and the safety concerns caused by imbalanced staffing ratios, Crandall said.
The cost of hiring an outside staffing firm shouldn't increase the department's overall costs much, if at all, Crandall said, given the salary savings resulting from the current short-staffing.
As for the underlying problems at the Mental Health Branch, Crandall said, "This is an issue that we need to acknowledge occurred. Obviously the communication needed to be stronger." The physicians who wrote to the Board of Supervisors didn't feel like they could reach out directly to DHHS administration, he acknowledged. But now that they have, he said, "We've been having great meetings [and] we've been working well for the past month."
Working with patients who suffer from mental health problems is inherently dangerous, and that branch of county government is "as essential arm of public safety," Crandall said, adding, "Our staff do a stellar job with managing a very difficult population."