A few weeks ago, the Eureka Police Department launched a six-month study to see whether, or to what degree, increased neighborhood involvement might reduce crime in one particular area of the city. EPD Captain Brian Stephens, who is spearheading the pilot project, christened the study "Project NOW" (Neighborhoods on Watch), and chose its first target roughly 50-block area between Seventh Street and Wabash Avenue, taking in parts of the West Side and midtown Eureka.
The police department's role in the project is to organize and educate citizens who want to do something about Eureka's less-than-ideal crime rate — how to secure your property against theft, how to organize neighborhood watch groups, when to report suspicious behavior to the police, etc.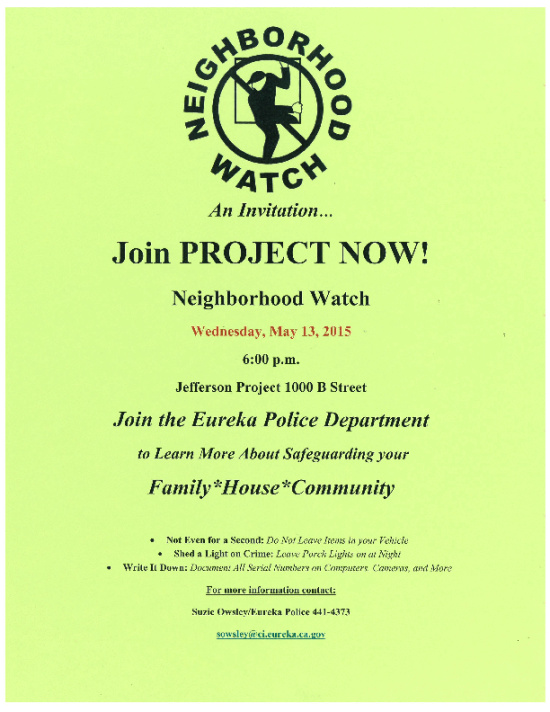 If you live in the neighborhood and you want to get involved, you should note that the big, area-wide kickoff meeting for the project is happening at 6 p.m. tonight, at the Jefferson School — 1000 B St., Eureka. You can click the poster at right to enlarge, or contact Suzie Owsley at 441-4373 or sowsley@ci.eureka.ca.gov for more information, either on the meeting tonight or the project as a whole.
Below: an interactive map of the Project NOW study area, with data from the Eureka Police Department's corner of the CrimeReports.com crime-mapping site. Adjust the dates in the upper-right corner of the map, and you can see that since April 21 — the time of our last story on Project NOW, there have been at least 16 reportable calls for service in the study area, including a vehicle burglary near the Jefferson School, an arson at the Labor Temple, a stolen license plate and various drug busts. The last day or two'w worth of incidents have likely not uploaded yet.