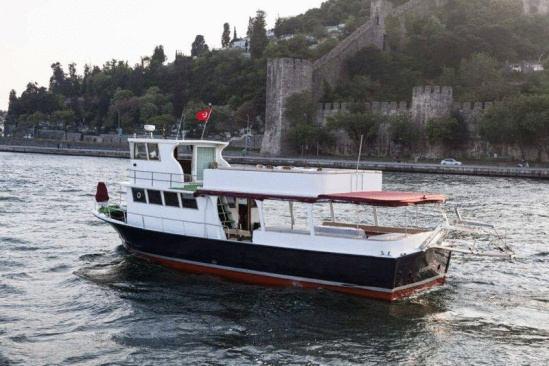 Weddings are a big deal here, and summertime is the busy season. Across the great city, from Fatih to Kadıköy, you can find entire streets with shop windows blooming with bright wedding dresses. Jewelers' stores are strategically placed nearby, ready to catch you on the way in or out.
The municipal offices operate like factories, churning out newlyweds every half-hour. In the streets, decorated cars whiz by, tooting their horns festively, and small fortunes are routinely dished out for splashy receptions.
Planning our own July wedding, Özge and I set out with a couple of guiding principals. 1) We're not posh, and 2) We don't do "cute." Since we're both well past the age of proms and cotillions, we're not interested in sinking our scarce resources into the perfect Ken-n-Barbie afternoon. We've got better things to spend our money on – like trips to the south coast, to Prague, and later, to America.
After all, we reasoned, couples should invest in the things that they really want – not what other people want for them. Early on, when we made the announcement to a small gathering of friends at a café in Karaköy, we saw the danger of the wedding being taken out of our hands entirely. Everyone had well-meaning (and often, costly) suggestions. One exception was our dear friend, Dana, a photographer who, in her generous way, offered her talents and services gratis.
"Why don't you have a Bosporus cruise?" was another cheerful suggestion. Over glasses of beer and wine, this chestnut was tasted, chewed upon. Wonderfully reasonable prices bobbed up from the waves of alcohol like pleasant buoys.
Özge and I talked it over afterward, walking together along the Bosporus. It was a brilliant, sunny afternoon. Maybe we weren't posh, and we didn't do cute. But we really hadn't splurged on anything. The public ceremony would be short, with only her parents and a couple friends. We hadn't planned on a cake, or a big party, since we were slated to have a traditional meal with her family and relatives in Mersin a week or two prior to the ceremony.
The more we talked it over, and looked out at the handsome boats gleaming and swaying in the harbor, the more persuaded we felt. After all, we too deserved a measure of the jen ne sais quoi; a measure of the ideal, on our special day. Why not?
Özge set about making the arrangements, browsing the Internet for tour agencies, prices. Most of the boats offered similar deals, a package, with dinner and drinks provided. Given our "limited budget," we had to be modest in our expectations. Istanbul is a city where the art of negotiation is still valued and practiced, but there are limits. Especially in the busy summer wedding season, where many are ready and willing to shell out a king's ransom for a few hours of rocking back and forth between two continents in the cradle of connubial bliss (My God! What would Freud say?)
We were hoping to just get the boat, with a captain of course, and then just have a BYOB, which would suit everyone's budget and tastes. But such elegant simplicity proved a problematic sell – no money in it, apparently. The boat captains and tour operators Özge spoke to all insisted that some kind of meal be included, which of course bumps up the price, in some cases considerably. Naturally, we could collect "contributions" from the guests, but that seemed a bit hard-edged even for those of us who don't do "cute." We wanted our guests to relax and enjoy themselves, without feeling a sense of obligation go down with their meal – it's bad for the digestion.
After a series of particularly stressful calls between one agency and a certain persnickety captain – Özge asked him many questions, to the point where he became belligerent, offended at the suggestion that he was "a thief!" (his own self-accusation, not ours). Özge was at the point of throwing up her hands.
"Maybe this is a bad idea," she said. "What do you think?"
"I don't know," I said. "It's up to you."
She texted the next morning, telling me to meet her in Besiktaş after work. We were going to look at a boat, another promising prospect. Screw the other guy. It did seem, from a certain point of view, a rather jaunty occupation. Rarely in life have I found myself in the business of browsing harbors for boats, conversing with ship captains. It did seem to make life essentially a romantic proposition, after all.
###
I took a ferry over to Besiktas, and met Özge. We caught a taxi that took us to Arnavutköy, a lovely, high-end neighborhood with Victorian houses overlooking the Bosporus.
The captain of the boat had agreed to meet us there at the iskele. When we arrived, the boat was just pulling in. Özge was talking with the captain on her phone, and the captain, standing on the bow, saw us and waved.
It was a handsome vessel, a 30-foot yacht with a dark-brown wood exterior. The captain helped us on board, and gave us the tour. There was enough space for about 40 people – plenty. Up on the top deck, it was like having a floating balcony, and down below was a kitchen and bar. Özge discussed the deal with the captain in Turkish, and then he told us he had to go and pick up a party.
So we thanked him and went ashore.
"He's a lot nicer than the other captain," Özge said. "And the boat is much nicer – and he's giving us a better price."
It was agreed that we could rent the boat for four hours at a rate of 400 Turkish liras per hour, which totaled 1,600 lira (about $620 USD). We would have to kick in a bit more for food and a waiter, and we would have the guests supply their own alcohol. All told, though, Özge was right: Thanks to her persistence, and determination, we had our ship – for about 500 lira less than what the rude captain had offered.
"By the way, did you see the name of the boat?" Özge asked. "It's called Kaderim. It means, 'My Fate.'"
We liked the name, and went to have a drink at one of the places near the waterfront in Arnavutkoy. The streets there are quiet, with cool ivy hanging from the buildings.
"Imagine if we lived here," Özge said, sighing. "Maybe if someday we win the lottery … Oh, why do we have to be poor?"
Indeed, it seemed a great injustice, not being able to reside in one of those pleasant palaces. But at least we were to have the yacht; for a few hours, the day, and the Bosporus, even the world, would belong to us.
Kaderim. My Fate. It had a nice ring to it. I might have only wished for a slight change: Kaderimiz, meaning, "Our Fate," since we would be sailing together from now on.
###
James Tressler is a writer living in Istanbul. His books, including "Conversations in Prague," "Lost Coast D.A.," and "The Trumpet Fisherman and Other Istanbul Sketches," can be found at Lulu.com