For an unprecedented fourth time in five weeks, your Lost Coast Outpost and KHUM are again teaming up for arbitrary and capricious listing of local topics. It's a little gimmick we call Humboldt Ranked.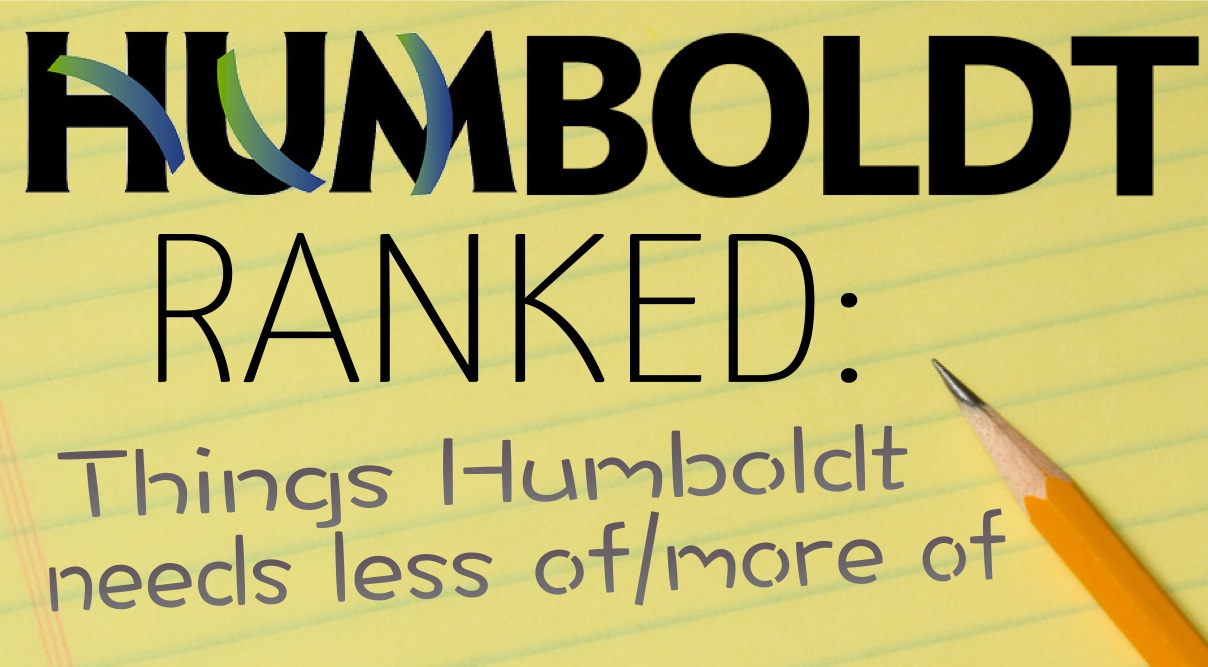 Here's how this works: Starting at 11 a.m., we'll open up the phones on KHUM (786-5486). At that point you can call in and pitch a nominee as well as where you think it should go on the list. Sell it, Humboldters. Over the course of the next couple hours, live on the radio, a definitive ranking will be discussed, debated and ultimately etched in e-stone for all eternity.
Tune in to KHUM 104.3/104.7 (or online here) to experience the drama live and follow along with the results below. Later we'll upload the audio for posterity. Do you love this? Why not!
Let's rank Humboldt now.
THIS WEEK'S TOPIC: Life is best when balanced. You need to know when to tweak. So if Humboldt had a recipe what would you add a pinch more of? Also, what is overpowering the rest of this meal?
Specifically, what does Humboldt need more of and/or what does it need less of?
# # #
MORE OF LIST:
1. Diversity (nominated by caller John M.)
2. Affordable housing (nominated by caller Sean from Riverlife)
3. Roundabouts (nominated by commenter Too High to Drive)
4. Fish (nominated by commenter Mr. Bear.)
5. Water (nominated by caller Wanderer Doug)
6. Point breaks (nominated by g-chatter Old Shake)
7. Glory (nominated by Kinetic Kook Carl)
LESS OF LIST:
1. Meth (nominated by g-chatter Old Shake)
2. Homelessness (nominated by caller Sean from Riverlife)
3. Deforestation (nominated by caller John M.)
4. Water consumption (nominated by caller Wanderer Doug)
5. Exhaust pipes (nominated by Lucy and Rob, kinda)
6. Flat billed caps (nominated by commenter Mr. Bear)
7. Razooly (nominated by Kinetic Kook Carl)
Bubbling Under (More Of):
Trader Joe's (nominated by commenter Meh)
A pluses (nominated by caller Billy Gold)
Attitude (nominated by caller Mike in Arcata)
Bubbling Under (Less Of):
D minuses (nominated by caller Billy Gold)
Gratitude (nominated by caller Mike in Arcata)
# # #
PREVIOUS TOPICS: