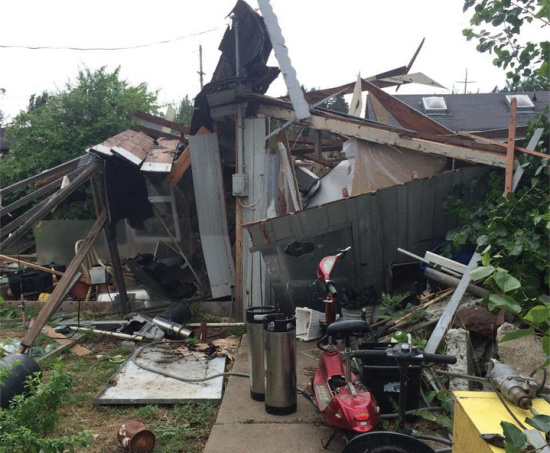 Humboldt Bay Fire press release:
At 10:08 a.m. Sunday May 31, 2015, units from Humboldt Bay Fire responded to an explosion and small fire behind a residence on Cedar street in Cutten. The first arriving unit found a 20x20 shed/greenhouse that had completely collapsed due to an explosion. The small fire that was started by the explosion was extinguished. Crews searched the collapsed building and also the yard area and found no victims. Bystanders reported a male was seen running on Cedar Street just after the explosion, however he was not found in the area on fire department and Humboldt County Sheriffs arrival. After investigation the cause of the fire was found to be related to the manufacturing of concentrated marijuana using flammable gases. The gas was ignited by an electric motor.

Debris from the shed was spread into neighboring yards and caused damage to a neighbor's home. No injuries were reported although it is suspected that the person seen fleeing from the scene had burn injuries to his face and hands.

2 engines, 2 chief officers and 2 volunteers responded for a total of 10 personnel. The fire cause and origin investigation was completed at 3 pm.

The home was turned over to the Humboldt County Sheriff as the owner of the property was not present.

Humboldt Bay Fire asks that when fire apparatus or law enforcement vehicles respond with lights and siren that drivers yield the right of way by pulling to the right in a safe manner.