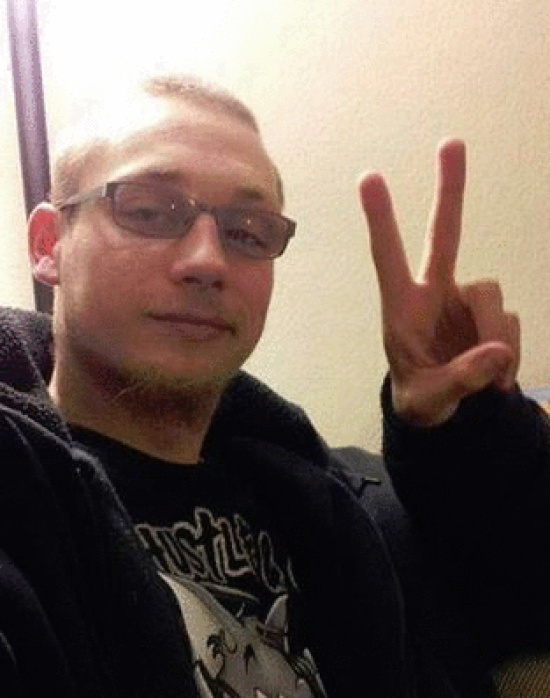 As previously hinted at, today an attorney representing the family of Tommy McClain announced that they were filing a wrongful death lawsuit in federal court against the City of Eureka. Of course, Outpost readers will recall that McClain was shot by Eureka Police officer Stephen Linfoot on September 17, 2014. Back in November of last year, the Humboldt County District Attorney's Office announced that, after an investigation, it would not pursue charges against Linfoot.
McClain's family will be represented by Dale K. Galipo, who has a bit of history with the City of Eureka — in 2011 he represented the family of Martin Cotton, earning a $4.6 million jury verdict in that wrongful death case.
Full press release from Galipo's law offices below:
Today, May 7,2015, Jeanne Barragan and Lance McClain filed a lawsuit in federal court alleging wrongful death and civil rights violations arising out of the fatal shooting of their son, Thomas McClain. Thomas would have turned 23 last month.

On September 17, 2014, City of Eureka Police Department Officer Stephen Linfoot shot and killed Thomas McClain when Thomas was standing in his own front yard. Witnesses state that at the time of the shooting, Thomas McClain had his hands up and did not pose an immediate risk of death or serious bodily injury to any person.

The law does not permit police officers to use deadly force unless a reasonable officer would believe the person posed an immediate threat of death or serious bodily injury. In addition, if feasible, officers must give warnings before resorting to deadly force, and under a recent California Supreme Court decision, an officer's unreasonable tactics leading up to a shooting are relevant to whether the shooting was lawful.

Jeanne Barragan and Lance McClain are represented in their civil rights lawsuit by The Law Offices of Dale K. Galipo. Some of Mr. Galipo's recent civil rights verdicts include the following: a $4.6 million jury verdict in September 2011 for the family of Martin Cotton, who died after being beaten by City of Eureka police officers; a $5.7 million jury verdict for Robert Contreras, who was left a near-quadriplegic after being shot by LAPD officers; a $6.5 million jury verdict in April 2013 for the family of Douglas Zerby, who was shot and killed by Long Beach police while holding a garden hose nozzle that police claimed to have mistaken for a gun; a $7.8 million verdict in June 2014 for William Howard, an unarmed man who suffered a severe brain injury and partial paralysis after being shot in the face by a County of Riverside sheriff's deputy; and an $8.8 million jury verdict in May 2013 for the family of LeJoy Grissom, who was killed in a parking lot by a Culver City police officer wielding an MP5 submachine gun. Mr. Galipo is currently handling approximately sixty officer-involved shooting cases throughout the state of California.
PREVIOUSLY: