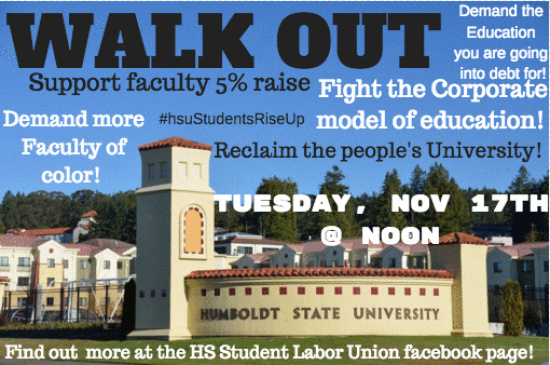 A group of student activists referring to themselves as the HSU Student Labor Union are planning a walkout scheduled for Tuesday at noon to protest the university's wage disparity between faculty and administrators.
According to a post on the group's Facebook page, the students will congregate at the UC Quad to rally for a 5 percent faculty pay raise, demand more faculty of color and fight against the corporate model of education.
"We are fighting for our education to take priority over administrators Wallets!," the group said in a Facebook post. "Shift the Balance back to student success and support our faculty!"
The protest takes place on the same day as the California Faculty Association's rally at the CSU Board of Trustees meeting in Long Beach, where faculty representatives from each CSU will demand a 5 percent raise for all faculty members for the 2015-2016 school year.
This is the CFA's latest action in a decade-long battle against unequal pay between CSU faculty and administrators, which the CFA says is a result of "administrative choices based on administrative priorities."
In a detailed report published in March titled "Race to the Bottom: Salary Staffing Priorities and the CSU's 1 percent," the CFA outlines several examples of pay disparity, some of which are more egregious at HSU than any other CSU campus. This issue has been heavily covered by the university's student-run newspaper, The Lumberjack.
From 2004 to 2014 the CSU system's net operating budget grew by 33 percent. In this time, expenditures on managers increased by 48 percent, while spending on faculty increased by 25 percent.
Among all CSU campuses in the last decade, HSU has seen the largest drop in full-time-equivalent tenured and tenure-track faculty.
"Instead of investing in permanent faculty, CSU administrators have adopted a fast-food franchise model of faculty staffing for the university's core mission," the CFA said in the report. "The only reason the faculty ranks grew at all over the last decade was because the numbers of faculty hired on temporary appointments exploded, increasing by a staggering 46 percent."
During this time, HSU also had the largest disparity in salary increase between full-time faculty and management by an overwhelming margin.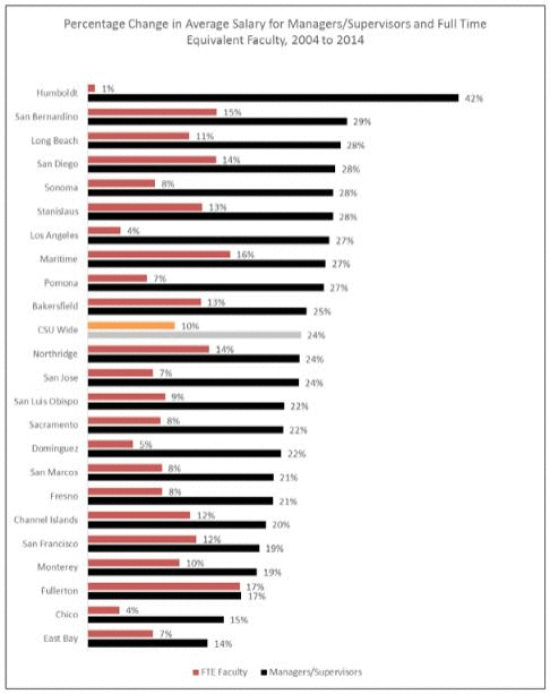 In the last decade full-time equivalent faculty received a 1 percent increase in average salary, while HSU management received an increase of 42 percent. When translated into dollar amounts, full-time equivalent faculty received and average salary increase of $514 dollars while management received a $32,921 increase.
"At 22 campuses the average manager/supervisor salary increased more than the average faculty salary," the CFA said in its report. "The standout is Humboldt, where the average faculty salary has only increased by a shocking 1 percent."
President Emeritus Rollin C. Richmond alone received a 29 percent average salary increase during his tenure at HSU, and was specifically called out in the statewide report for receiving $223,311 in transitional pay after his retirement.
An overwhelming 94 percent of CSU faculty members voted to strike in October. However, the faculty will not have the right to strike until a fact-finding process in completed. During this process, the CFA and the Chancellor's Office will meet, and a neutral third-party fact-finder will make recommendations on how a settlement might be achieved.