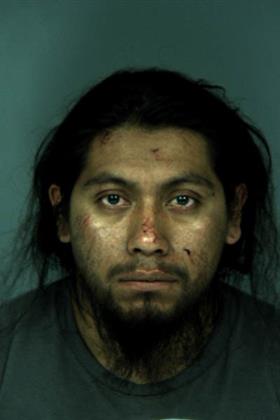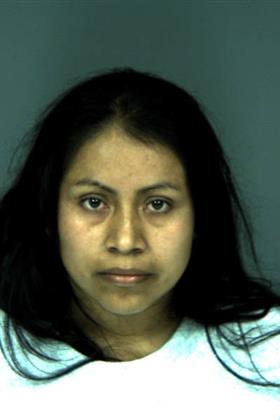 Humboldt County Sheriff's Office press release:
On Tuesday, November 17, 2015 at 2:45 a.m. a Humboldt County Sheriff Deputy was patrolling the Azalea Ave, McKinleyville area, when the deputy noticed a vehicle parked in the Azalea Park parking lot. As the deputy approached the vehicle the male driver exited the vehicle and met the deputy. The deputy smelled an overwhelming odor of marijuana coming from the vehicle. The deputy requested the female passenger exit the vehicle as well. As the deputy was speaking with the female, the male said something to her in Spanish and the two of them fled on foot into the brush and the deputy pursued them.

While running through dense brush and berry briars, the male suspect, Celso Martinez-Perez, age 27, fell to the ground. The deputy handcuffed the suspect and escorted him back to the patrol vehicle. Deputies responded to assist along with California Highway Patrol and Arcata Police Department. A Search of the area was conducted, however officers were unable to locate the female suspect. Deputies searched the suspect's vehicle and located six 27-gallon plastic totes with processed marijuana buds in each of them, three large black trash bags with several clear plastic bags containing about one pound of individually wrapped marijuana buds, and a notebook containing sales information. Humboldt County Drug Task Force responded to assist with the processing of the marijuana.

The deputy later conducted another search of the vehicle and area, and located the female suspect, Isabel Martinez-Antunez, age 23, underneath the vehicle. The deputy apprehended her and placed her under arrest for PC 148(a) – Resisting, Obstructing, or Delaying a Peace Officer. Martinez-Antunez and Martinez-Perez were transported to the Humboldt County Correctional Facility. Martinez-Perez was booked for HS11357(c) – Possession of Marijuana Over 28.5 grams; HS11359 – Possession of Marijuana for Sale; and HS11360(a) – Sell/Furnish/Etc Marijuana/Hashish.

Anyone with information for the Sheriff's Office regarding this case or related criminal activity is encouraged to call the Sheriff's Office at 707-445-7251 or the Sheriff's Office Crime Tip line at 707-268-2539.