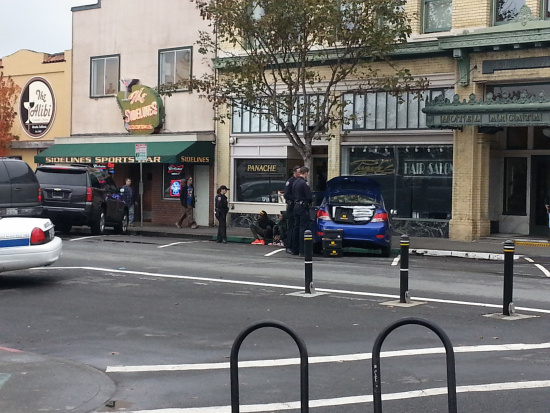 At about 1:30 p.m. yesterday, police were summoned to the Hotel Arcata. They were told that three guests had left new children's toys in the room, yet had taken the packaging. Also in the room where what the caller described as "food-packaging scales." The three men were driving a car — a rental car, it turned out — with Washington plates, and were hanging out on the Plaza at the time of the call.
Two Arcata police officers responded and talked to the men, who all had South Carolina IDs. They looked at the car the men had been driving, which as parked in front of the hotel, and noticed that it contained what appeared to be marijuana packaged for sale inside, visible from the outside.
According to the APD's Sgt. Todd Dokweiler, who spoke with the Outpost this morning, officers searched the car and found nine and a half pounds of marijuana packaged in multi-pound increments. They didn't find the toy boxes, but they found several shipping receipts indicating that they had recently sent several items from the area.
At 2:30 p.m., the Arcata Police Department booked the three men and held them on charges of possession of marijuana for sale. They were Antonio Gaines, 23, of Orangeburg, S.C.; Rondell Carter, 25, also of Orangeburg; and Eddie Pressley, 22, whose precise residence in the state of Calfiornia was not known.
Dokweiler said that, in his recent experience, out-of-state marijuana traffickers are more likely than local people, or people from elsewhere in California, by extreme negligence in the still-crucial matter of hiding one's tracks. He theorized that the out-of-staters may have misconceptions about where California stands in its journey to legalization.
"It seems kind of ridiculous, that if you're engaging in this that you're going to leave marijuana in plain view in a car parked on the Plaza," Dokweiler said, "While we may well be headed that way, we're not there yet."