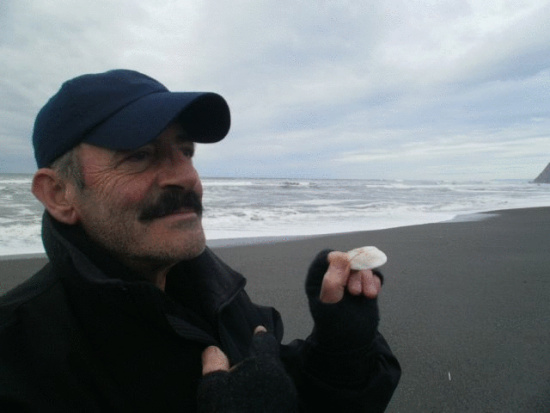 It was in mid-October, that golden month of change, that Mahmoud Mohammed Shaheen, local chef, caterer, poet, artist, and master of multitudinous talents, left this life. His is going is an incalculable loss to the legion of family, friends, and fans who live on in his wake.
Mahmoud was born under a bus in Jerusalem, that crucible city of great and holy passions, on August 3, 1947. Born to Muslim parents, Mohammed and Niaema Shaheen, almost from birth Mahmoud began learning the skills which would one day become his vocation. He started peeling garlic in his father's restaurant at age six, where he was henceforth employed after school.
After both of his parents were killed in the bombings of the Six Days' War between Israel and Palestine in June 1967, Mahmoud traveled to America, landing in Marin County. He began life here working at a gas station and studying drama at College of Marin. Soon, however, he was back in the kitchen at La Camembert, a celebrated French restaurant in Mill Valley. It was during those early years that he met and married the beautiful and spunky redhead Ginny Van Zandt with whom he started a family and undertook several restaurant-related business ventures. Mahmoud remained in Marin with his wife and children for many happy years. Eventually divorcing, the two remained close until Ginny's death in 2011. When the kids were grown, Mahmoud moved north, to the towering redwoods and rugged beaches of Humboldt County.
His first undertaking in Humboldt was to open a restaurant in the Little Red Schoolhouse at Redwood Trails near Orick, eventually relocating Orick Valley Restaurant to town. He then moved to Eureka and started chefing for La Casita Internationale, that outrageously fun and delicious international cafe where he received much deserved attention for his culinary skills and irrepressible personality. Mahmoud's final occupational project was his flourishing catering company, Mezza Catering, to which he remained dedicated until the end of his life. Central to his art and its popularity was his celebration of, and insistence on respect for, food. He felt that, to elevate cooking to an art, you first have to love the food itself, coming to its preparation as a collaborator, a lover. No one can argue with his results.
Mahmoud's mastery also extended to the world of language. His use of words was never other than delightfully idiosyncratic and ultimately poetic. He loved reading and writing and creating calligraphic art. His depth of feeling was often evocatively framed in language; "You must feel this," he was known to say, "all the way down in the basement of your soul." And people did.
Not content to merely honor or respect the religions of others, he was a profoundly participatory witness to any and all sincere acts of faith. It was faith itself he loved, and he embraced it wholeheartedly. It was a great sorrow to him that religious and cultural peace remained largely absent from the land of his birth. Its bloodshed and suffering was a source of continuing heartbreak.
In 2005, Mahmoud met Gabriella Aragon, the woman who would become his partner for the next 10 years. Together they built a home surrounded by flowers, filled with friends and host to many feasts. With Mahmoud it was always a feast because for him life itself was a feast. Abundance. Love. Generosity. A feast. Though Gabby and Mahmoud parted in March 2015, they remained close until his death.
Mahmoud Mohammed Shaheen was preceded in death by his ex-wife Ginny Shaheen of San Diego. He is survived and mourned by his daughter, Rohan Shaheen of Grover Beach, Calif., his son and daughter-in-law Michael and Jessica Shaheen and their two children, all of Lompoc, Calif. He will be profoundly missed but never forgotten by his many many dear friends who were like family to him and who he honored as such. May his unequivocally beautiful soul rejoice in everlasting peace. With love. Inshallah.
A memorial celebration will be held in honor of Mahmoud. Please contact gabriellaaragon@yahoo.com if interested in attending.
###
The obituary above was submitted by Mahmoud Shaheen's loved ones. The Lost Coast Outpost runs obituaries of Humboldt County residents at no charge. See guidelines here. Email news@lostcoastoutpost.com.