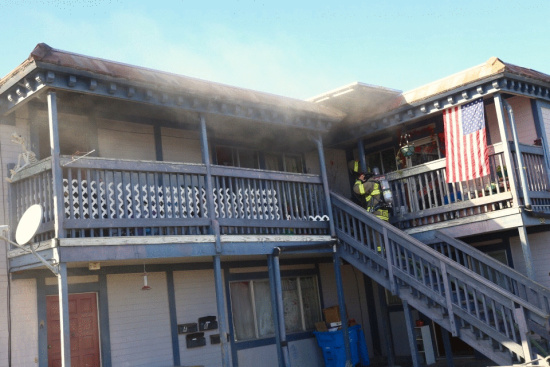 UPDATE, 4:33 p.m.: Humboldt Bay Fire press release:
At 2:53 PM on October 20, 2015, Humboldt Bay Fire responded to a reported structure fire at 232 Q Street. The first arriving battalion chief reported moderate smoke coming from a second floor apartment of a two-story apartment building. The first arriving apparatus quickly pulled a hose line and extinguished the fire (confined to the kitchen) while the second arriving engine initiated a search to look for any trapped occupants. Fortunately, all occupants were safely outside before fire units arrived. During the course of their search, firefighters located two cats and removed them from the residence. Additional units provided assistance with ventilation, salvage and removal of fire damaged contents. Damage was confined to one room, but the residence's common areas had smoke damage throughout.

No injuries were reported, damage estimate is $15,000. 15 firefighters responded, the fire was extinguished in less than five minutes with crews remaining on scene for 45 minutes.

The cause and origin investigation shows the fire was caused by an unattended pot of cooking oil left heating on the stove top. Damage was limited to the kitchen due in part to the occupant's use of two fire extinguishers to partially extinguish the fire.

Humboldt Bay Fire reminds all residents to ensure they have working smoke detectors in the living and sleeping areas of their houses and to have a fire exit plan.
###
UPDATE, 3:23 p.m.: Humboldt Bay Fire's Chris Jelinek tells the Outpost's Andrew Goff, on scene, that this was a kitchen fire caused by someone leaving their cooking oil unattended. There were no injuries.
"We found a couple of cats inside the building which were kinda pissed off," Jelinek said. "We brought 'em out. They seem to be OK."
Firefighters are wrapping things up. They're pulling down a section of the ceiling to make sure the fire did not spread into the attic.
###
UPDATE, 3:15 p.m.: The fire, which was in the kitchen of one of the units, is out. Firefighters still on scene.
###
Humboldt Bay Fire is currently heading to a fire in an apartment building at the corner of Third and Q streets, near the foot of the Samoa Bridge.
Firefighters at the scene are describing "moderate" smoke coming out of one apartment on the second floor of the structure. Search teams are currently going through the building to make sure everyone has been evacuated.
The fire is in the kitchen of the apartment unit, say firefighters on-scene. Updates coming shortly.