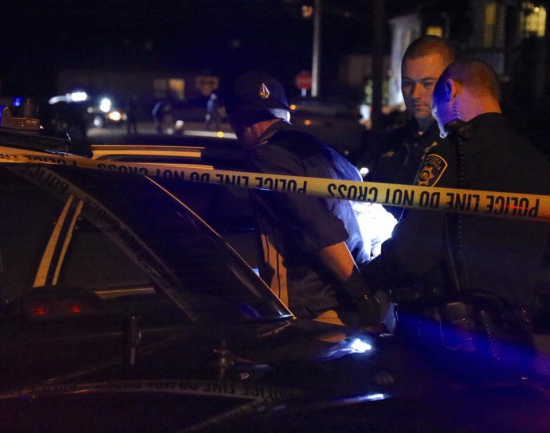 One person detained at the scene of tonight's homicide. Police are questioning the detainee; they are not yet sure whether he was involved in the shooting that left one dead. Photo: Andrew Goff.
UPDATE, 10/25: Eureka Police Provide Info on Last Night's Homicide
# # #
UPDATE, 11:30 p.m.: Chief Andrew Mills at the scene tells reporters what the EPD knows about the case so far. He says that one victim was taken to the hospital by ambulance, and the other showed up there on his own. One has died.
"According to one of the victims, there was an argument and they intervened in the argument," Mills said. "Whether there's any truth in that, we don't know right now."
The police don't know much more at the moment, but they do not believe that the public is at risk.
"This was purely a bad incident that took place," Mills says. "We're not sure why it took place. But it's not an active shooter situation."
###
Original Post: One person was killed and another injured following a shooting on F Street in Eureka tonight.
An officer at the scene tells the Outpost's Andrew Goff that one person has been detained. A car was seen fleeing the scene. EPD Chief Andrew Mills is currently at the scene, and confirms to the Outpost's Andrew Goff that one of the victims has expired.
Lost Coast Outpost reader Briyan Marquardt, who says he is a certified combat lifesaver, tells the Outpost that he and another combat veteran, Jeremy Voris, administered aid to a victim shortly after he was shot. "He went out on us once but we slapped him a few times and he came back to," Marquardt says.
We will update when we know more.