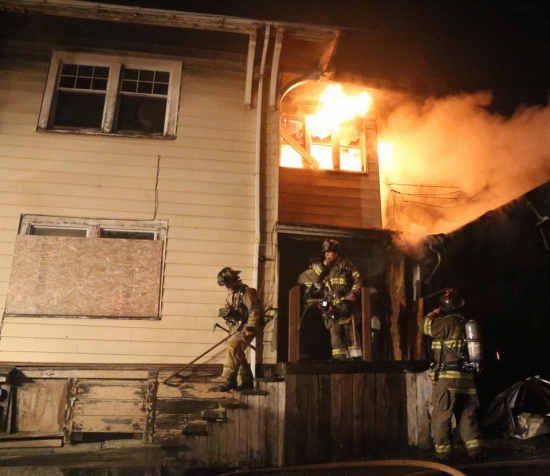 UPDATE, 7:24 a.m.: Press release from Humboldt Bay Fire:
At approximately 0022 hours, Humboldt Bay Fire (HBF) was dispatched to a reported structure fire on the 800 block of H St. Two fire engines, one ladder truck, one squad, and two duty officers responded on the first alarm assignment.

The first arriving Battalion Chief reported heavy gray smoke pushing from a single story attached garage in the alley behind 811 H St. The ladder truck crew was assigned to begin working to gain entry to the garage as the first arriving fire engine began setting up for fire attack. While gaining entry to the garage via the roll up doors, fire began showing from the interior and two propane cylinders exploded within the structure. Fire crews momentarily retreated before re-engaging in suppression efforts. With the garage now heavily involved in fire, the fire began extending to the attached vacant residential structure. At that time, a second alarm was called bringing another fire engine from HBF, and an additional engine and Chief Officer from Arcata Fire District to the scene.

Due to the building construction and age, as well as the fire extending to the attic of the structure, fire crews worked approximately 90 minutes to get full control of the fire. With the building being vacant, plywood over the doors and windows slowed access to the interior of the structure, but crews were able to do a thorough search and determine that there was no one inside.

Crews remained on scene for several hours overhauling the fire to ensure it was completely out. Preliminary damage estimates show approximately $75,000 in damage to the structure. There were no injuries to civilians or fire personnel.

The cause of the fire is under investigation, but is suspicious in nature.
PREVIOUS 2015 FIRES AT SQUIRES-OWNED BUILDINGS:
###
UPDATE: At around 2:10 a.m., LoCO spoke with Bill Reynolds, Battalion Chief with Humboldt Bay Fire. Reynolds told us when crews arrived on scene, between midnight and 12:30 a.m., heavy smoke was emanating from the back garage of the structure. As firefighters attempted to gain access to the building fire activity increased but they were able to control the fire after about an hour and a half.
Reynolds noted that two propane cylinders located in the garage exploded while fighting the fire, but no crew members were hurt. Listen to more of LoCO's on-scene chat with Reynolds below
(AUDIO) Bill Reynolds at the Squires Fire
# # #
Original Post: Sometime after midnight Friday morning, a large, vacant two-story building on H Street, between Eighth and Ninth Streets, in Eureka caught fire drawing major response from Humboldt Bay Fire and Arcata Fire. PG&E is also on scene handling power issues. Numerous neighbors have spilled out of their homes, drawn to the flames.
A neighbor who lives in the apartments next door told us that the vacant building is owned by Floyd Squires and has been boarded up for sometime. He had not noticed any activity recently that might indicate anyone had been squatting there.
Firefighters seem to have the fire under control but continue to work, furiously. We will update when we have more.