UPDATE, FRIDAY MORNING: The two people briefly detained yesterday at the scene of this police action were questioned and released, according to Lt. George Cavinta of the Humboldt County Sheriff's Office.
Cavinta said that the search warrant served at West Del Norte and Pine was part of an "ongoing investigation." He couldn't release any information about that investigation, but the people put in handcuffs outside their home yesterday were not its targets, nor are they suspected of any crime.
###
UPDATE, 4:08 p.m.: The streets have been opened. Investigators conducting interviews.
###
UPDATE, 4:04 p.m.: Friend of the Outpost Kanan Best captured video of deputies taking one person into custody:
###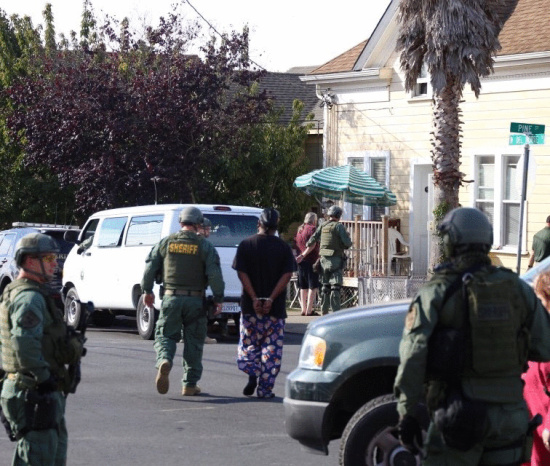 ###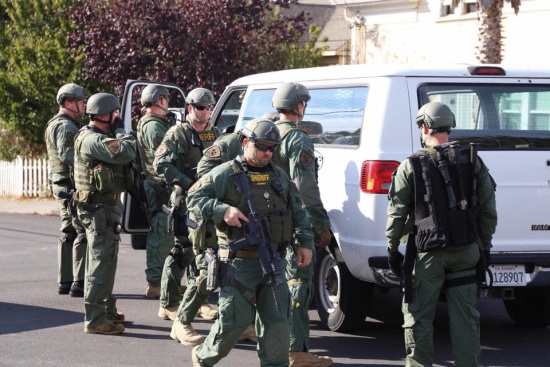 A heavily armed squad of police officers has guns trained on a house on Eureka's West Side at the moment.
Humboldt County Sheriff's Office spokesperson Selena Zorrilla-Mendoza told the Outpost moments ago that she has no information on what her department's officers are doing on the scene, and had only been informed of it moments before the Outpost called.
Lt. George Cavinta, on the scene, tells the Outpost's Andrew Goff that deputies are there to serve a search warrant.
Pine Street is closed between West Del Norte and Wabash.
More as we get it.